As we head into late spring and early summer, the ground is waking up and we can expect more of a variety of fresh seasonal UK produce in our veg boxes and markets. Whereas April marks the difficult hungry gap for farmers, late May, June and July provides courgettes and aubergines, fresh peas and broad beans, as well as bright berries, apricots and cherries. 
Learn how to make the most of the fruit and veg grown on your doorstep with these early summertime recipes:
Shelling Peas, Broad Beans, Mint and Ricotta from Caravan: Dining All Day by Laura Harper-Hinton, Miles Kirby & Chris Ammermann
This pea and broad bean salad paired with fresh cheese and mint screams of summer. If you can, buy your peas and broad beans fresh and in their shells and shell them yourself – this is a great task to keep bored kids busy too. Broad beans and peas when in season are just as good quickly boiled and served just as they are with butter, salt and pepper. Alternatively try Ottolenghi's Beef Meatballs with Broad Beans & Lemon. 
Caravan: Dining All Day
Recipes from the London restaurant scene favourite
Beautiful dishes using fresh and seasonal ingredients
Aussie-style brunch inspiration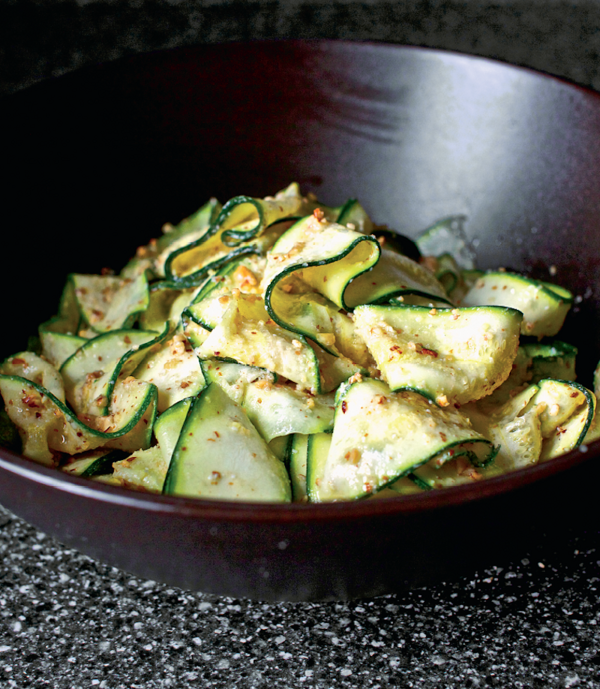 Courgette Ribbons with Almond Pesto from The Smitten Kitchen Cookbook by Deb Perelman
Delicate in-season courgettes don't need to be baked into a bog-standard veggie lasagne or ratatouille – they're incredible eaten raw, shaved into ribbons and dressed with olive oil or an almond pesto as in this recipe from The Smitten Kitchen Cookbook. You could also flash-fry them and toss through lemony pasta as per Jamie Oliver's recipe for Lemon Courgette Linguine.
Order a copy of The Smitten Kitchen Cookbook here.
Baby Aubergines Stuffed with Peanut & Coconut from Fresh India by Meera Sodha
You might be fooled into thinking that aubergines grow all year round but they're only in season in the UK during the summer months. This fragrant, punchy dish makes the most of their smooth, fleshy and creamy texture. Delicious served with a cucumber and mint raita, or with a salad, some yoghurt and chapattis. Alternatively, Sami Tamimi and Tara Wigley have a wonderful recipe for smoky, charred aubergine yoghurt in their new Falastin cookbook.
Order a copy of Fresh India here.
Chargrilled Lamb Leg with Labneh & Poached Apricots from Ducksoup Cookbook by Clare Lattin & Tom Hill
Soft, velvety, sweet apricots are in season from May to September. Use them in either sweet or savoury dishes – here they are blistered and paired with smoky, tender lamb and creamy labneh for a summery Sunday lunch. Or turn them into these Apricot Pistachio Squares or this Cypriot-inspired Anari, Pistachio and Apricot Pancake from the Taverna cookbook. 
Order a copy of Ducksoup Cookbook here.
Summery Berry Shortbread Cake from The Big Family Cooking Showdown
Berries come into their own during the British summertime – strawberries, raspberries, blackcurrants and blackberries are at their juiciest. If you're not eating them straight from the punnet, bake them into this almondy shortbread cake. Or try Jamie Oliver's healthy breakfast recipe for Berry Pocket Eggy Bread.
Order a copy of The Big Family Cooking Showdown here.
Warm Cherry Crumble Pie from The Great British Bake Off: How to Bake by Linda Collister
"Enjoy this pie when English cherries are in season and good value in the markets" says Linda Collister. Cherries are at their best from mid-June, and are delicious baked into pies, crumbles or muffins. 
Order a copy of The Great British Bake Off: How to Bake here.