Let's face it, though it may be traditional, Christmas pudding is not everyone's cup of tea. If you're looking for a festive dessert that's a little different this year, look no further than these delicious alternatives.
Tutti Frutti Pavlova from Nadiya Bakes by Nadiya Hussain
Nadiya plays with nostalgic tutti frutti colours in this festive dessert, combining glacé cherries, mixed peel, pistachios and shavings of chocolate. Layered on a chewy meringue nest with whipped cream in the middle, this is a fun twist on tradition.
Order a copy of Nadiya Bakes here.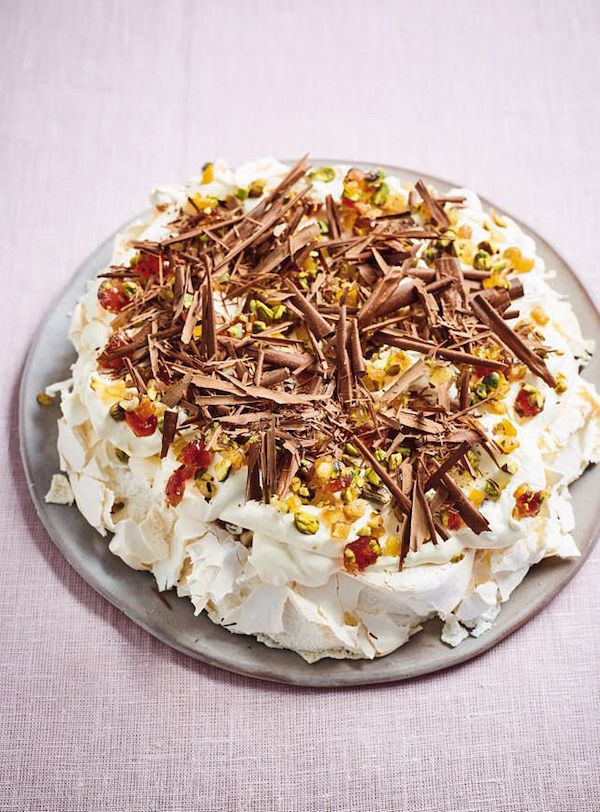 Frozen Espresso Parfait for a Crowd from SWEET by Yotam Ottolenghi and Helen Goh
With rich creamy coffee parfait set between chocolate meringue and topped with crunchy praline and a caramel whisky sauce, this recipe from SWEET is a seriously grown up festive centrepiece.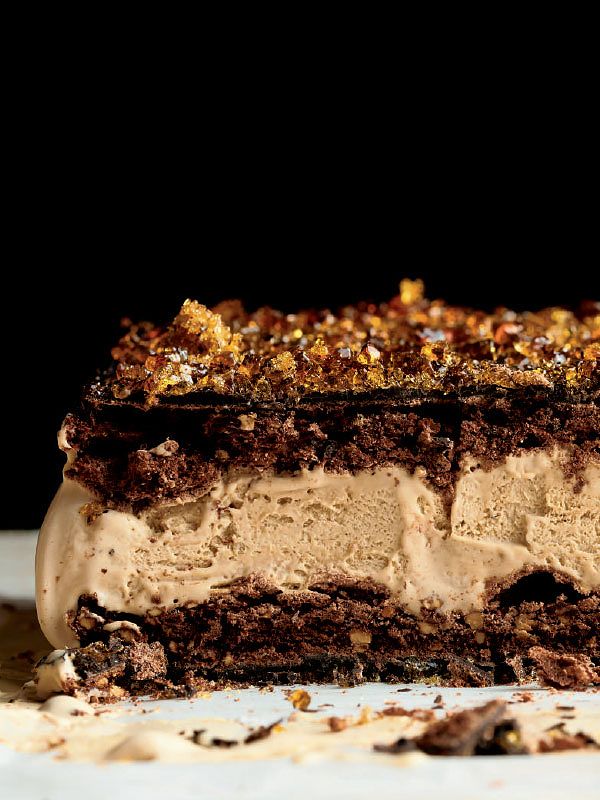 Éclair Roll from Nadiya's Family Favourites by Nadiya Hussain
Let the good times roll this Christmas with this crowd-pleaser from Nadiya's Family Favourites. A cross between an éclair and a Swiss roll, it'll be top of any chocoholic's wish list this Christmas.
Buy Nadiya's Family Favourites here.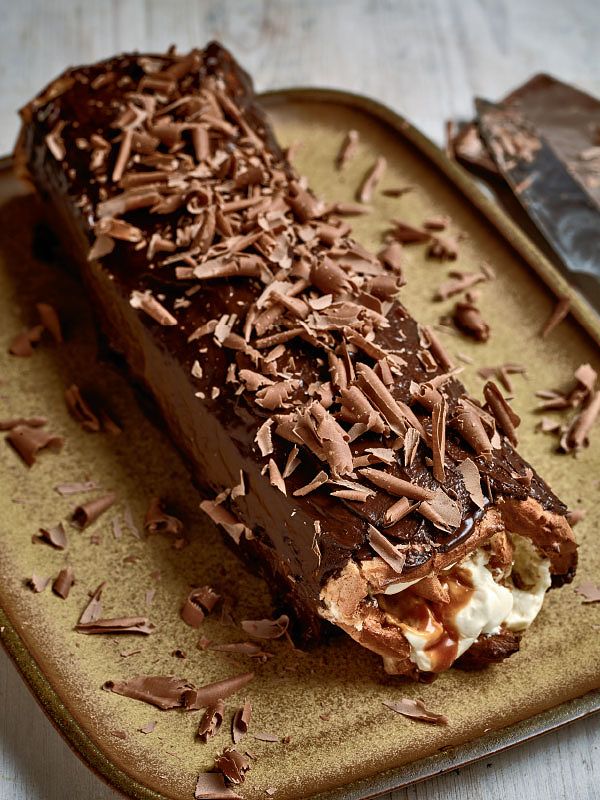 Chocolate Steamed Pudding with Chocolate Sauce from Simple Comforts by Mary Berry
If you're looking for something classic and simple, this lovely light sponge is just the ticket. It's rich in flavour and served with a divine pouring sauce.
Order a copy of Simple Comforts here.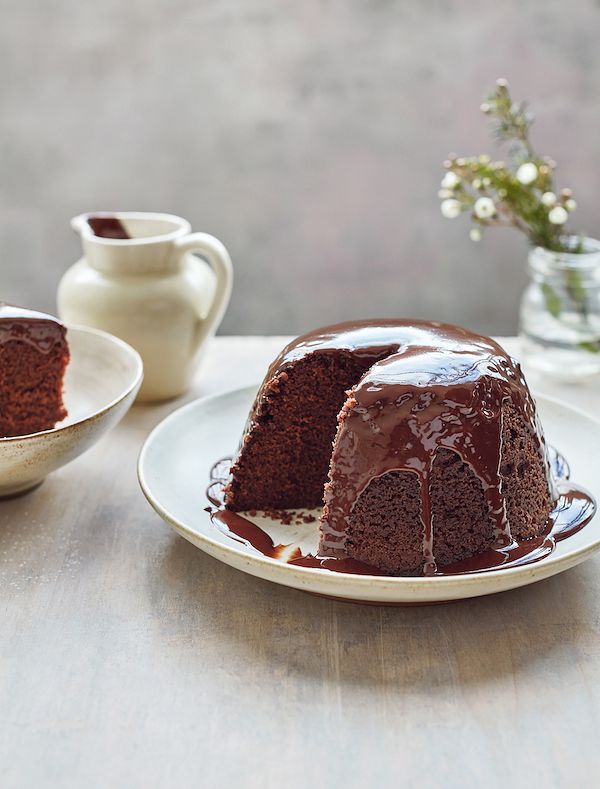 Quince, Brandy and Walnut Trifle from Taverna: Recipes From a Cypriot Kitchen by Georgina Hayden
This Cypriot-inspired trifle is layered with sponge, poached fruit in jelly, chopped spoon sweets, custard, and a cream layer on top to make it even more of a showstopper. Georgina recommends replacing the quince with pears or apples if you can't get hold of them and to decorate it "as extravagantly as you wish".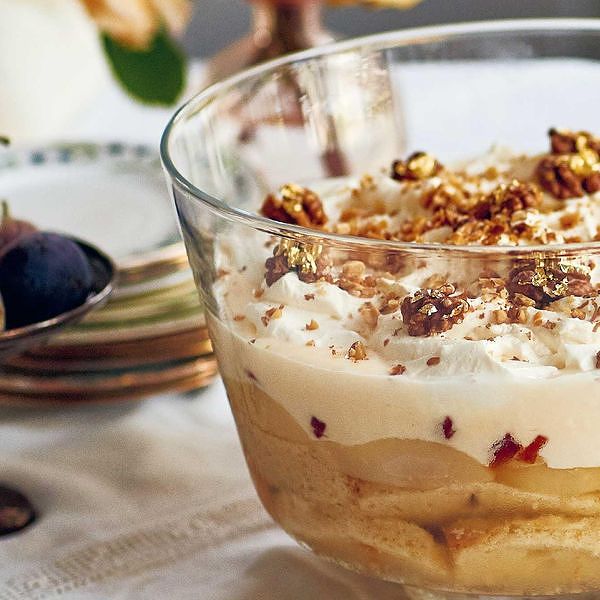 Winter Bombe from Jamie Oliver's Christmas Cookbook by Jamie Oliver
With festive flavours of panettone and Vin Santo, this Winter Bombe cake is also a great make-ahead dessert with only 20 minutes of preparation time. Simply assemble the gorgeous line-up of ingredients, freeze and then pour a divine chocolate sauce over the top when you're ready to serve. Showstoppers don't get much easier! 
Get Jamie Oliver's Christmas Cookbook here.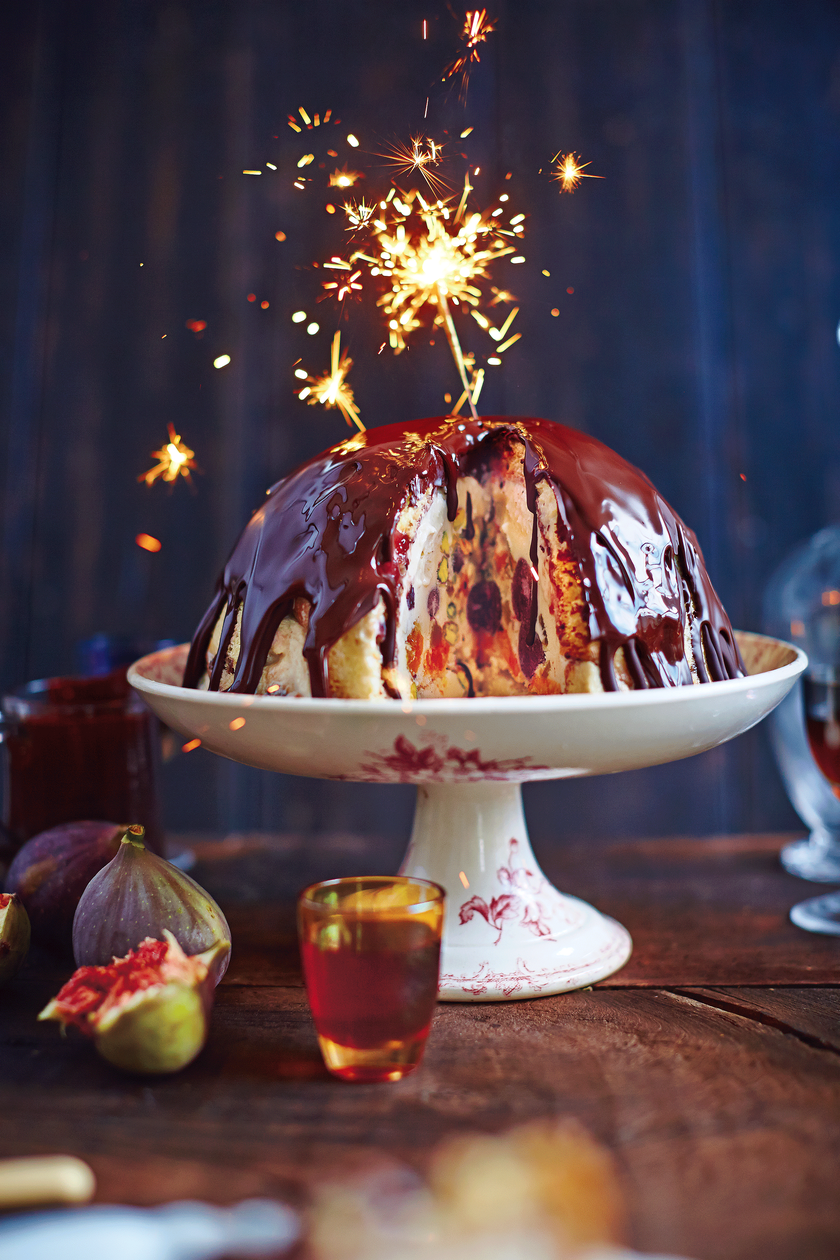 Caramel Plum Sundae with Pink Peppercorn Nut Brittle from Ainsley's Caribbean Kitchen by Ainsley Harriott
Soft, sweet plums, caramelly dulce de leche, a hint of spice and peppery brittle for a lovely crunchy texture, this sundae is something special. Served up in little glasses for a wonderful Christmas dessert. 
Order your copy of Ainsley's Caribbean Kitchen here.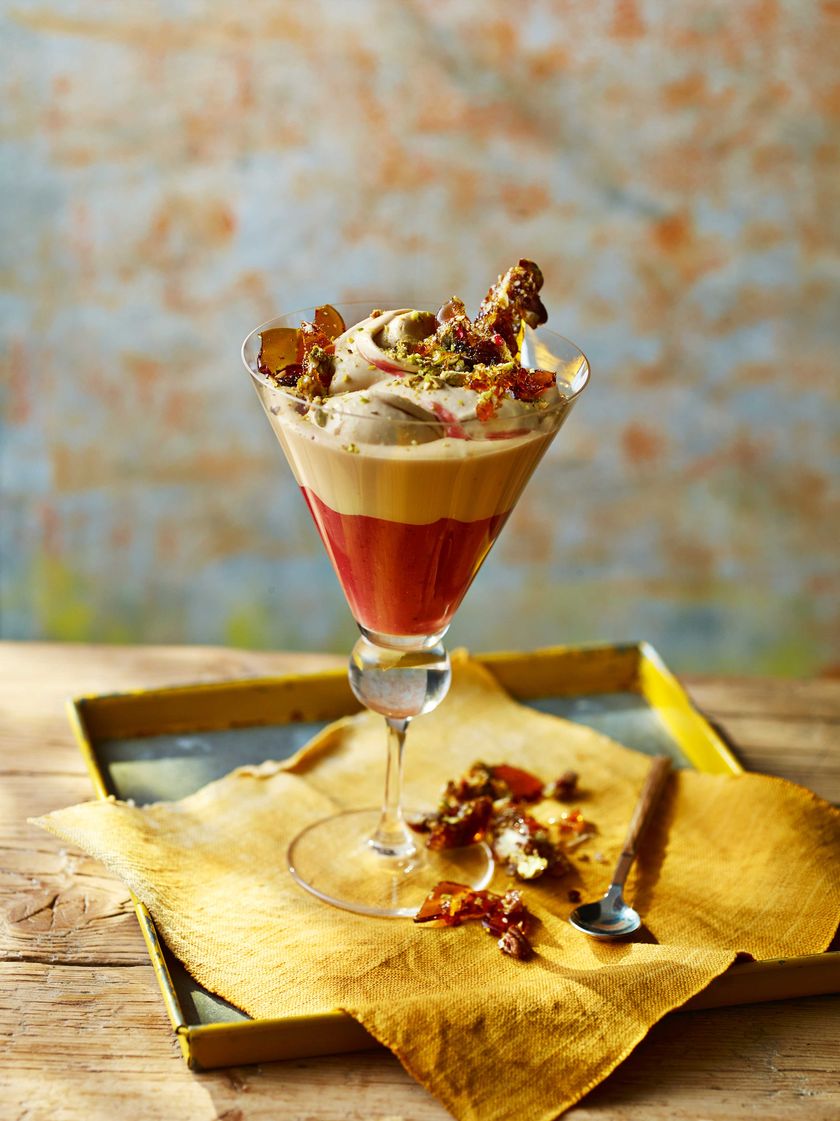 Cinnamon Pavlova with Praline Cream and Fresh Figs from SWEET by Yotam Ottolenghi and Helen Goh
With a suitably festive cinnamon-flavoured meringue matched with the fresh and earthy flavour of figs and a praline cream, this drool-worthy pavlova from SWEET will not fail to impress your Christmas Day guests.
Click here to buy your copy of SWEET.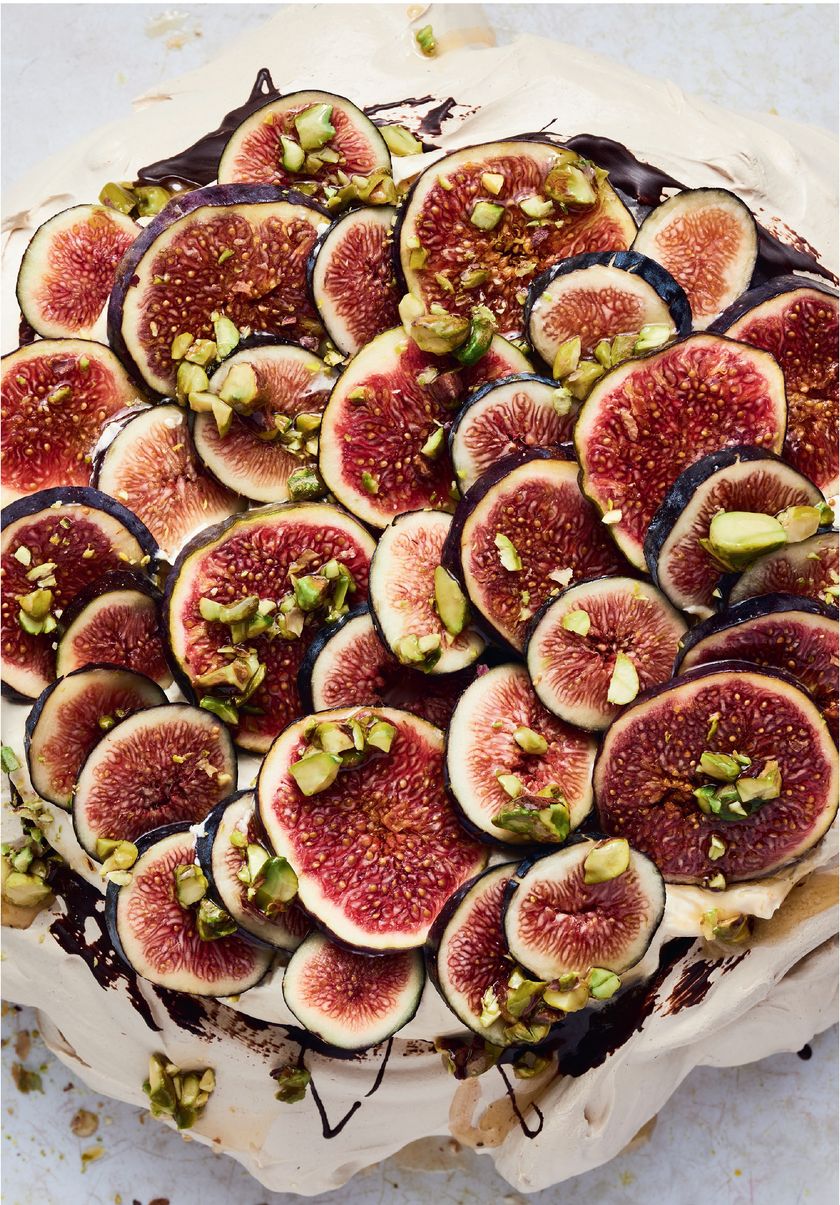 Chocolate and Salted Dulce de Leche Tart from A Love of Eating: Recipes from Tart London by Jemima Jones & Lucy Carr-Ellison 
If you're planning on making this utterly delicious chocolate and dulce de leche tart, make sure to leave extra room because it is impossible to not want a second slice. If Christmas is all about indulging, then this dessert ticks all the boxes. 
Buy A Love of Eating: Recipes from Tart London here.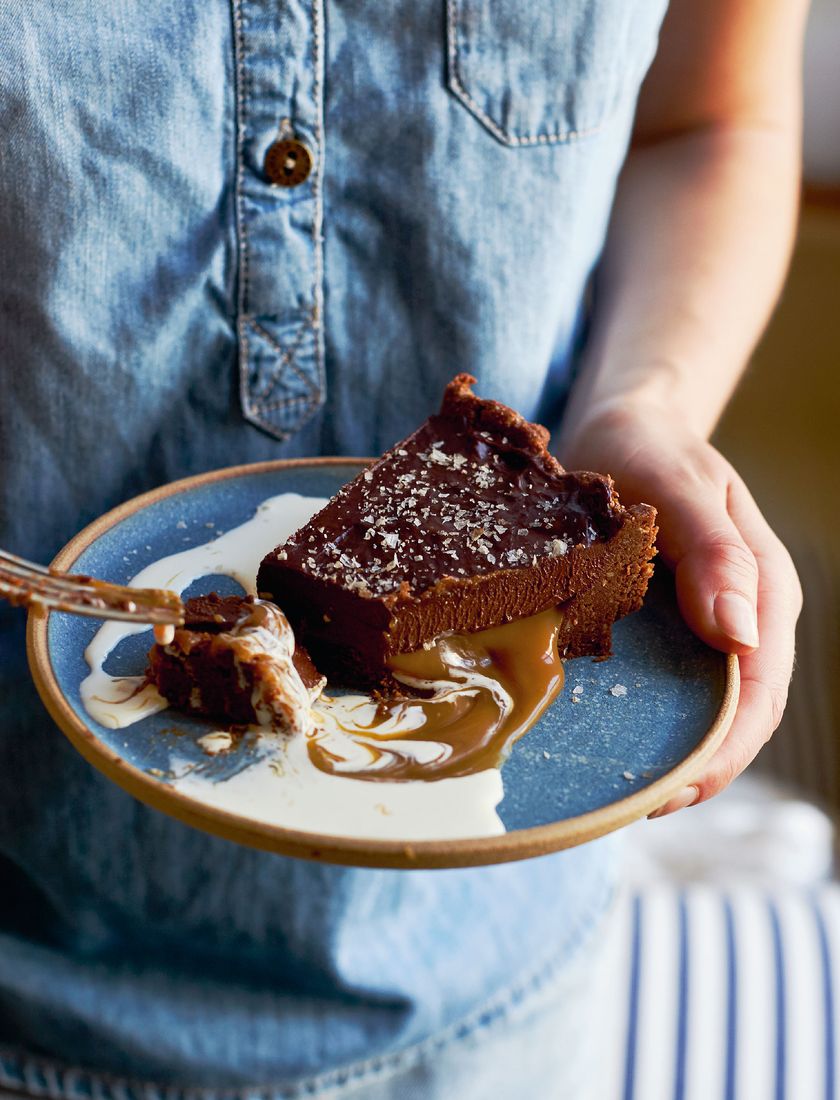 Giant Macaron Cake from Downtime by Nadine Levy Redzepi
From Nadine Levy Redzepi's debut cookbook, Downtime, comes this awe-inspiring Giant Macaron Cake. Far from the earthy tones of a Christmas pud, this fabulous fuschia centrepiece is a striking departure from tradition.
Buy your copy of Downtime here.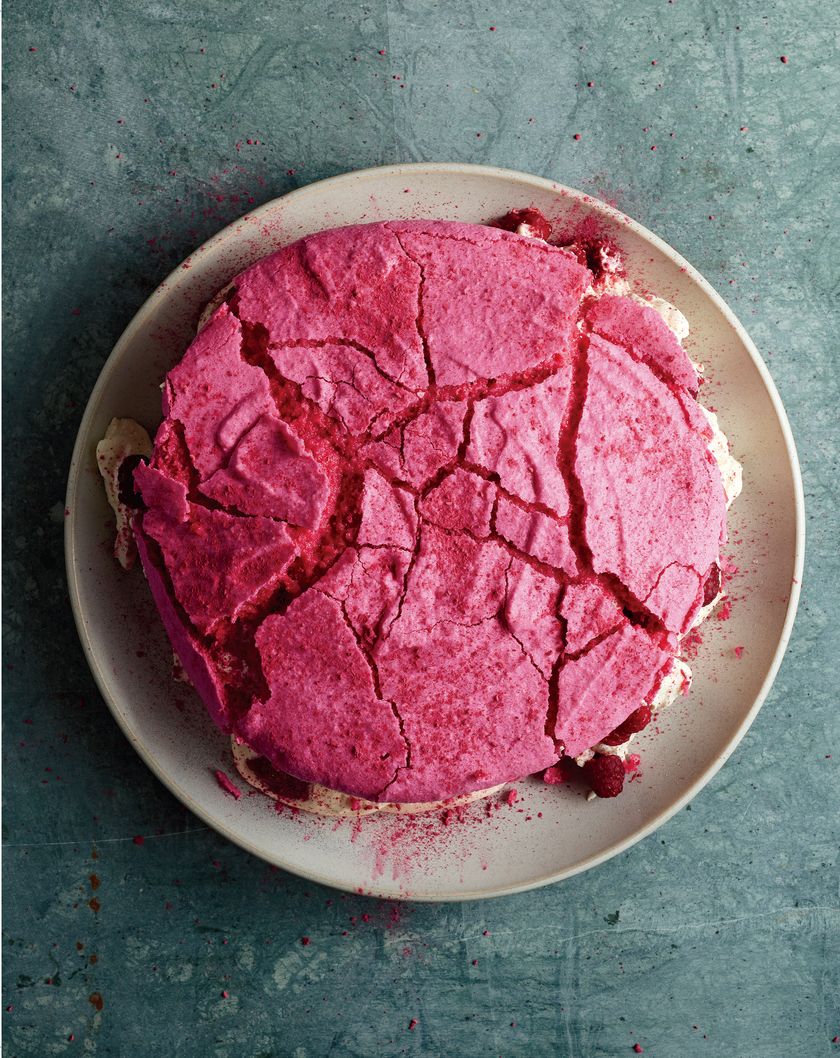 Chocolate and Irish Cream Roulade from Mary Berry Cooks the Perfect by Mary Berry
It wouldn't be Christmas without chocolate, and this dessert not only features a rich dark chocolate sponge but is finished with a decorative drizzle of white chocolate too. It's also another make-ahead option that you can pop in the freezer and defrost before the big day. 
Buy Mary Berry Cooks the Perfect here.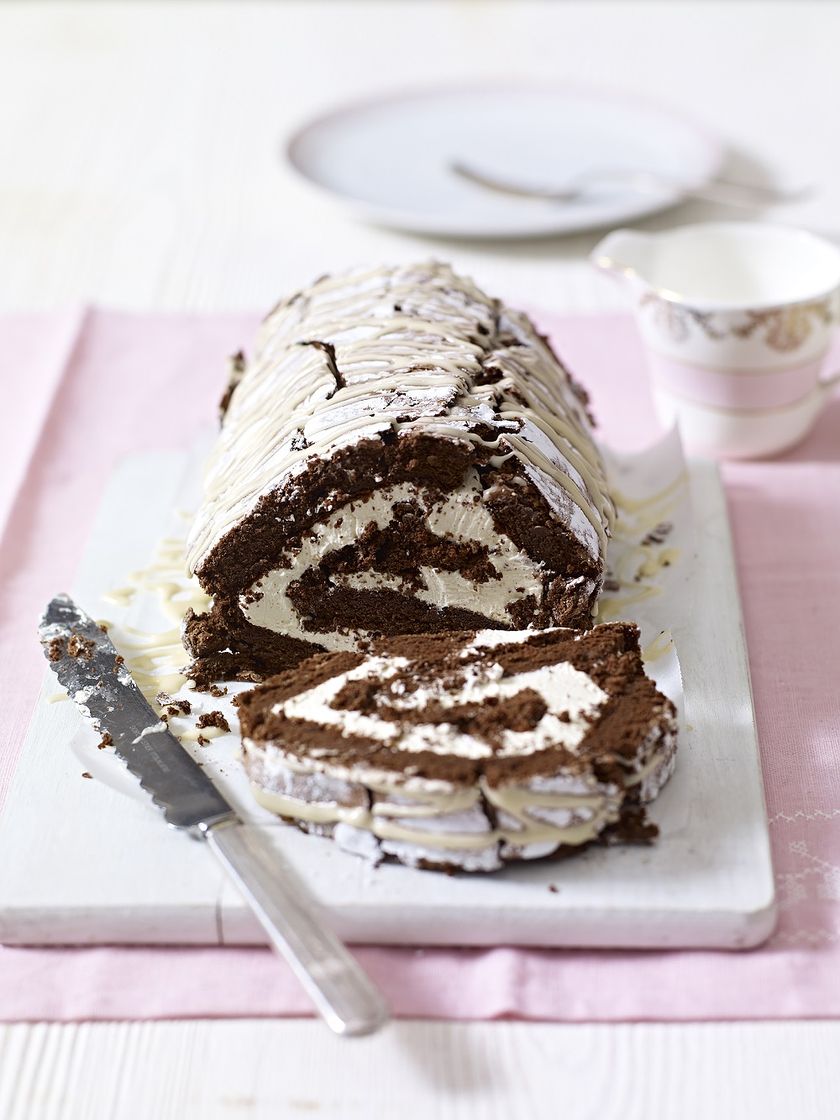 Banoffee Alaska Almond Pastry, Caramel, Bananas & Vanilla Ice Cream from Jamie Oliver's Christmas Cookbook by Jamie Oliver
This recipe is an absolutely stunning way to round-off your Christmas feast, with its tantalising medley of rich flavours and textures, from caramel to lime-spiked bananas and a delicious crown of meringue. Much of the recipe can be prepared in advance, giving you more time to relax and enjoy yourself on Christmas afternoon. 
Get Jamie Oliver's Christmas Cookbook here.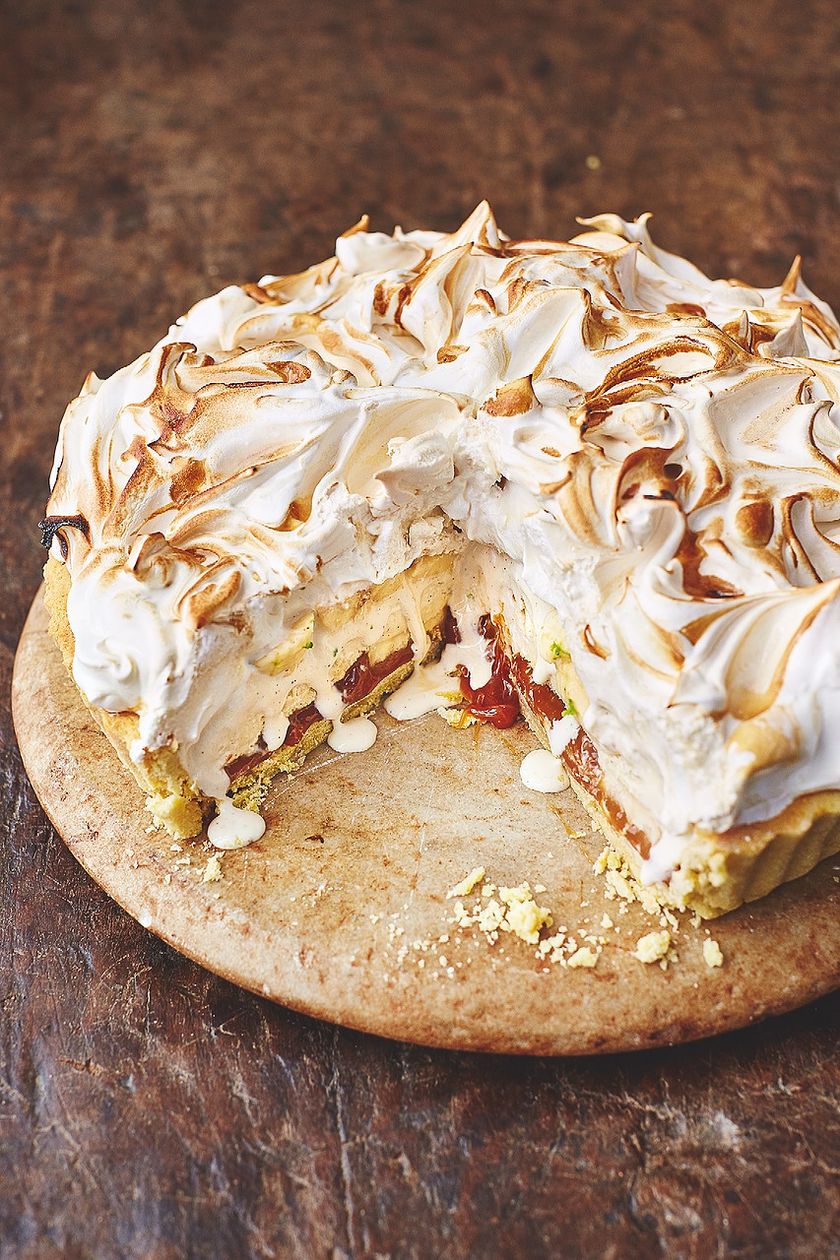 Meringue Roulade with Rose Petals and Fresh Raspberries from Plenty More by Yotam Ottolenghi
Ottolenghi's beautifully decorative meringue roulade is a refreshing twist on a more traditional chocolate yule log, replacing the sponge and chocolate with an irresistible layer of mascarpone cream and elegantly topped with raspberries,  pistachios and rose petals.  
Get your copy of Plenty More here.