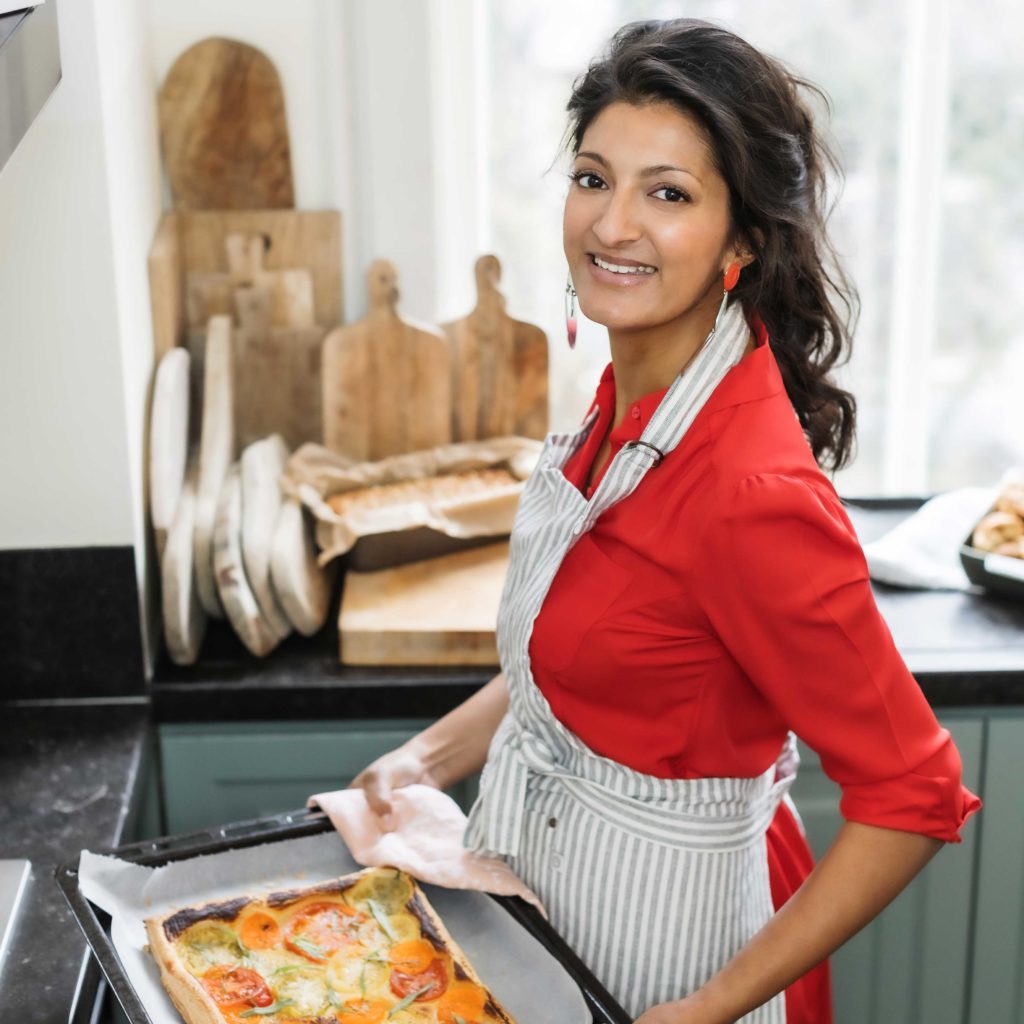 Dinner with Rukmini
Browse all of the recipes in Rukmini Iyer's cookbooks by ingredient.
Orange Chocolate Chip Bread and Butter Pudding
Infused with fragrant orange and studded sweet chocolate chips, Rukmini Iyer's bread and butter pudding is the ultimate comfort food.
Introduction
This is based on a favourite steamed pudding – orange chocolate chip – which my mother made for us as children. This bread and butter version uses the same flavourings but helps if you've got some leftover bread to use up.
Ingredients
| | |
| --- | --- |
| 3 | medium free-range egg yolks |
| 50g | caster sugar |
| 1 | orange, zest and juice |
| 300ml | single cream |
| 50ml | milk |
| 300g | soft white sliced farmhouse bread, buttered |
| 100g | dark chocolate (70%cocoa solids), cut into chunks |
| | custard, to serve (optional) |
Essential kit
You will need: a 20cm x 26cm roasting tin.
Method
Preheat the oven to 150°C fan/170°C/gas 3. Whisk the egg yolks with the caster sugar and orange zest, then slowly whisk in the single cream,milk and orange juice. Set aside.
Cut the buttered bread into quarters and arrange one layer in a buttered 20cm x 26cm roasting tin. Spoon over enough orange custard to coat, squashing down the bread well with a spoon, then scatter over a layer of chocolate chunks. Repeat, layering up the bread, chocolate chunks and custard until you've used up all the bread. Pour the remaining custard over  the top, add a final layer of chocolate chunks, and gently squash everything down again.
Transfer the pudding to the oven and bake for 25–30 minutes, until crisp and golden brown on top, but still soft within.
Serve hot,with custard on the side if you wish.