Just because you've settled on your centrepiece, doesn't mean you can't jazz up your festive side dishes this year. Want to revamp your sprouts? No problem. Looking for a taste bud-popping new sauce for your feast? We've got you covered. Find a new side dish to try this year with ideas for everything from squabble-worthy spuds to glorious greens. 
SPROUTS
Previously the poor relation of the Christmas table, these compact little green veggies are going through quite the vogue. Serve them up in style this year with one of these five recipes.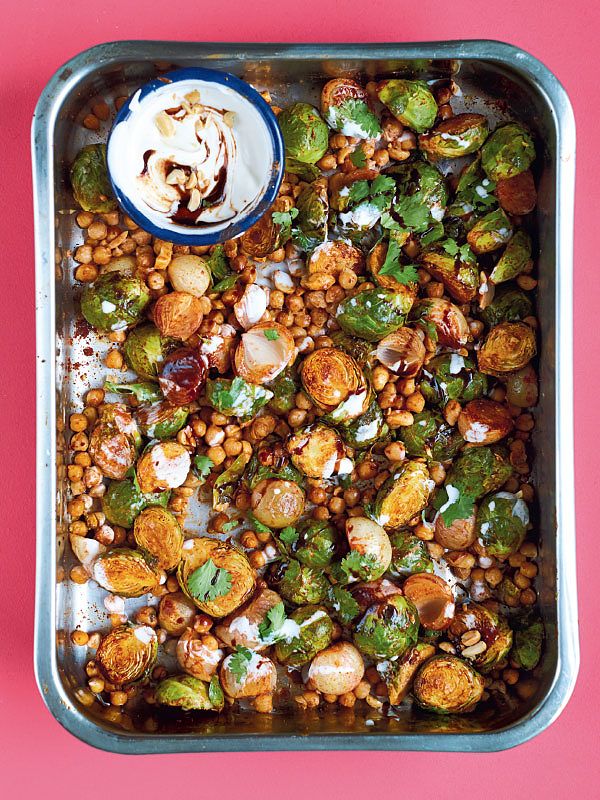 Crispy Tamarind Sprouts with Peanuts and Shallots from The Green Roasting Tin by Rukmini Iyer 
Crispy on the outside and soft in the middle, these tasty sprouts are packed with moreish flavours, thanks to Rukmini's inventive and playful approach to easy one-tin cooking.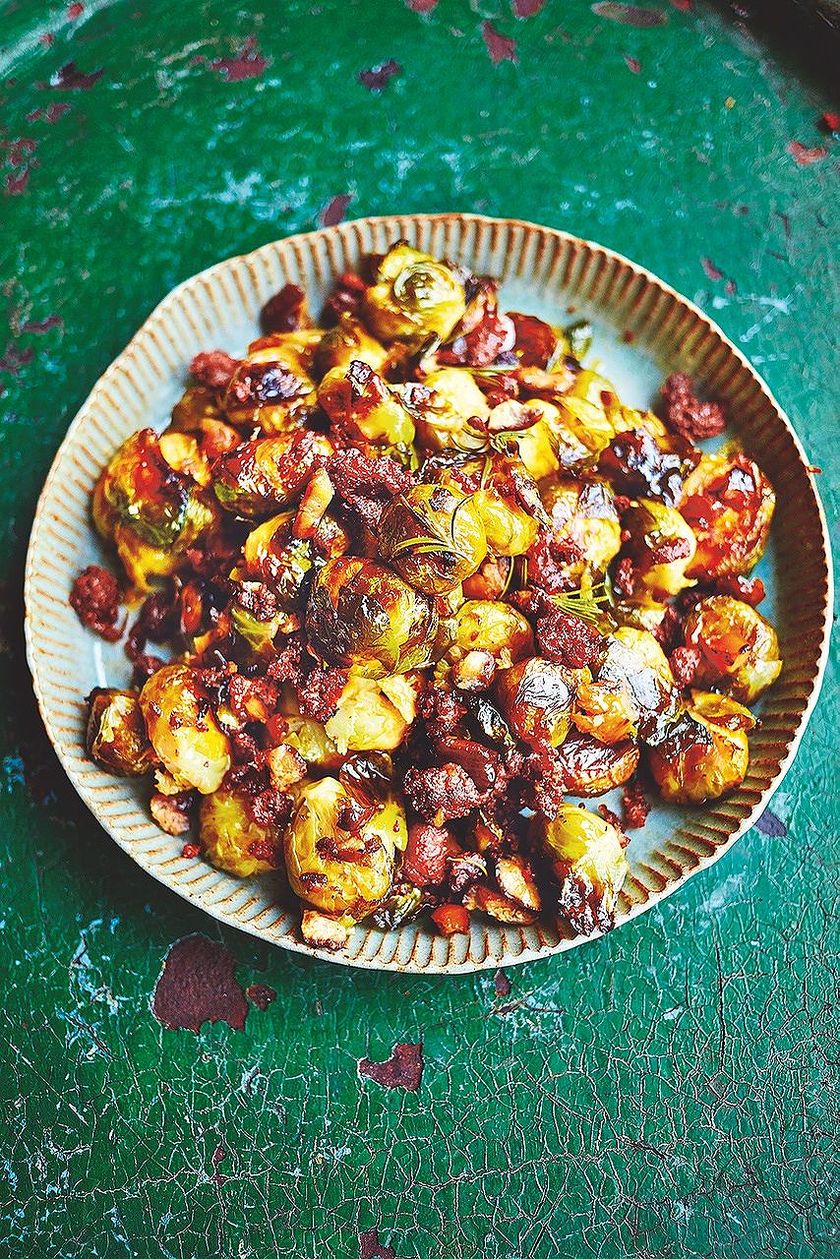 Squashed Brussels Roasted with Chorizo & Chestnuts from Jamie Oliver's Christmas Cookbook by Jamie Oliver
Indulgence is never a bad thing at Christmas time, especially when it comes to the cooking. Jamie's much-loved sprouts cooked with chorizo sausage and chestnuts make a deliciously rich side dish that will turn even the biggest sprout sceptic the other way. 
Order your copy of Jamie Oliver's Christmas Cookbook here.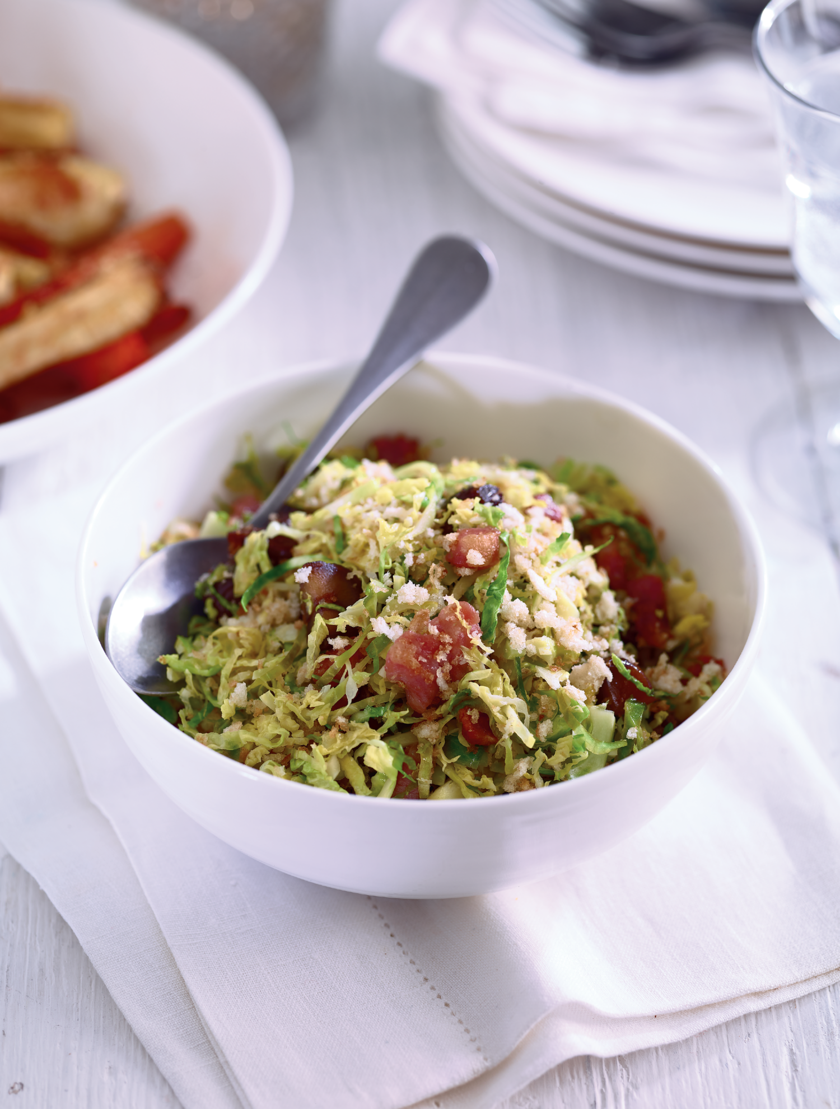 Shredded Sprouts with Chestnuts and Bacon from Eat Well For Less by Jo Scarratt-Jones
For a more budget-friendly yet equally tasty way to jazz up your sprouts, try the Eat Well For Less recipe and you've got a fancy sprout dish that will have everyone asking for seconds.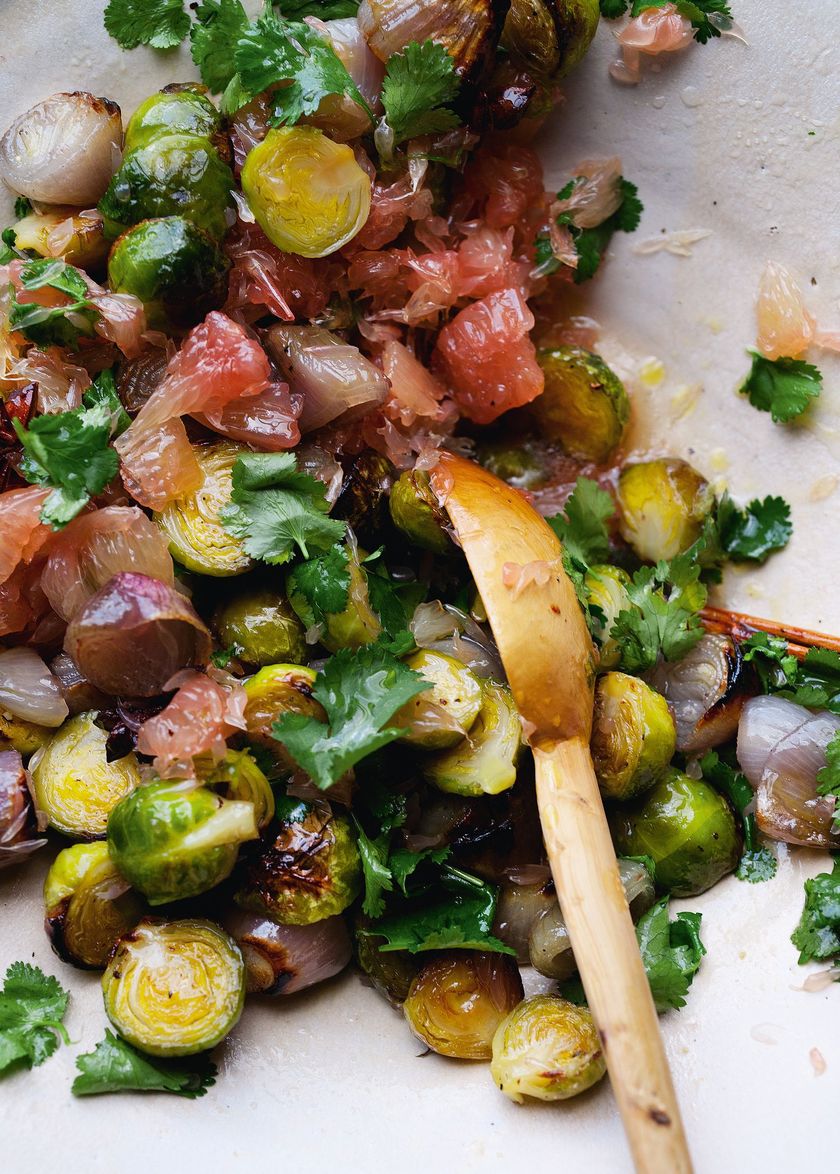 Roasted Brussels Sprouts with Pomelo and Star Anise from Plenty More by Yotam Ottolenghi
Ottolenghi knows how to bring interesting flavours to any dish that just take it to the next level. Enter this recipe for Brussels Sprouts with Pomelo and Star Anise, an imaginative recipe that brings a lovely freshness to your Christmas spread.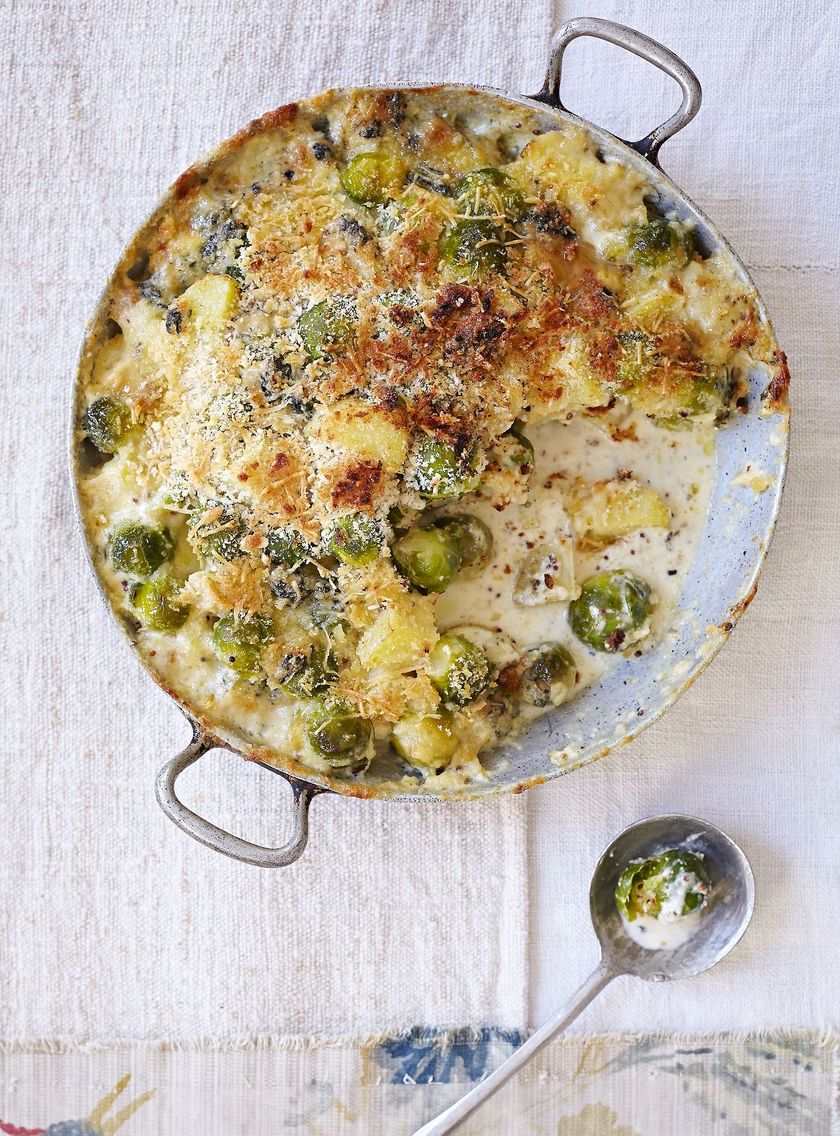 Creamy Cheese, Brussels Sprout and Almond Gratin from Great British Bake Off: Winter Kitchen by Lizzie Kamenetzky
Add cheese to any dish and you know you're on to a winner, especially when it comes in the form of a wintery gratin. These baked sprouts are covered in a delicious cheese sauce, and topped with a cripsy Parmesan and bread crumb crust. 
Buy Great British Bake Off: Winter Kitchen here.
COLOURFUL VEG 
Bring some vibrant colour to your Christmas dinner with these alternative sides.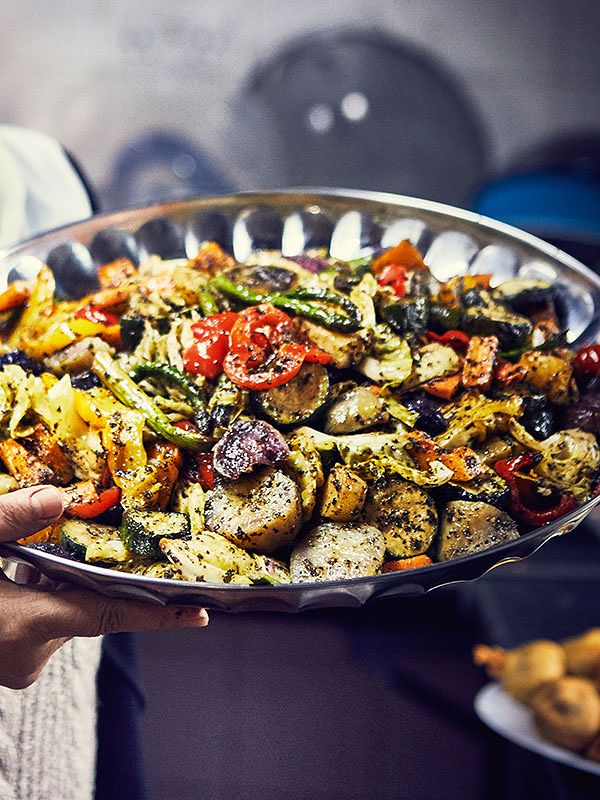 Ahlam Saeid's Rainbow Roasted Vegetables from Together by The Hubb Community Kitchen
An array of colourful veggies make up this dish, with Brussels sprouts, beetroot, potatoes, squash, red pepper, carrots and parsnips flavoured with oregano and chilli. This pairs perfectly with roasted meats and veggie mains.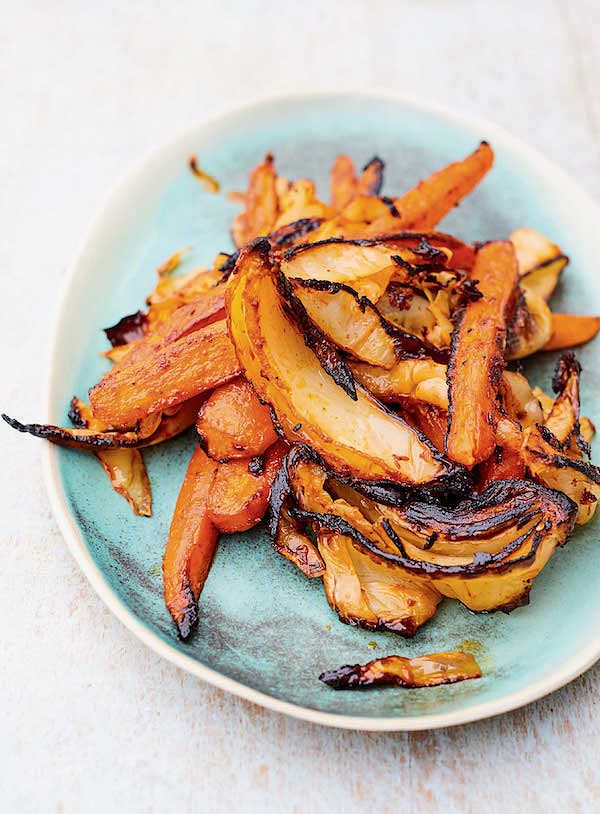 Roasted Carrot and Cabbage with Gochujang from EAST by Meera Sodha
Gochujang is a Korean fermented red chilli paste that you'll be able to find in most Asian food stores. Add it to carrots and cabbage for a pungent, flavour-packed hit of spice, roasted until deliciously sweet and caramelised.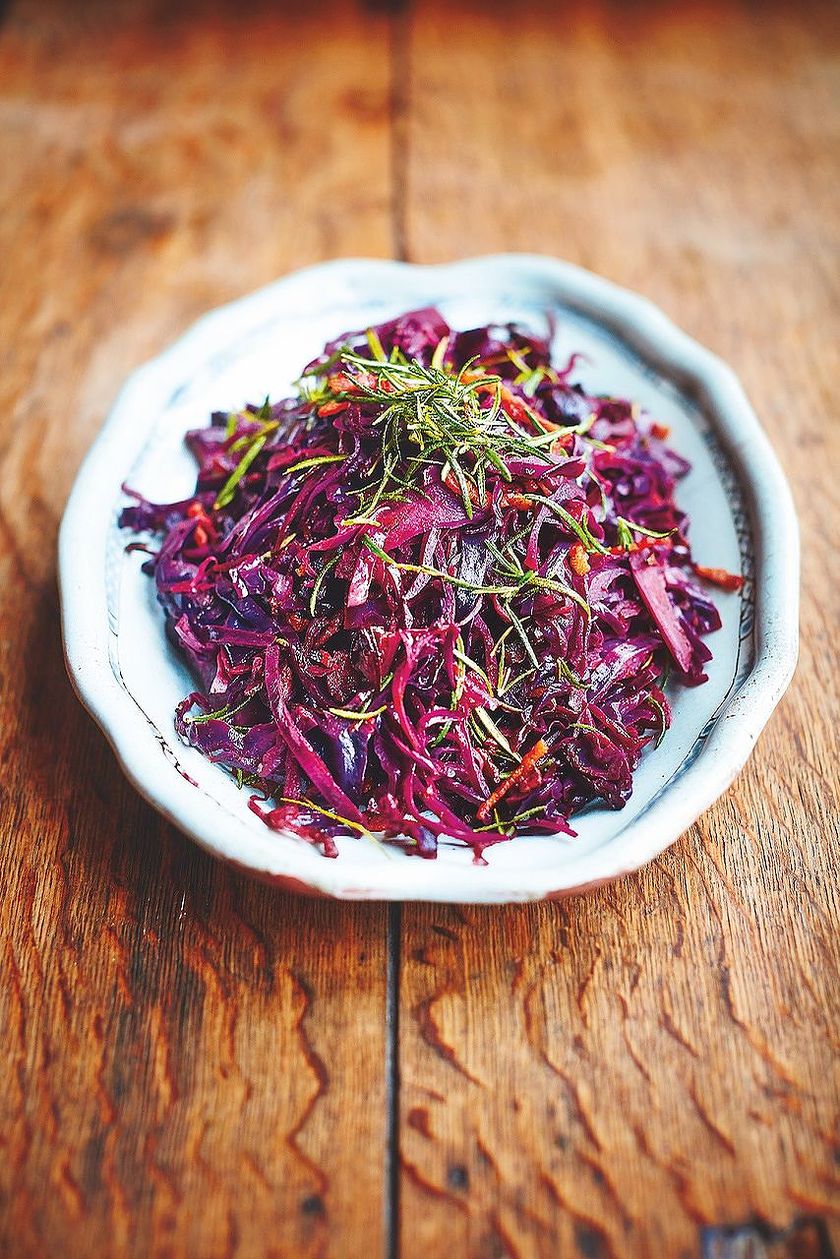 Red Cabbage from Jamie Oliver's Christmas Cookbook by Jamie Oliver
With crispy smoked bacon, rosemary, apple, dried prunes, fennel seeds and balsamic, this red cabbage recipe isn't just any red cabbage recipe. Make this the day before and simply reheat it in a pan.
Order your copy of Jamie Oliver's Christmas Cookbook here.
GREENS
Say goodbye to after-thought dishes of green veg this year. Give your green side dishes flavour and life enough to steal limelight from the turkey with one of these three recipes.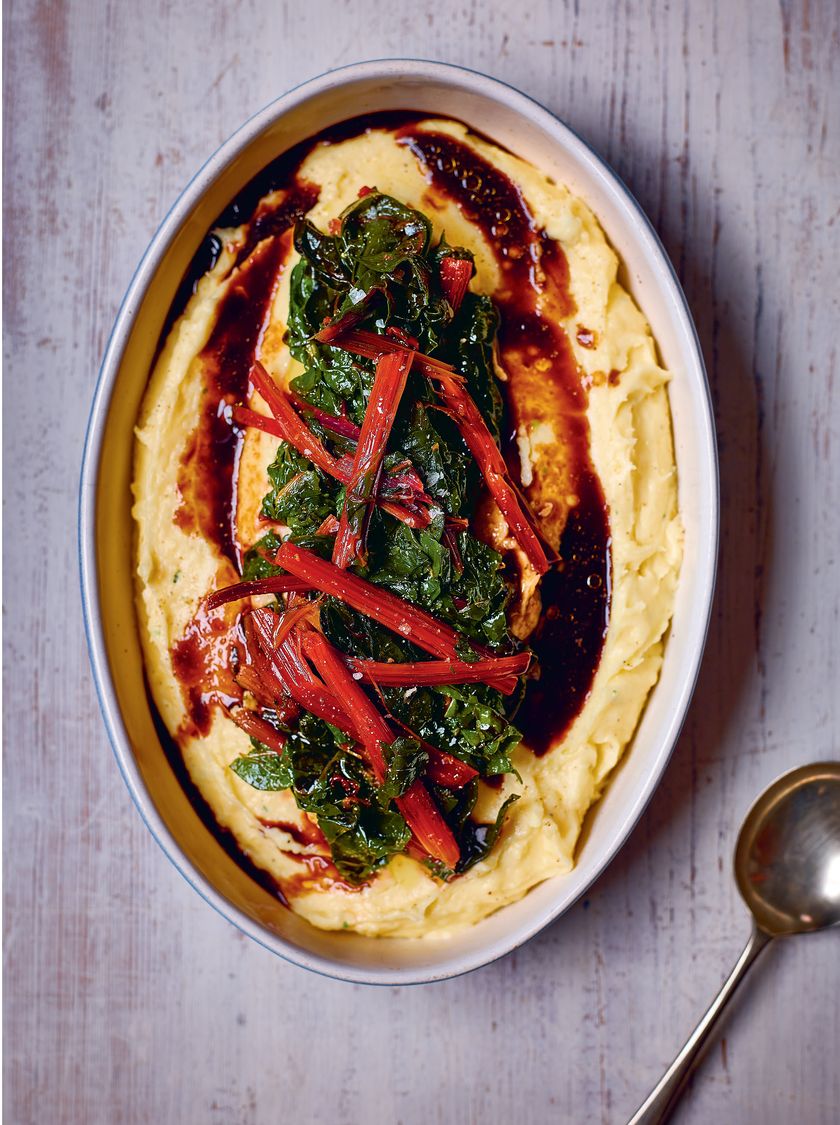 Creamy Mashed Potato and Chard from Sabor by Nieves Barragán Mohacho
Garlicky chard, super-creamy mash (made with cream, butter and oil!) and a rich gravy to pour on top, this is on the right side of luxurious for Christmas dinner.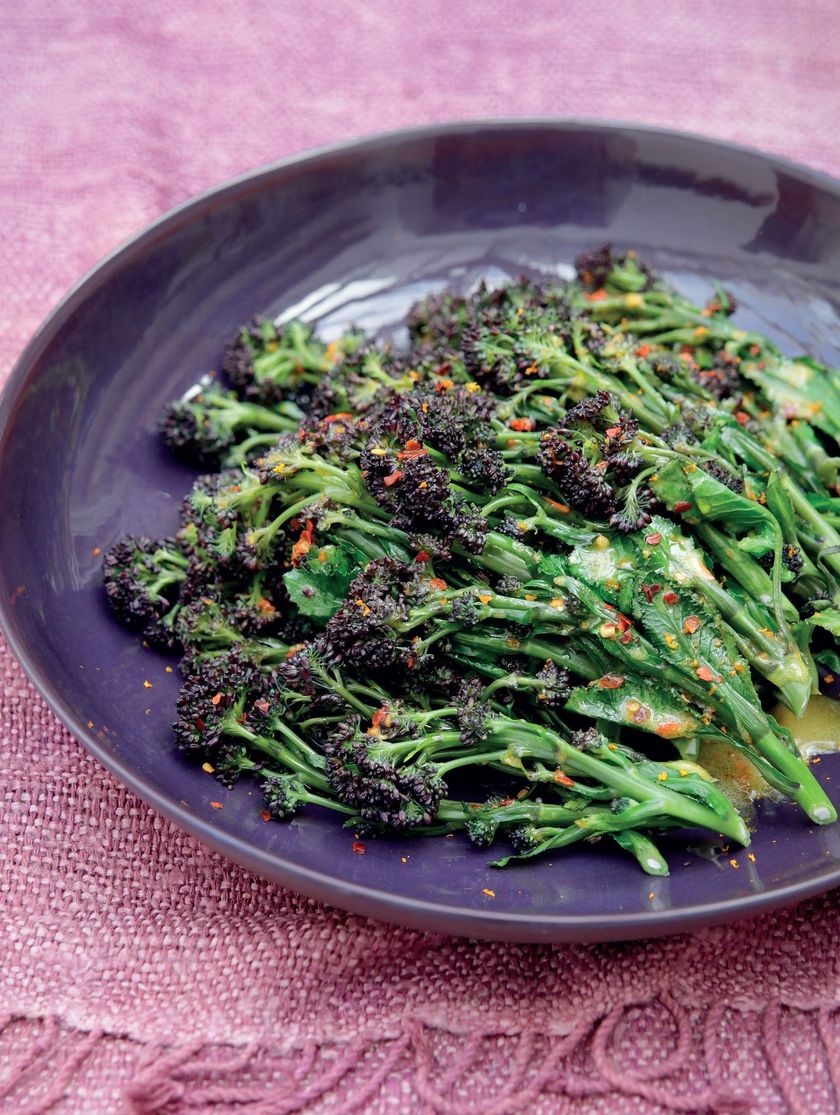 Purple Sprouting Broccoli with Clementine & Chilli from Simply Nigella by Nigella Lawson
With a chilli and clementine dressing, this ultra simple side is a festive way to serve up greens. 
Buy a copy of Simply Nigella here.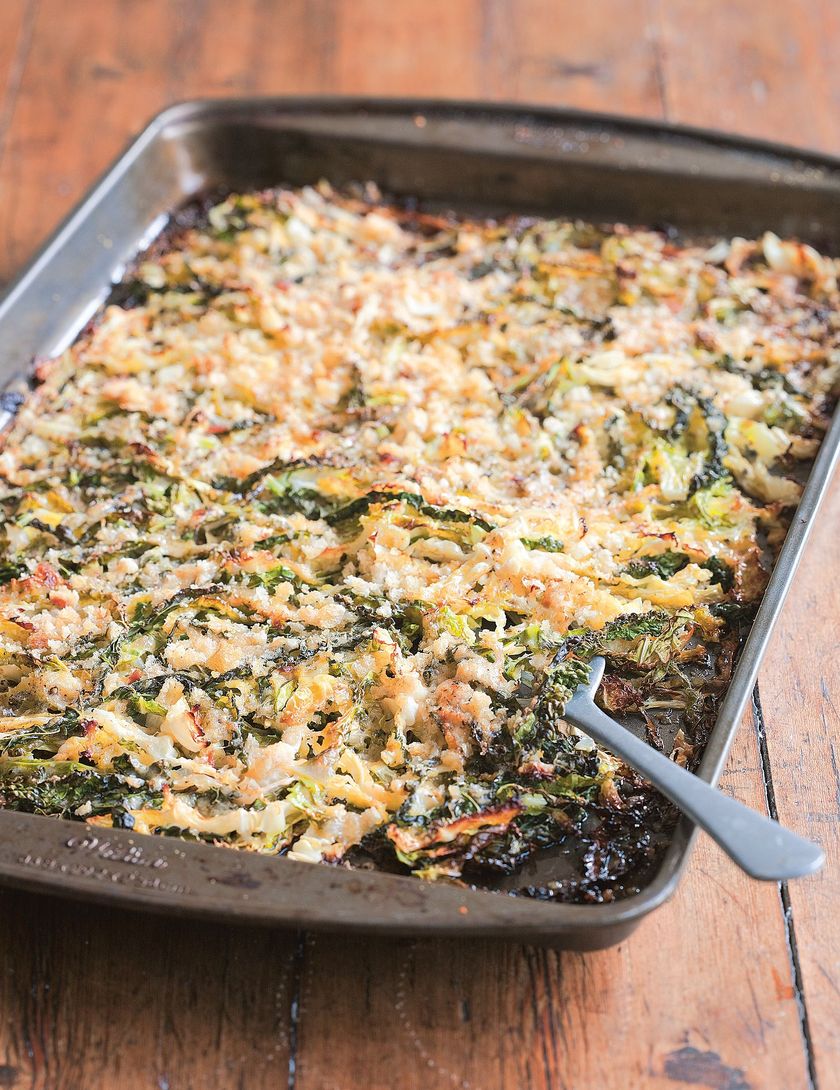 Crunchy Shredded Roasted Cabbage from Simply Italian by Michaela, Emanuela and Romina Chiappa
A novel way to serve up cabbage and a great side to a Christmas roast. Here the Chiappa sisters, top their cabbage with breadcrumbs and Parmesan, and roast it in the oven for deliciously cheesy, crunchy results.
Order a copy of Simply Italian here.
SPUDS
So versatile, so delicious. Whichever recipe you choose, there will be squabbling over who gets the last one.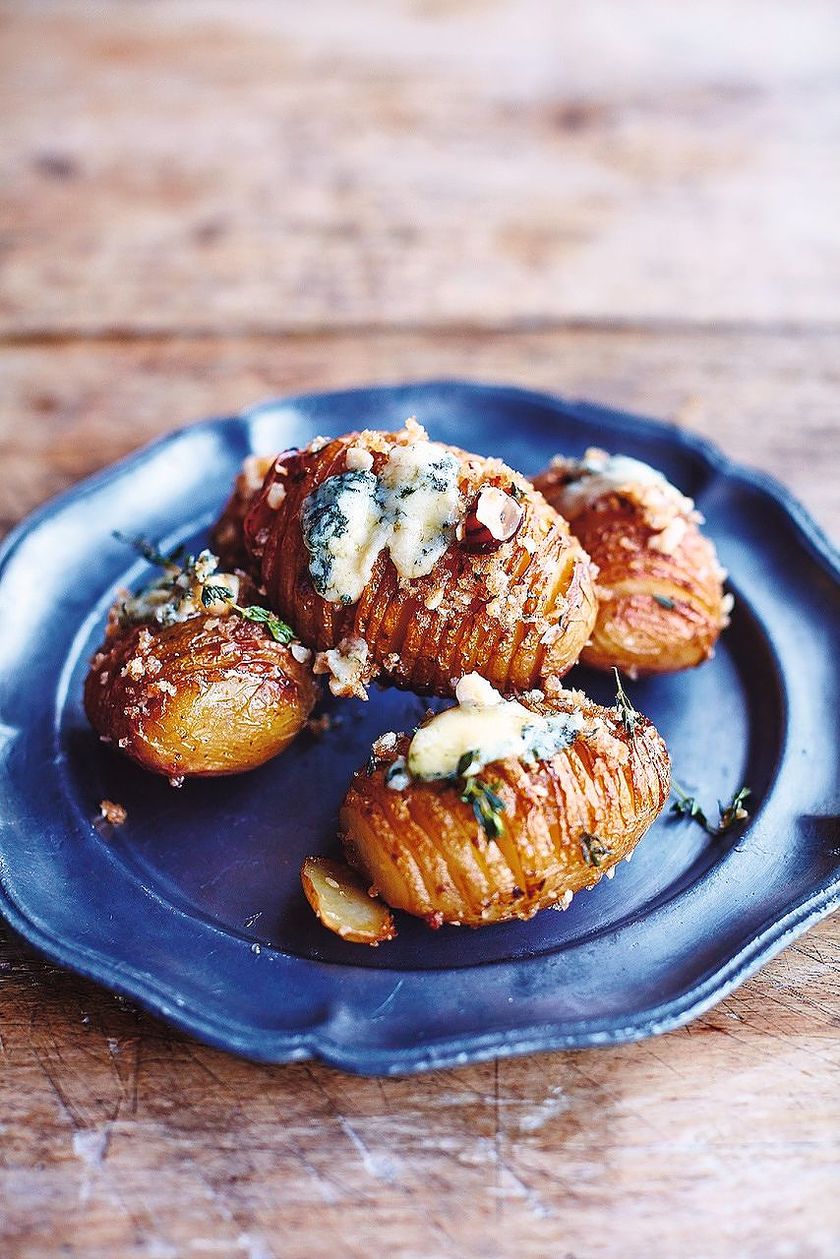 Hasselbacks from Jamie Oliver's Christmas Cookbook by Jamie Oliver
Hasselbacks are made by slicing multiple times through the potatoes, without going all the way through – this makes them wonderfully absorbent of flavour and amplifies their crispiness. Cooked with turkey dripping and thyme, and served with melting blue cheese and a crushed hazelnut crumb, these are to die for.
Order your copy of Jamie Oliver's Christmas Cookbook here.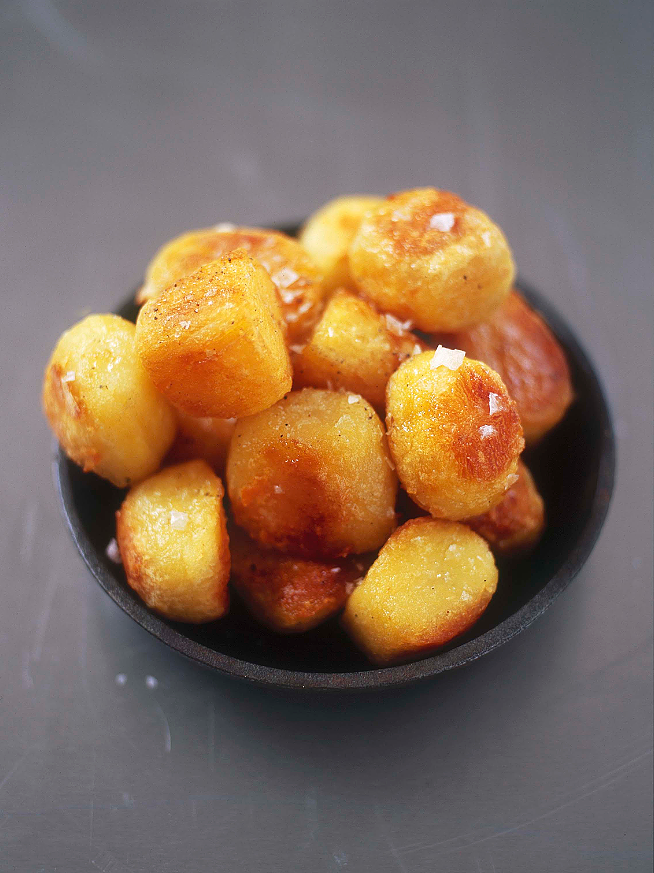 Roast Potatoes from Marcus Wareing How to Cook the Perfect by Marcus Wareing
For top-notch, perfect roasties this Christmas, follow Marcus Wareing's foolproof guide. They work everytime.  
Buy Marcus Wareing How to Cook the Perfect here.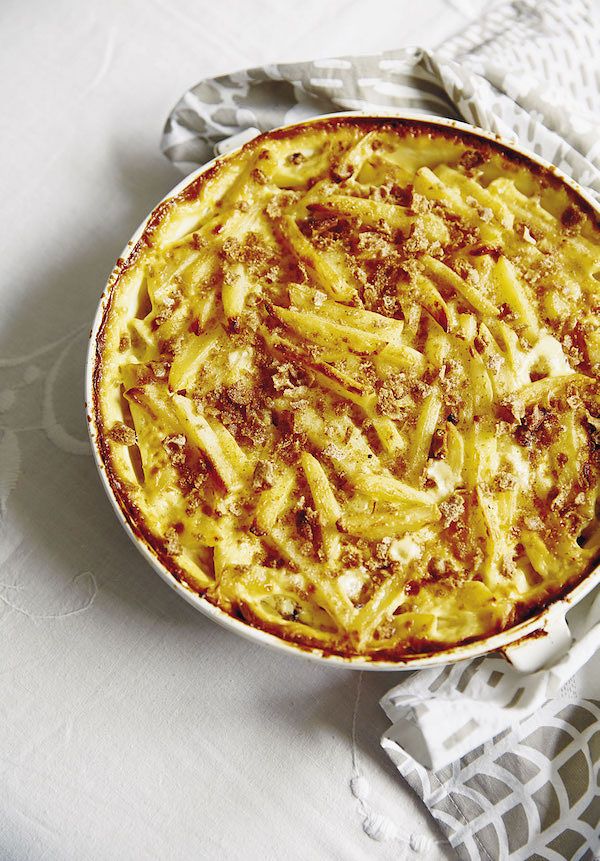 Jansson's Temptation from Table Manners: The Cookbook by Jessie Ware & Lennie Ware
This traditional Swedish Christmas dish of creamy potatoes and anchovies is pure indulgence. Jessie and Lennie insist that you needn't be put off by the anchovies as they melt away and add such wonderful flavour. Bake with breadcrumbs for a crunchy topping.
Order a copy of Table Manners here.
SAUCES
Your Christmas feast isn't complete without an array of delicious, rich sauces waiting to be poured over the lot. These three recipes give little twists to old favourites. We're particularly enamoured by that Sourdough, Marmite and Butter Bread Sauce.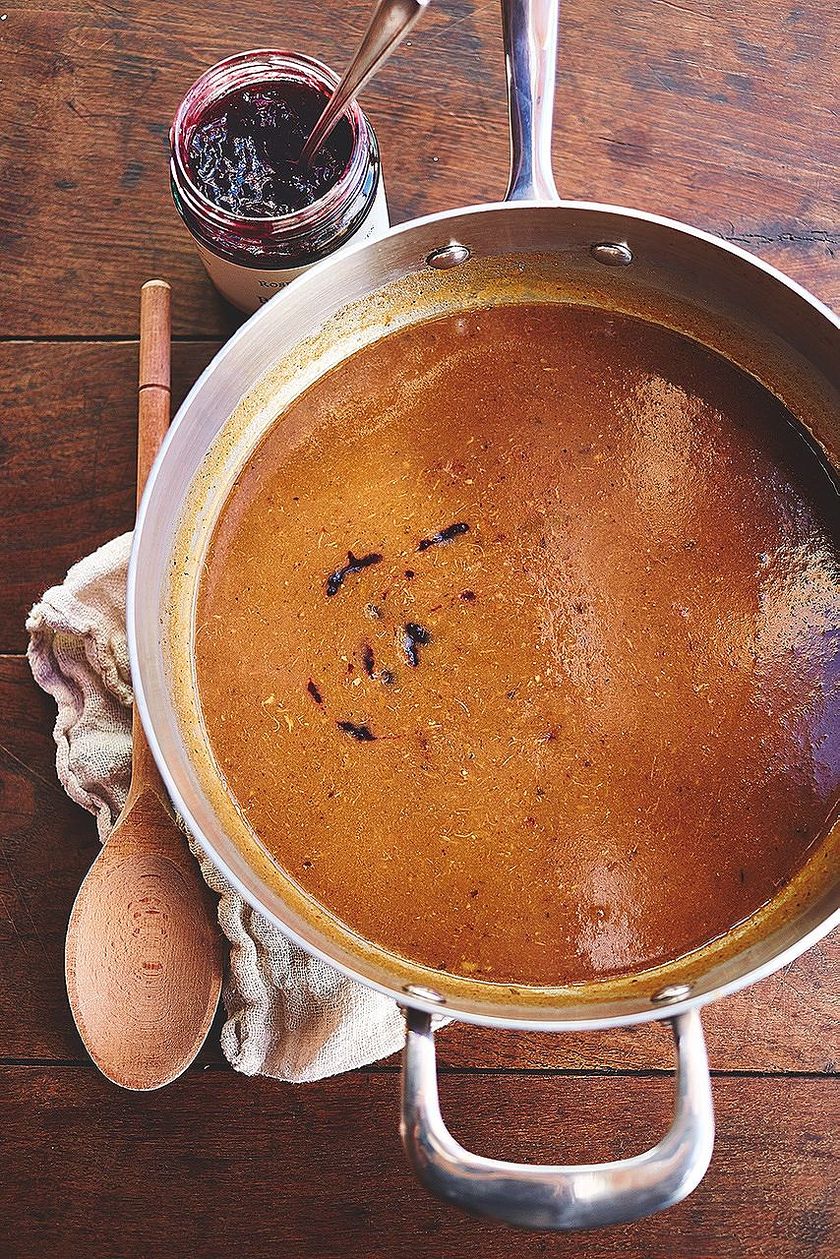 Get-ahead Gravy from Jamie Oliver's Christmas Cookbook by Jamie Oliver
Save yourself the stress and make your gravy a few days, or even weeks in advance. Jamie uses chicken wings here to make a rich, flavoursome gravy that you can either fridge or freeze before reheating it in the turkey tray on the big day. 
Buy your copy of Jamie Oliver's Christmas Cookbook here.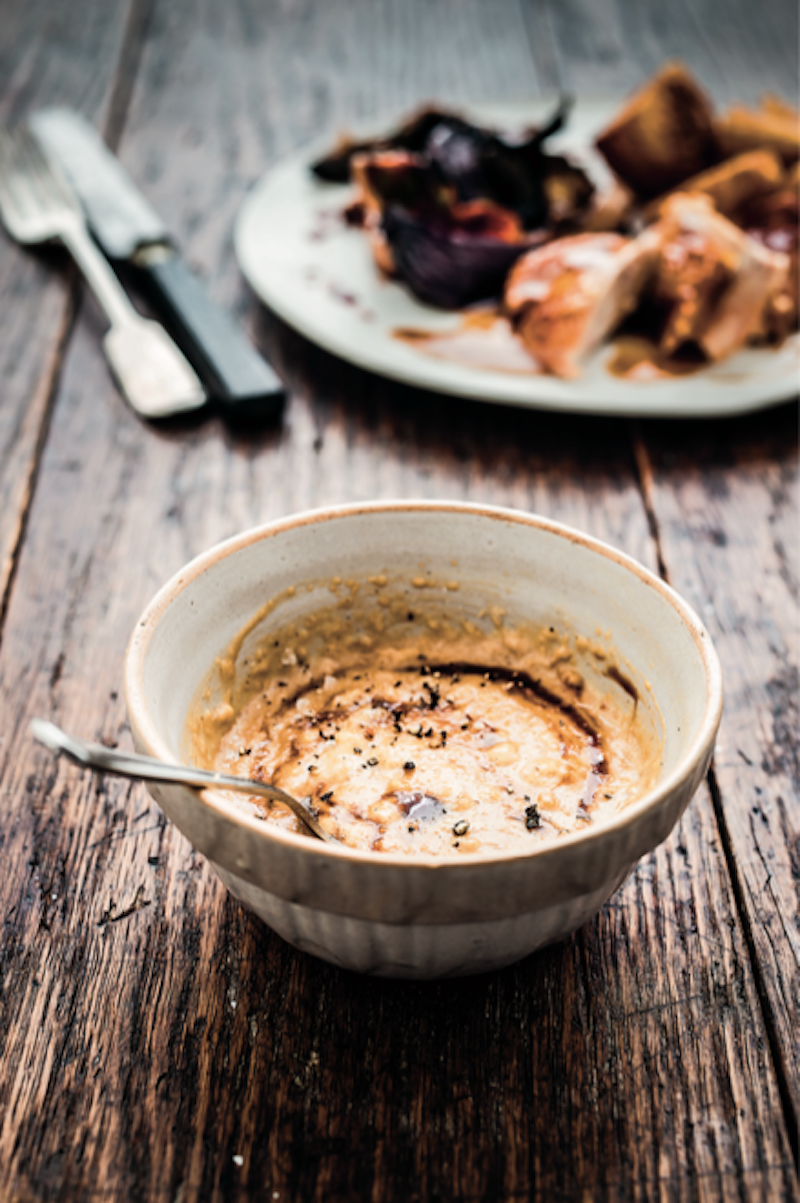 Sourdough, Marmite and Butter Bread Sauce from Low and Slow by Neil Rankin
This revolutionary twist on traditional bread sauce pairs the deep, rich flavours of sourdough and yeasty marmite for a real boost. 
Buy your copy of Low and Slow here.
Cranberry, Port and Orange Sauce from The Modern Preserver by Kylee Newton
"This is fresh, tart and boozy with a lovely orange-scented aroma", says Kylee Newton of this insanely good homemade cranberry sauce. It's so easy to make and takes less than 30 minutes. 
Order a copy of The Modern Preserver here.
EXTRA TRIMMINGS
Don't forget to give some love to the trimmings this year! Whether you want a classic stuffing recipe or wow with a show-stopping Fondant Swede Gratin, it's all possible. We're dribbling already.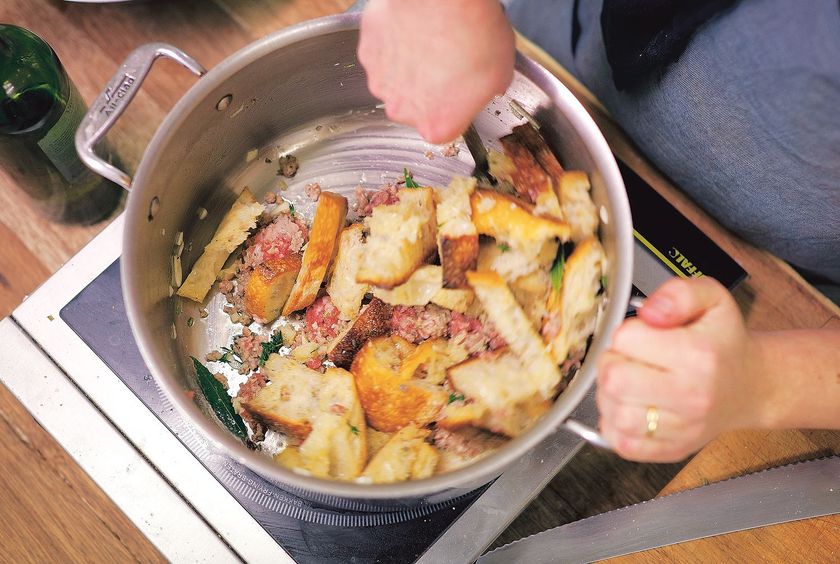 Sausage and Cauliflower Bread Pudding from The Five O'Clock Apron by Claire Thomson
This savoury bread and butter pudding teams sausages and cauliflower. Boosted with fennel, Dijon and garlic and baked until crisp and bubbling, this hearty side has real wow factor. Keep it veggie by leaving out the sausage and adding mushrooms if you like.
Buy a copy of The Five O'Clock Apron here.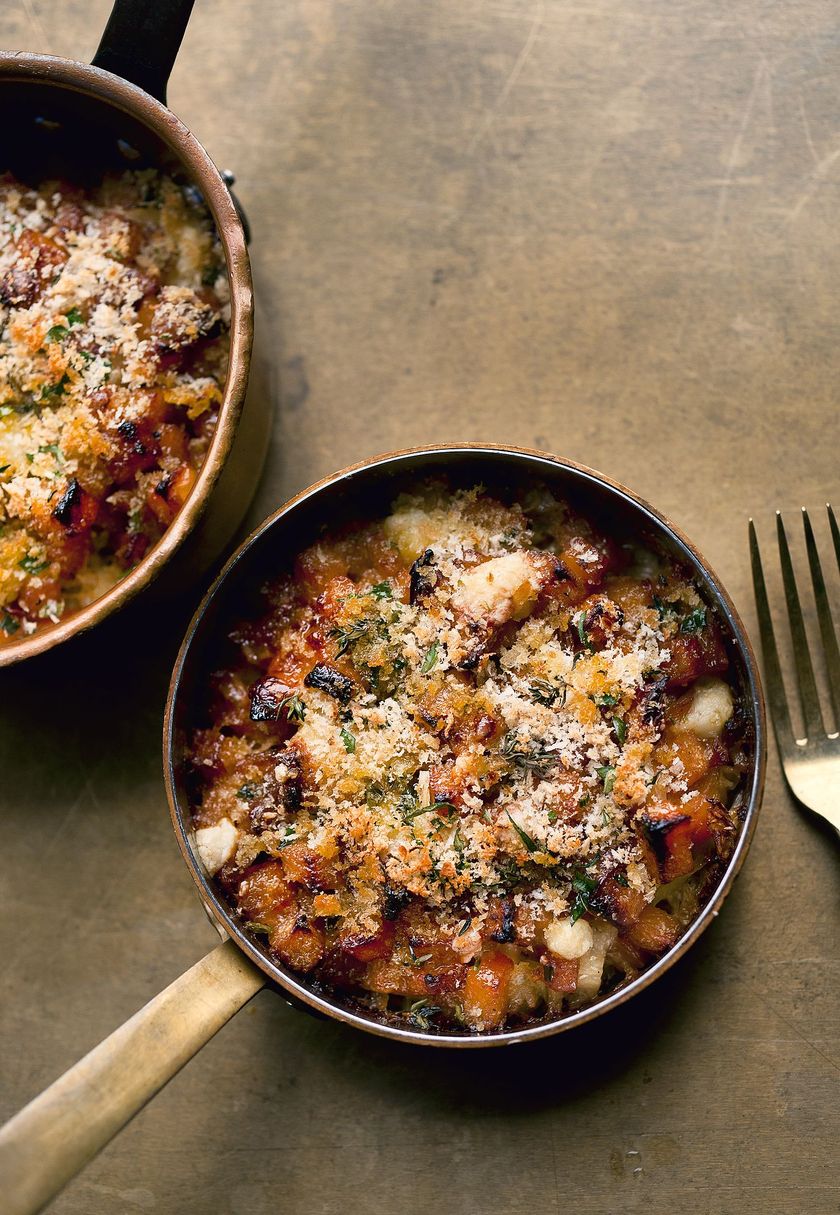 Fondant Swede Gratin from NOPI: The Cookbook by Yotam Ottolenghi and Ramael Scully
 
Cabbage and swede are given a boost in this show-stealing side, cooked in plenty of butter and baked with mild, crumbly Caerphilly cheese, cream and a herby lemony crust. If you want to get ahead and prepare this in advance, take it up to the point where the gratin is due to go in the oven and just bake it half an hour before you are ready to serve.
 
Order a copy of NOPI: The Cookbook here.