The Happy Foodie team has been taking a one-tin tour of the globe without leaving the kitchen with the new addition to the Roasting Tin series, The Roasting Tin Around the World. Packed with recipes inspired by flavours and best-loved dishes from all four corners of the globe, it is a treasure trove of inventive new ways to bring creative dinners to your table with ease. Find out how we got on cooking a few favourites from the book…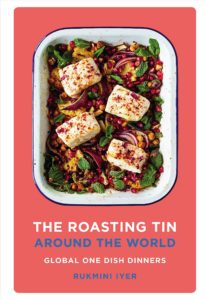 The Roasting Tin Around The World
Easy one-dish dinners inspired by flavours from around the world
Leave the hard work to the oven with minimal prep and less washing up
From easy midweek dinners to simple bakes and desserts
Who: Jessica Lockyer-Palmer, Marketing Manager, The Happy Foodie
What I made: Black Pepper Tofu, Choi Sum and Cashews
What I thought: Salt and pepper squid is one of my favourite things to order from a Cantonese restaurant so this vegan version using tofu caught my eye immediately. I'm not as much of a fan of anything corn-related so I left out the baby corn and upped the quantity of pak choi instead, but if you are one of the many maize maniacs out there, I can see why the added crunch and sweetness would be a fitting addition to the mix (my fellow corn phobes – I added a teaspoon of honey to the dressing to bring a sweet flavour profile to the dish instead). The whole recipe takes around 40 minutes to pull together and ensures that the tofu emerges from the oven with a crisp, golden and wonderfully salty and peppery crust and that the greens and mushrooms are tender and have absorbed the garlic and ginger marinade. The dish is then finished off with a vibrant lime, sesame and chilli dressing and, in my case, tossed with vermicelli rice noodles. I can already tell that this, along with many other recipes I've bookmarked in The Roasting Tin Around the World, is going to be a permanent fixture on my weeknight dinner rotation.
Who: Kate Neilan, Marketing Executive, VINTAGE
What I made: Smoky Sausage Casserole with Chorizo, Peppers and Beans
What I thought: I've been in the lucky position of being able to try the recipes from The Roasting Tin Around the World for a little while now and I'm already a huge fan of the Korean-style Aubergines, but, as the weather turned cold and cloudy, I wanted to try a recipe that I knew would provide a warming bowl of comfort food with ingredients I already had to hand in my cupboard and fridge.
Like all of Rukmini's recipes, this was full of flavour, incredibly easy and really fool-proof, even with a few substitutions: a tin of chickpeas replaced haricot beans, fresh sprigs of rosemary became dried, and I swapped a red pepper for an orange one. As an accompaniment, hot buttered sourdough toast replaced generous slices of fresh white crusty bread but the dish was still rich and delicious, and just as enjoyable to eat. For a household of two, this gave us two nights' worth of generous dinners – the second one accompanied by lemon and herb couscous – and it would leave a family of four very satisfied.
Who: Mollie Stewart, Marketing Assistant, VINTAGE
What I made: Lemon Pearl Barley Risotto with Chard, Parsley & Almonds
What I thought: This is perhaps the easiest risotto I've ever made with minimal prep time involved. I've temporarily decamped to my parents' house to see out lockdown which meant I could use homegrown chard from our vegetable patches and parsley from thegarden. I substituted the blanched almonds for some flaked almonds which I dry-toasted in a frying pan couldn't forgo thedollop of risotto to make this not-quite-vegan. Delicious as a meal in itself and we're going to try it with some baked salmon at the weekend.
Who: Sophie Painter, Head of Campaigns, VINTAGE
What I made: Lime and Coconut Dal
What I thought: I spent such a long time deciding what to choose from all of the amazing recipes this book, there's so many brilliant vegetarian options from across the globe, and lots more where you could easily substitute the meat for a veggie alternative. In the end I went for this dal as it's my all-time favourite comfort food and I'm really missing Indian restaurants at the moment.
It was the simplest, quickest dal I've ever made. You just put everything except for the spinach and lime into a roasting tin in one go and then put it in the oven for 45 minutes. As soon as you take it out of the oven you just stir in the spinach and lime zest and it's ready to eat. The only tricky element was working out how on earth you break open a whole coconut, which I'd never done before. If I'd read to the bottom of the recipe to begin with, rather than charging ahead, I'd have seen that Rukmini very sensibly suggests buying a pack of ready-prepared coconut pieces from the supermarket rather than having to watch several YouTube videos of men breaking into coconuts with various obscure tools. For this reason alone the preparation took me forty five minutes rather than the ten that it should have done.
It's absolutely delicious, not to mention incredibly straight-forward and perfect for a quick weeknight meal. The lime adds a really great, citrussy element that I hadn't tasted in a dal before but I will definitely be adding to any that I make in future.
Who: Mireille Harper, Assistant Editor, Square Peg
What I made: Roasted Sweet Potato with Feta, Spring Onions and Peanuts
What I thought: As a non-meat eater, over the years I've found that some of my meals become repetitive or that I go to the same ingredient pairings. Rukmini's recipes turn veggie dishes on their head by always offering different flavours and textures, so I was particularly eager to give some of her latest recipes a try. The Roasting Tin Around The World is jam-packed with inspiring and innovative dishes, and this sweet potato recipe did not disappoint.
For anyone who likes smoky flavours with sharp and tangy notes, this is a must. It's easy, quick and requires minimal effort on the part of the cook and yet its results are spectacular. This is the sort of recipe that you can bung in the oven for your mid-week dinners or weekend meals and it will always taste a treat. The pairing of the soft feta with the filling and hearty sweet potato, coupled with the tangy-ness of the lime and smokiness of the paprika makes this a knockout for the palette. I can't eat raw spring onion but it still tasted wonderful and with an added sprinkling of crushed chilli on top, this might now be one of my favourite new meals.
In The Roasting Tin Around The World, Rukmini really goes all out with inspiring dishes and I look forward to making many more – my eyes are on the baked avocado with walnuts, blue cheese and honey, and of course, the s'mores rocky road.