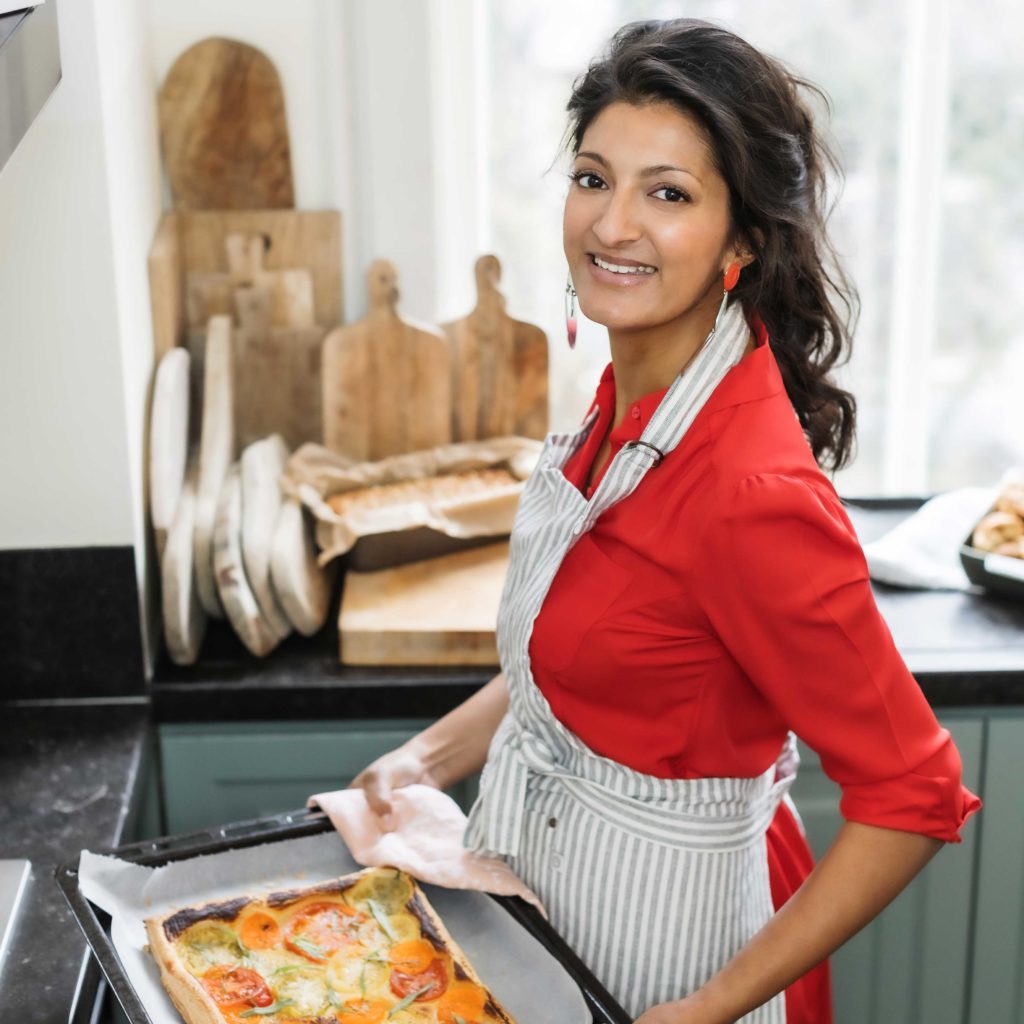 Dinner with Rukmini
Browse all of the recipes in Rukmini Iyer's cookbooks by ingredient.
Indonesian Coconut Rice, Crispy Chilli Tofu and Peanut Sambal
Infused with fragrant lemongrass, cloves and cinnamon, this vegan traybake features coconut rice with crispy tofu and peanut sambal.
Introduction
This rice dish, known as nasi uduk in Indonesia, is rich with coconut, cloves, lemongrass and cassia. It's traditionally served with fried shallots and a peanut sambal. Here, the shallots crisp up in the tray alongside. This is one of my favourite weeknight dishes.
Ingredients
1 x 400ml tin of
coconut milk
200g
basmati rice, rinsed
1 stick of
lemongrass, broken
5
cloves
1 piece of
cassia or 1 cinnamon stick
200g
green beans, cut into 2cm pieces
3
banana/eschalion shallots, very thinly sliced
2 x 225g blocks of
smoked or unsmoked firm tofu, cut into 1cm thick triangles
2 tbsp
sesame oil
1⁄2
red chilli, grated
2 cloves of
garlic, grated
sea salt flakes
For the sambal:
1 1⁄2 tbsp (about 75g)
crunchy peanut butter
1 1⁄2 tbsp
dark soy sauce
2 tbsp
lime juice
1⁄2
red chilli, grated
2-4 tbsp
water
To serve:
fresh coriander, chopped
Method
Preheat the oven to 210°C fan/230°C/gas 8.
Tip the coconut milk, rice, lemongrass, cloves, cassia or cinnamon stick and a pinch of sea salt flakes into a small lidded casserole dish or medium roasting tin, stir, then cover with the lid or tightly with foil (this is important so the rice cooks through) and set aside.
Tip the green beans, shallots and tofu into another roasting tin, large enough to just hold everything in one layer. Mix well with the sesame oil, chilli, grated garlic and 1⁄2 teaspoon of sea salt flakes. Make sure the tofu is on top so it can get crispy and transfer to the oven with the rice for 30 minutes, until the rice is cooked and the tofu, shallots and beans are crisp. (Check on the tofu after 20 minutes to make sure it doesn't burn.)
Meanwhile, mix together the peanut butter, soy sauce, lime juice and chilli and add the water as needed for a thin pouring consistency. Taste and adjust the lime juice and soy sauce.
Once cooked, scatter the tofu with the coriander and serve the rice and tofu with the sambal.
Note: You do need two tins for this dish – it is worth it for the contrast of the crisp tofu and shallots against the almost buttery rice.
More Recipes from The Roasting Tin Around The World
---