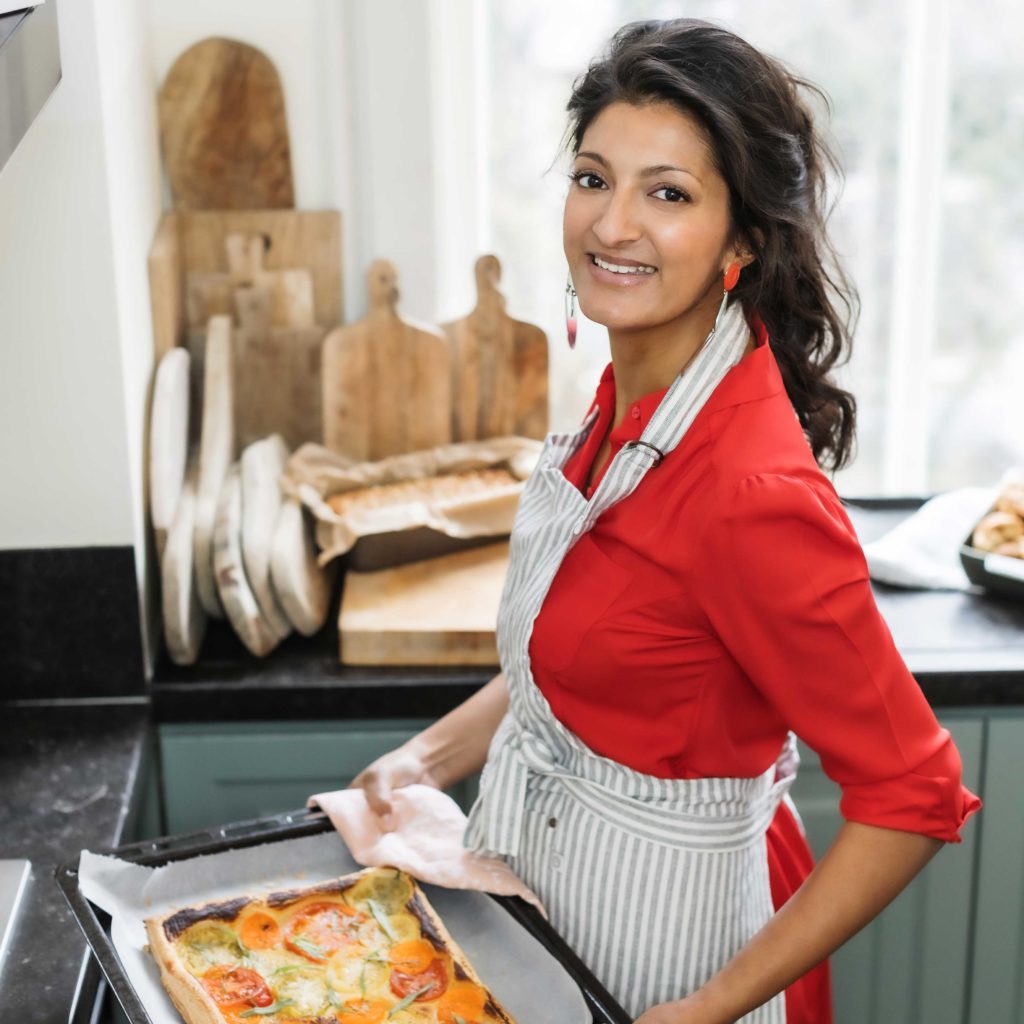 Dinner with Rukmini
Browse all of the recipes in Rukmini Iyer's cookbooks by ingredient.
Peri-Peri Prawns with Roasted Sweet Potato and Peppers
If you love Peri Peri flavours, you'll enjoy this simple and flavourful prawn dish with sweet potato.
Introduction
Popular in Mozambique, Angola and South Africa, peri-peri sauce combines chilli, garlic and paprika for dishes with a real kick. If you're a chilli fiend, try to get hold of African bird's-eye chillies – I use milder ones for personal preference, but this is a lovely dish that you can customise to taste.
Ingredients
350g
slim sweet potatoes, cut into 1cm rounds
2
red peppers, thinly sliced
1
red onion, thinly sliced
1 tbsp
softened butter
2 tbsp
olive oil
4 cloves of
garlic, grated
2 tsp
paprika
2
hot red chillies, very finely chopped (more or less as you wish)
1 tbsp
red wine vinegar or lemon juice
1 tsp
sea salt
250g
raw king prawns
1⁄2
lemon, juice only
To serve:
lemon wedges and sour cream
Method
Preheat the oven to 180°C fan/200°C/gas 6.
Tip the sweet potatoes, peppers and onion into a roasting tin large enough to hold everything in one layer. Mix the softened butter, olive oil, garlic, paprika, chillies, vinegar or lemon juice and salt together in a bowl, then tip all but 1 tablespoon of this over the vegetables. Mix well, then transfer to the oven and roast for 35 minutes.
Mix the remaining tablespoon of the peri-peri mix with the prawns as a marinade, and set aside in the fridge.
After 35 minutes, scatter the prawns over the vegetables and return the tin to the oven for a further 8–10 minutes, until the prawns are pink and cooked through.
Squeeze over the lemon juice, taste the prawns and veg and adjust the salt to taste, then serve with lemon wedges and sour cream.
More Recipes from The Roasting Tin Around The World
---