This fabulous dinner party menu from Rachel Khoo is oozing with festive style. Inspired by her love of simple yet elegant French food, this equisite menu is perfect for entertaining guests over the festive period.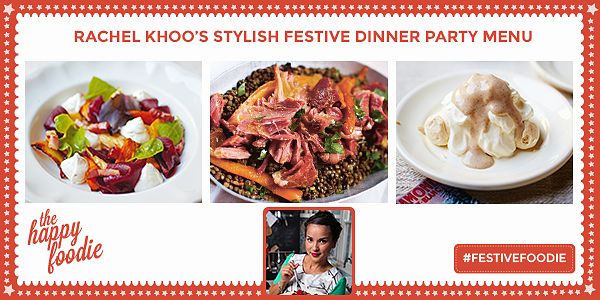 Starter: Winter Salad with a Goat's Cheese Mousse from The Little Paris Kitchen.
This stunning winter salad is guaranteed to brighten up table with gorgeous winter vegetables and a delicious creamy goat's cheese mousse.
Main: Beer-Doused Ham Hock from My Little French Kitchen.
The Alsacian love of beer and pork is showcased in this incredible main course which combines hearty winter flavours with French elegance.
Pudding: Mont Blanc (Meringue and Chestnut Cream Mountain) from My Little French Kitchen.
You can't fail to be impressed by this stunning winter dessert evoking thoughts of the snowy slopes of Mont Blanc.
Find more wonderful Rachel Khoo recipes here. Or click here for her Top Tips for a Perfect Dinner Party.