Looking for a last minute stocking filler for the foodie in your life or need inspiration for your Secret Santa present? Look no further…
Six-Minute Showstoppers by Sarah Rainey
Perfect for beginner bakers or time-poor cooks with a sweet tooth to satisfy, this fun, no-fuss baking book contains 100 recipes that can be whipped up in just six minutes. No kneading, proving, resting, rising or waiting around, these cakes and bakes rely on basic, store cupboard ingredients to get desserts, like Red Velvet Mug Cake, ready before the next ad break is over.
Order a copy of Six-Minute Showstoppers here.
Which Wine When: What to Drink with the Food You Love by Claire Strickett & Albert Blaize
This book is for anyone who finds themselves struggling to pick a bottle of wine based on anything more than a pretty label. Which Wine When is a wine and food pairing guide for real life, helping the foodies in your life who still find themselves panicking in the wine aisle. This book is divided into chapters for specific dishes and styles – from home-cooked classics to takeaways to snacks and nibbles – each with a host of potential wine pairings making it easy to know what to drink with dinner.
Order a copy of Which Wine When here.
Fakeaway: Healthy Home-cooked Takeaway Meals by Chris Bavin
For anyone who loves to indulge in a takeaway but wishes it could be that little bit more nutritious. From Lamb Jalfrezi Meatballs to Pad Thai, Fakeaway is full of takeaway-inspired recipes that are cheaper, lighter and more enjoyable than ordering in.
Order a copy of Fakeaway here.
Little Veggie Eats by Rachel Boyett
This easy weaning cookbook is for any parent looking for creative ways to avoid or reduce dairy, meat and fish in their baby's diet, including plenty of expert advice on infant nutrition, clever substitutes for food allergies, and useful money-saving tips. With 60 recipes for the whole family, start with this Pea Orzotto.
Order a copy of Little Veggie Eats here.
Breakfast London: Where Real Londoners Eat by Bianca Bridges
For those foodies in your life who love to brunch in London, this is a brilliant collection of the best spots in town from someone who's tried them all. Divided between London's area codes and with a handy key so you know which are dog-friendly, weekend only or vegan, this is a funky, easy-to-navigate book for the indulgent weekend eater.
Order a copy of Breakfast London here.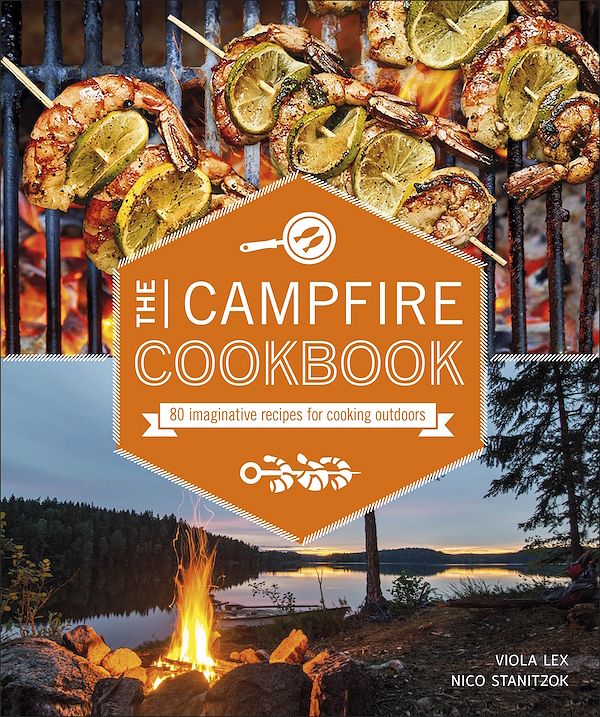 The Campfire Cookbook by Nico Stanitzok & Viola Lex
Are you buying a gift for an adventurous foodie? With 80 imaginative recipes for cooking outdoors, this cookbook might just be the ticket. Recipes range from the classics, from BBQ chicken to corn on the cob as well as recipes for pancakes and even chocolate cakes baked inside oranges! There are also checklists for all camping essentials and basic recipes for camping must-haves such as bbq sauce and ketchup. There's no doubt, this is an inspiring book for anyone seeking the great outdoors.
Order a copy of The Campfire Cookbook here.
The Tofu Cookbook by Heather Thomas
For the tofu lovers in your life, this mini book is crammed with 60 helpful, easy and quick ideas on how to cook this popular plant-based protein. The Tofu Cookbook is one of the ingredient-led books in the series that includes The Hot Sauce Cookbook (see below), The Avocado Cookbook, The Aubergine Cookbook and The Chickpea Cookbook; handy mini guides for any beginner cook.
Fizz: 80 Joyful Cocktails And Mocktails For Every Occasion by Olly Smith
The perfect gift for Christmas, this recipe book celebrates all things fizz. Making the most of your favourite fizzy drinks, from Champagne to cava, cider to beer, even soda to kombucha (for the tee-totallers), Olly Smith collates 80 simple cocktail and mocktail recipes for special occasions. Our favourite? The Sherbet Fizz Mocktail.
The Hot Sauce Cookbook by Heather Thomas
For the chilli fiends in your life, this cookbook might be just what they're looking for. A brilliant guide to cooking creatively with chilli sauces, this little book shows how to add flavour and intensity to meals using popular spicy sauces, from Thai sweet chilli to Sriracha. The Hot Sauce Buffalo Wings are one to try.
Gift a copy of The Hot Sauce Cookbook this Christmas.
Seedlip: The Cocktail Book by Ben Branson
For anyone who loves making cocktails with a difference. Seedlip is the world's first distilled non-alcoholic spirit – balanced, crisp and with delicious flavours. This accompanying recipe book is packed with Seedlip cocktails from the world's best bartenders. For anyone sick of rubbish mocktails, this is the book for them.
Gift a copy of Seedlip: The Cocktail Book this Christmas.
Buddha Bowls by Hannah Pemberton
Buddha Bowls teaches the art of balancing every meal all in one beautiful nourishing bowl. Easy to make, these veggie and vegan recipes cover post-workout recovery bowls for one as well as dinner party ideas to share with friends.
Buy a copy of Buddha Bowls here.
Eat to Sleep by Heather Thomas and Alina Tierney
Getting a good night's sleep can be easily affected by what we eat and when we eat it, so for anyone in your life having trouble with getting a good kip, this cookbook could be the winning ticket. With 80 recipes, plus tips and advice, this handbook will spell out how to eat the right foods at the right time to help keep those sleep hormones in check.
Order a copy of Eat to Sleep here.
The Little Book of Brunch by Caroline Craig and Sophie Missing
From eggs to avocado, bacon to bagels, this ultimate collection of brunch recipes is a celebration of what is fast becoming the nation's favourite meal. The Little Book of Brunch features everything from firm-favourites to something a little different and recipes from all over the world.
Order a copy of The Little Book of Brunch here.
The Grilled Cheese Sandwich by Sian Henley
This mouth-watering cookbook is a celebration of the grilled cheese sandwich in all of its forms. From breakfast and brunch to something sweet, this cookbook will inspire you to branch out past the conventional cheese toastie.