As Christmas gets nearer and our diaries get busier and busier, mid-week dinner inspiration tends to get lost amidst the flurry of festive drinks and late-night Christmas shopping. So to make things easier, we've put together a collection of simple recipes to help you survive those busy nights in the lead up to the big day, with comforting, nourishing dishes that will keep the the whole family happy. 
Drawing inspiration from some of our favourite cookbooks, like Nadiya Hussain's Time To Eat, we've chosen easy-to-prepare meals that will warm you up after an evening spent shopping for gifts, ice-skating with the kids or admiring the Christmas lights. We also love these recipes because we find there is always plenty to go round, and during the Christmas season that can often come in handy - whether you're visited unexpectedly by a hungry family member or a neighbour pops in with some mince pies - you can embrace the Christmas spirit and invite them to stay for dinner without changing the menu.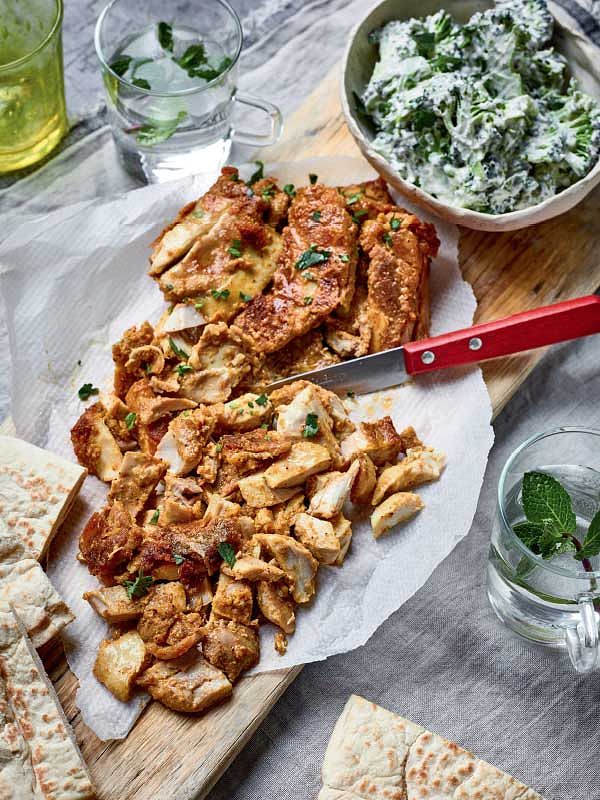 Chicken Shawarma from Time To Eat by Nadiya Hussain
Spiced roasted chicken packed into flatbreads with raw slaw beats a kebab-shop shawarma any day. From Nadiya Hussain's new book, Time To Eat, she shows you how to make a healthier version of this takeaway classic, on the table with minimal fuss and in no time at all.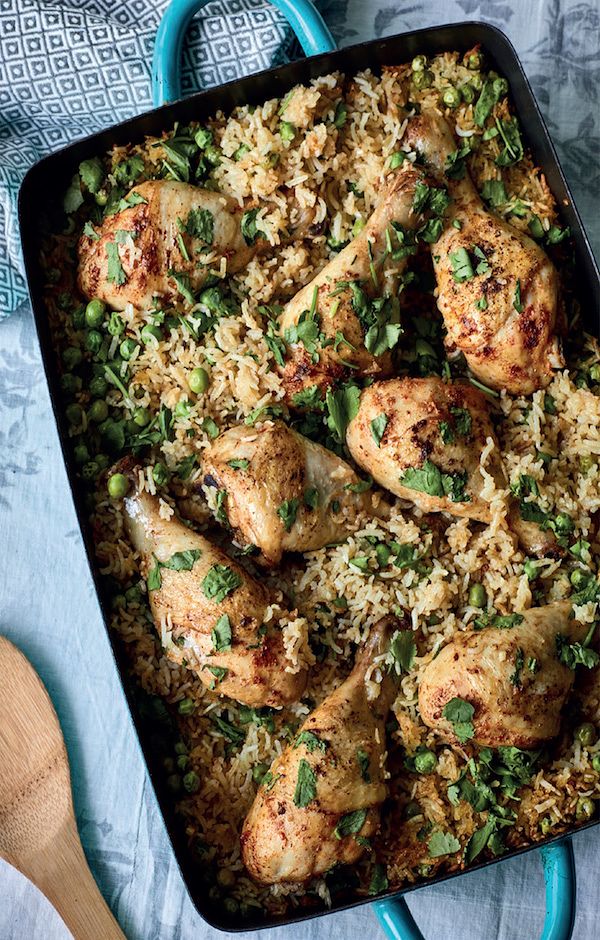 Chicken and Rice Bake from Nadiya's Family Favourites by Nadiya Hussain
Come in from the cold and warm up with this Chicken and Rice Bake; a failsafe recipe with nourishing ingredients that can just be thrown into a tray all together and roasted in the oven. There's really nothing to it, and the result is absolutely delicious.
Order your copy of Nadiya's Family Favourites here.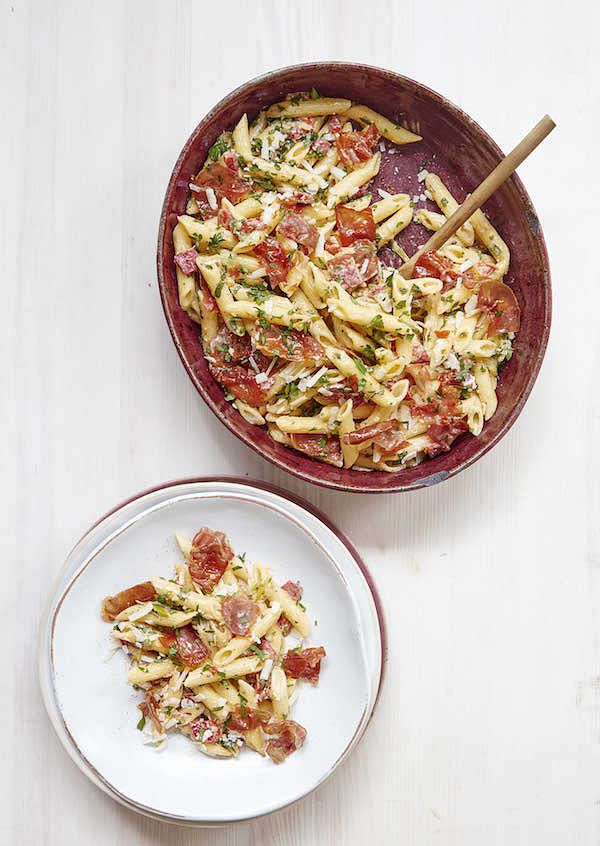 Romano Pepper and Herb Penne from Mary Berry's Quick Cooking by Mary Berry
Ready in under 25 minutes, this creamy pasta dish teams Parma ham, sweet peppers and herbs – fresh, simple and tasty.
Order your copy of Mary Berry's Quick Cooking here.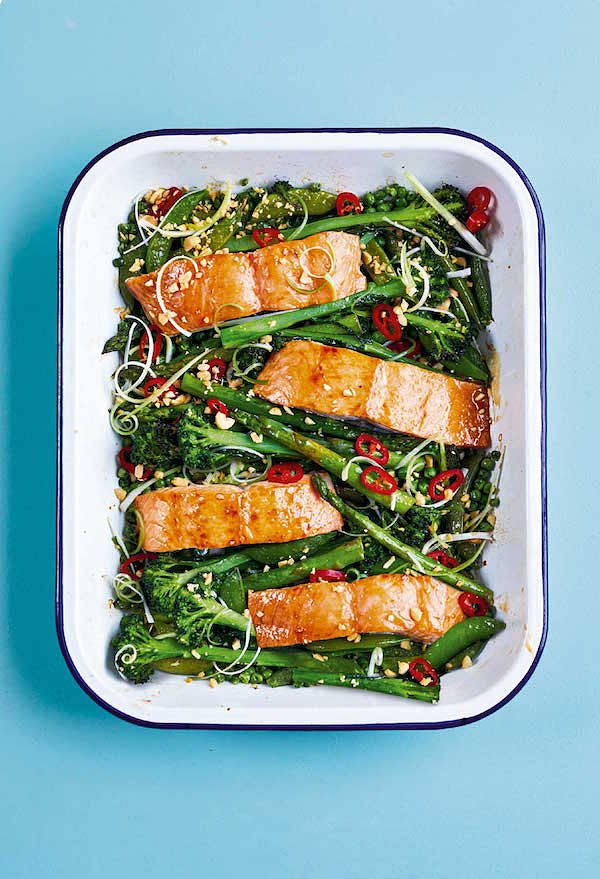 Sticky Soy & Honey Roasted Salmon from The Quick Roasting Tin by Rukmini Iyer
This Asian-inspired traybake teams soy-marinated salmon, crunchy green veg and chilli and lime dressing all in one tin – zingy, healthy and quick. This is a dish that travels relatively well so take any leftovers for packed lunch the next day.
Get a copy of The Quick Roasting Tin here.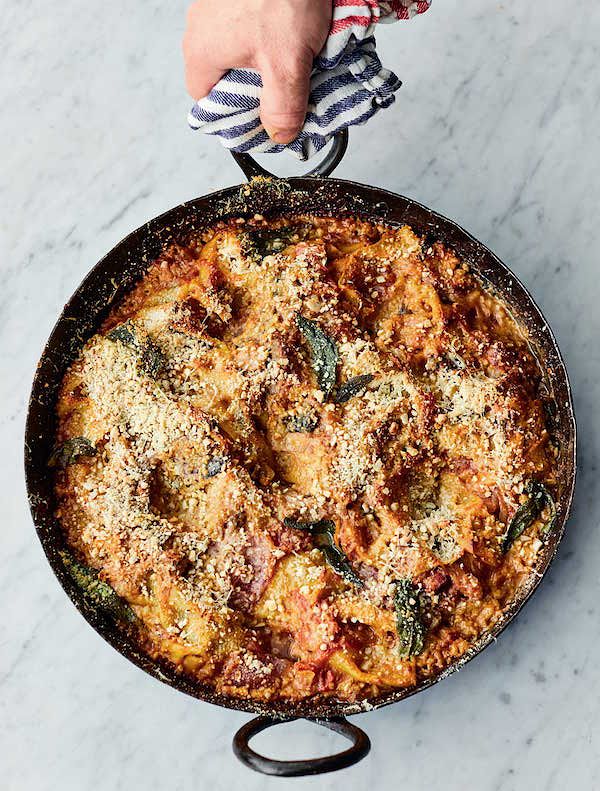 Scruffy Aubergine Lasagne from Veg: Easy & Delicious Meals for Everyone by Jamie Oliver
You might think lasagne laborious to make, but Jamie's version is a clever twist on the original, made all in one pan and with lasagne sheets roughly torn in. With sweet tomato sauce, garlic, sage and lemon, and a cheese and almond crunch, this is a midweek dinner that's just a little bit special.
Order your copy of Jamie's VEG here.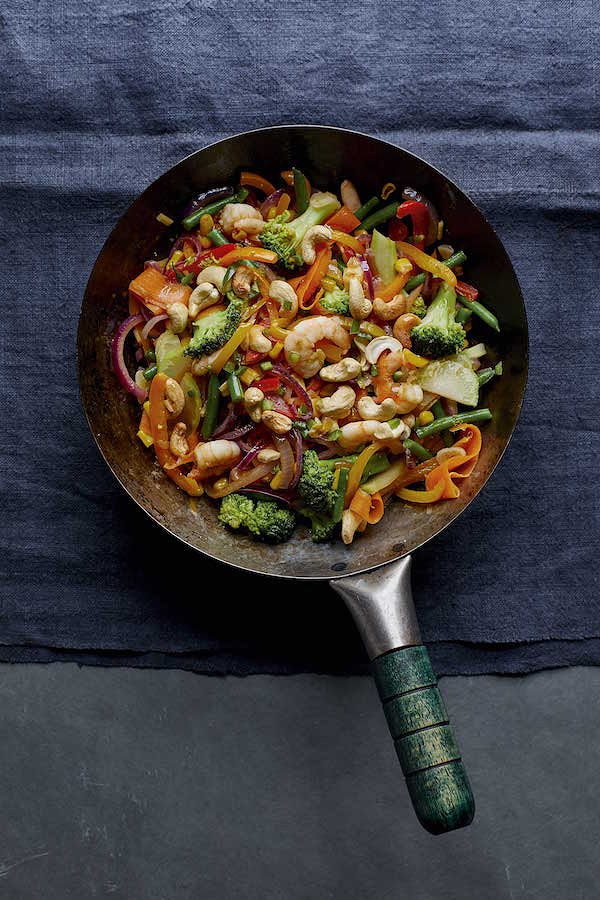 Super-Quick Stir-Fry from Eat Well For Less: Every Day by Jo Scarratt-Jones
With tasty prawns and plenty of veggies, this stir-fry recipe is so simple to make and easy on the wallet too. Swap in other veggies or protein depending on what you've got in the fridge or what's on offer in the shops. 
Get your copy of Eat Well For Less: Every Day here.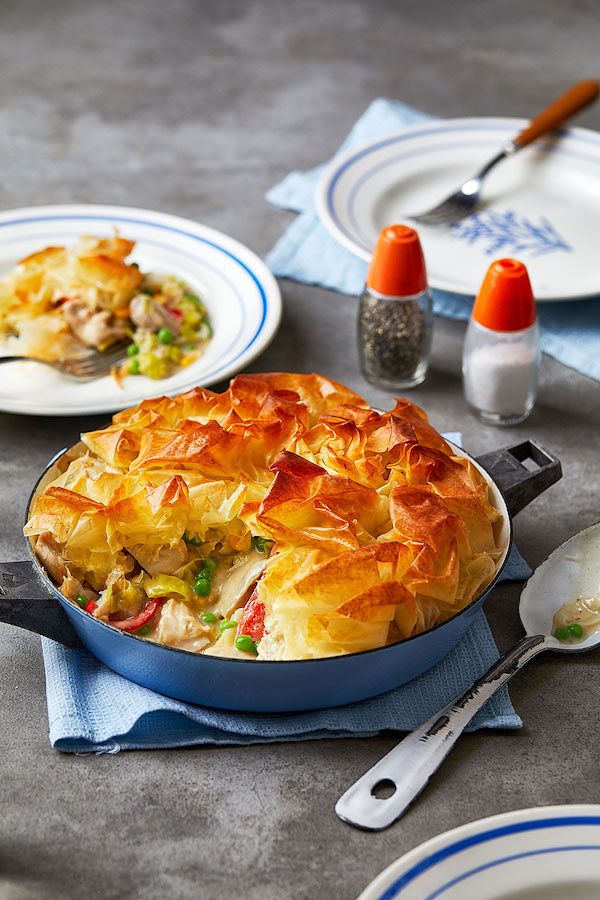 Chris Bavin's Chicken Pie from Good Food, Sorted by Chris Bavin
Creamy chicken topped with golden filo pastry, this pie recipe can be made from start to finish in one dish. "To get ahead, make the filling a day in advance, then just reheat, top with the pastry, and bake", says Chris.
Order a copy of Good Food, Sorted here.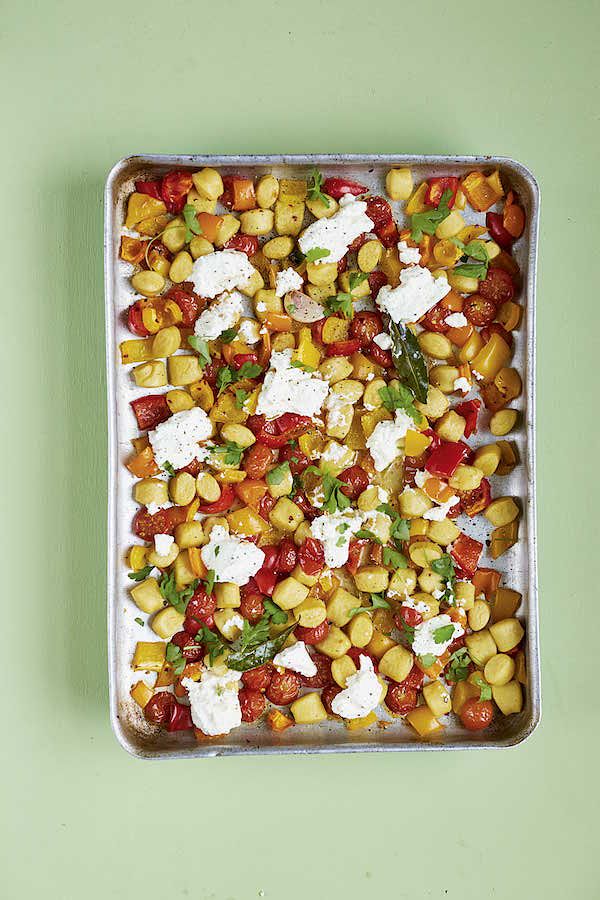 Crispy Gnocchi and Roasted Peppers from The Green Roasting Tin by Rukmini Iyer
If you're after something vegetarian, this Crispy Gnocchi and Roasted Peppers from The Green Roasting Tin is a hassle-free recipe that brings delicious Mediterranean flavours to a cold winter's night. 
Get The Green Roasting Tin here.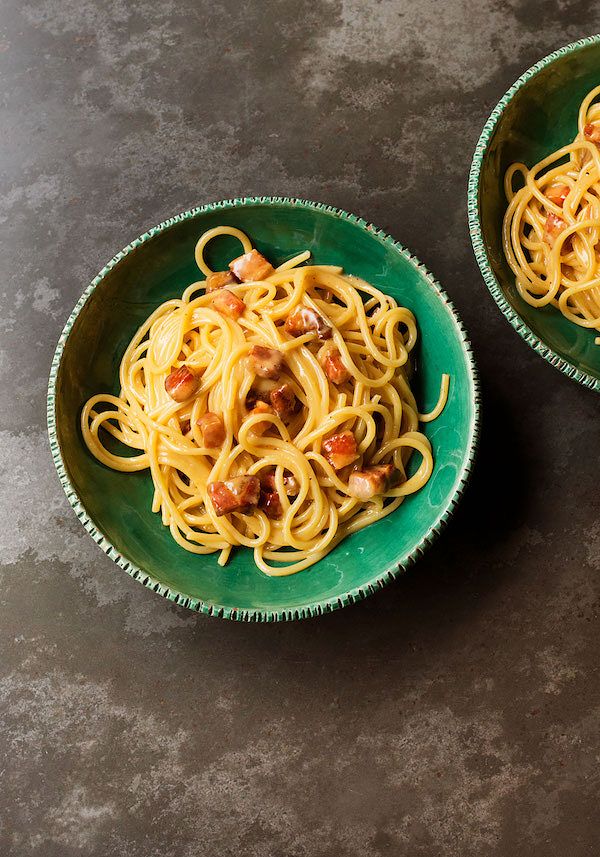 Spaghetti Carbonara from How To Eat by Nigella Lawson
A true classic from the queen of easy comfort food, this simple Spaghetti Carbonara from Nigella Lawson's How to Eat can be thrown together quickly to leave you more time for wrapping presents.
One-pan Sausage and Pearl Barley Stew from One Pan. 100 Brilliant Meals by Mari Mererid Williams
This One-pan Sausage and Pearl Barley Stew from One Pan. 100 Brilliant Meals is always a big hit with the family, and it's packed with veggies to keep you feeling nourished. 
Buy One Pan. 100 Brilliant Meals here.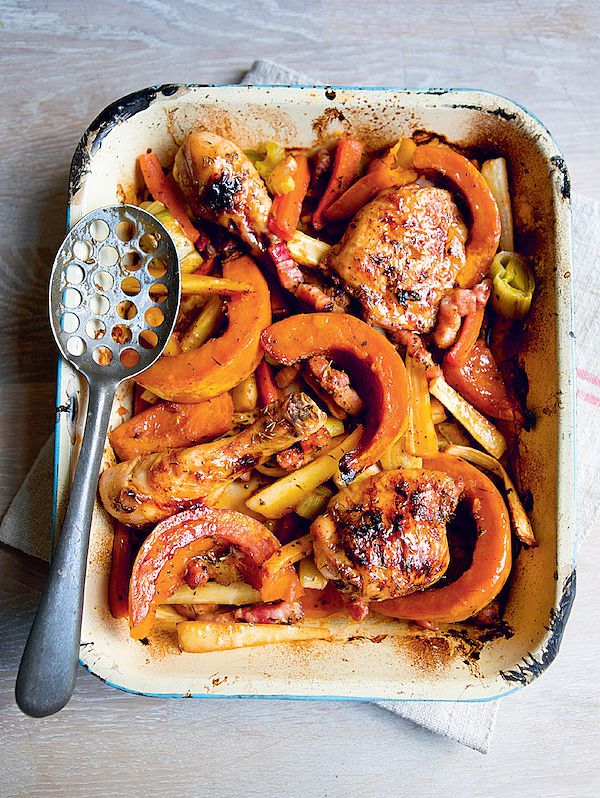 Autumnal Chicken Tray Bake from Chicken by Catherine Phipps
Keep it simple with this Autumnal Chicken Tray Bake, which is just the kind of thing we feel like at this time of year. We particularly like this recipe from Chicken because it's fuss-free, wholesome, and totally delicious.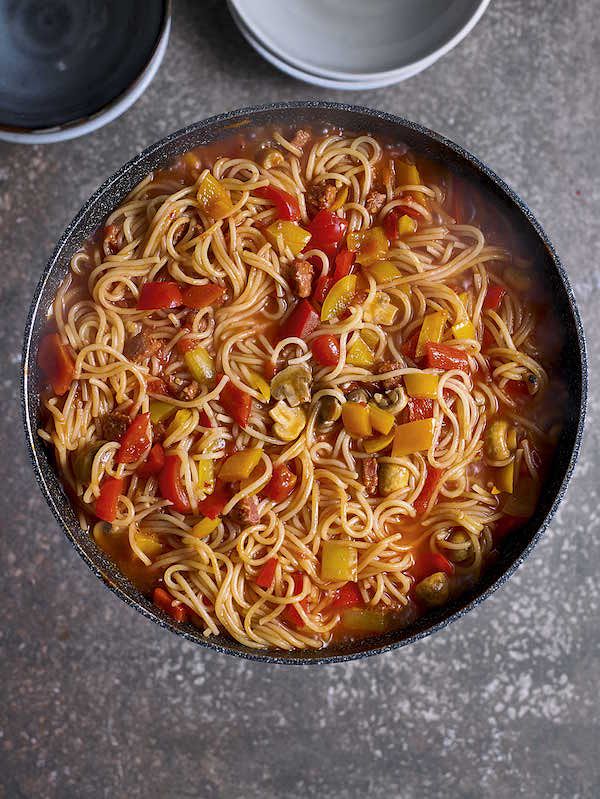 One Pan Chorizo Pepper Spaghetti from Eat Well for Less: Quick & Easy Meals by Jo Scarratt-Jones
Pasta is always a reliable go-to when you're tight for time, particularly when you can throw everything together in one pan and know you'll come out with something delicious. This One Pan Chorizo Pepper Spaghetti from Eat Well For Less always does the trick; it's a quick dinner with simple ingredients that won't break the bank. 
Buy Eat Well For Less: Quick and Easy Meals here.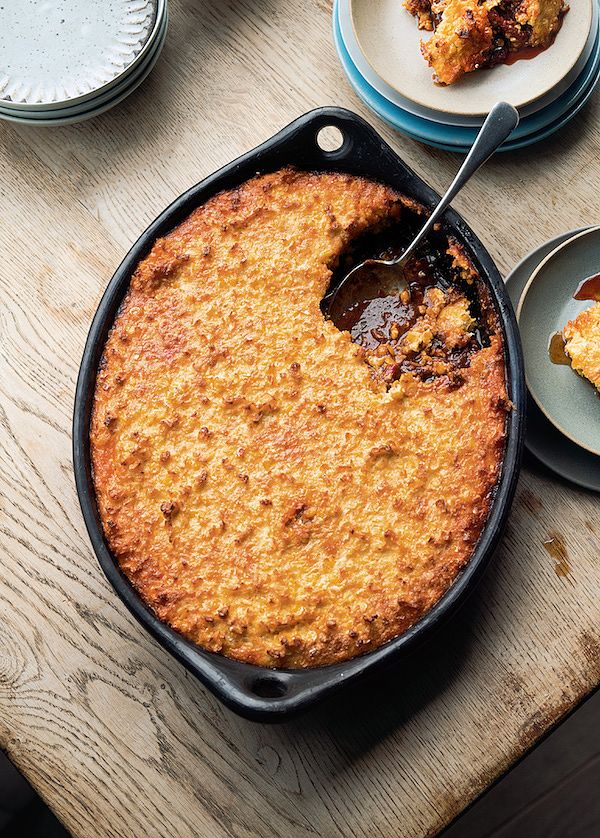 Slow-cooked Chicken with a Crisp Corn Crust from SIMPLE by Yotam Ottolenghi
Ottolenghi's delicious Slow-cooked Chicken with a Crisp Corn Crust recipe from his latest cookbook, SIMPLE, is a comforting crowd-pleaser with lovely warming flavours, and its corn crust makes it a lighter alternative to a classic mashed potato topping. This is a great recipe to prepare in advance - you just need to warm it through for 10 minutes, covered in foil, before serving.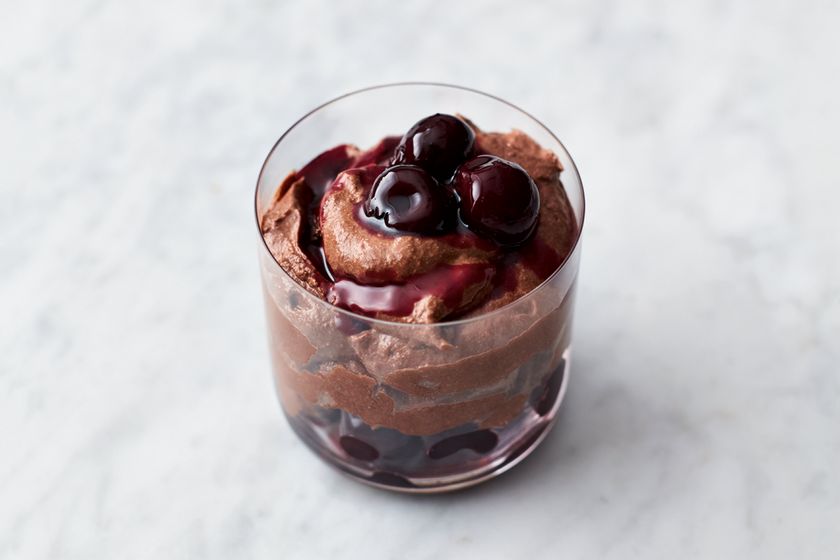 Cherry Chocolate Mousse from 5 Ingredients Quick & Easy Food by Jamie Oliver
And if (like us) you feel that no dinner is complete without something sweet, Jamie Oliver saves the day with a super simple recipe for Cherry Chocolate Mousse from Jamie's 5 Ingredients: Quick and Easy Food that can be whipped up in just thirty minutes.