Food is one of the most eagerly anticipated and celebrated joys of the Christmas period, but for those of us taking on the challenge of cooking, the task can feel more than a little daunting. From the cooking choreography essential to ensuring everything arrives on the table at the right temperature, to the last-minute disaster aversion when you realise you've forgotten the Christmas pudding, putting on a festive feast is a military-level operation that often keeps us tied to the kitchen for most of the day.
This Christmas, after months apart from loved ones, many of us will be searching for a new approach to cooking, one that will release us from the cookathon and into the company of our families, but still guarantee us a feast that feels special. This is no small ask but we happen to know just the person for the job. We asked Rukmini Iyer, author of the best-selling The Roasting Tin cookbooks, to create two laid-back Christmas recipes with plenty of festive flourishes and none of the fuss. Exclusive to The Happy Foodie, these clever dishes have got it all, and we dare say after breaking with your usual (more stressful) traditions, you'll return to these recipes year after year.
The Christmas Two-Tin Traybake Feast: Roast Chicken with Bacon, Parsnips and Carrots, Roast Potatoes, Pigs in Blankets, Stuffing and Crispy Garlic Sprouts
Rukmini's two-tin Christmas feast features an all-star line-up of favourite festive ingredients, from the pigs in blankets to the stuffing, all made together with ease in two trusty roasting tins. "It's just a matter of gradually tipping your ingredients into the trays, and letting the oven do the work", says Rukmini. In other words: it's a Christmas miracle. Walk don't run to get the recipe.
Boozy Panettone Bread and Butter Pudding
Take the stress out of dessert with Rukmini's star-studded and booze-spiked bread and butter pudding, made using that leftover panettone you're bound to have knocking around somewhere at Christmas and your festive tipple of choice. Better still, if you're cooking for a smaller crowd this year and end up with any leftovers, turn them into a boozy breakfast. It is Christmas after all.
For more fuss-free one-tin recipes with festive flourishes, why not try these recipes from across Rukmini's series of The Roasting Tin cookbooks:
Mexican-style Roast Pork with Orange, Cumin, and Cinnamon
If you're looking for something a little different for your centrepiece this year, why not opt for this succulent Mexican-inspired roast pork. Warming and aromatic cinnamon, orange and bay give this slow-cooked winner a suitably Christmassy flavour.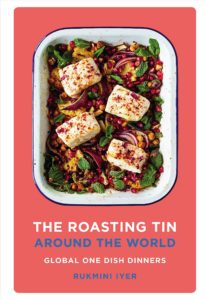 The Roasting Tin Around The World
Easy one-dish dinners inspired by flavours from around the world
Leave the hard work to the oven with minimal prep and less washing up
From easy midweek dinners to simple bakes and desserts
Roasted Squash, Crispy Lentils, Pomegranate and Dukkah from The Roasting Tin Around the World
This vegan-friendly feast is packed with tender roasted squash, crispy lentils and dukkah. A final scattering of seasonal pomegranate adds a fresh festive feel.
Order a copy of The Roasting Tin Around the World here.
Rosemary, Goat's Cheese and Mushroom Tart from The Quick Roasting Tin
A vegetarian centerpiece that will go down a treat around the Christmas table, this is simple to make and doesn't compromise on flavour and boasts flaky puff pastry topped with rosemary, goat's cheese, crème fraîche and mushrooms.
Order a copy of The Quick Roasting Tin here.
Rich Potato and Mushroom Gratin with Cream and Reblochon from The Green Roasting Tin
The definition of a little festive luxury, this rich, creamy gratin is another great option for a veggie centrepiece or works just as well as show-stealing side dish.
 Order a copy of The Green Roasting Tin here.
Crispy Tamarind Sprouts with Peanuts and Shallots from The Green Roasting Tin
Spruce up those Brussels sprouts with this Indian street food-inspired dish that pairs crispy chickpeas with sprouts and a tamarind dressing. Serve scattered with chopped salted peanuts and fresh coriander.
Order a copy of The Green Roasting Tin here. 
Gingerbread Pears from The Quick Roasting Tin
This spiced festive dessert combines three different types of ginger – fresh, ground and stem – with cardamom, dark sugar and flour and tender pears, all thrown into one tin for a laid-back pudding that's as easy to make as it is delicious. Serve with thick double cream or crème fraîche.