A summer weekend isn't complete without firing up the grill and serving up a barbecue feast. Whether you're in it for the steak, the seafood, or can't get enough of grilled halloumi, read on for the ultimate BBQ recipes to see you through the summer.
Buttermilk Chicken Shish Kebab with Quick Lemon Pickle and Oregano from Berber & Q by Josh Katz
A good shish kebab at a barbecue is a game-changer, especially when the chicken has been left to marinate in buttermilk and spices since the night before. Josh Katz's easy-to-follow recipe guarantees perfectly succulent skewers every time, packed with the delicious flavours of the Middle East.
Berber & Q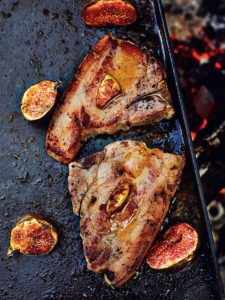 Over 120 innovative barbecue recipes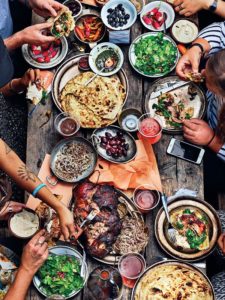 The most popular dishes from the well-loved restaurant
Flavour-packed vegetarian recipes
Barbecued Sweetcorn with Flavoured Butters from Grill it with Levi by Levi Roots
Leave it to Levi to come up with the tastiest side dishes to prepare on the grill. This recipe for barbecued corn on the cob is a BBQ essential, served with your choice of coriander and lime, Parmesan or chilli butters… or why not try all three?
Order Grill it with Levi here.
Poppy and Coconut Beef Kebabs with Roasted Chilli Salsa from Ainsley's Caribbean Kitchen by Ainsley Harriott
These delicious beef kebabs are a meat-eater's idea of heaven, and the punchy Roasted Chilli Salsa that goes with it is not to be missed. This flavour-packed dish is one we'll be making all summer long.
Order Ainsley's Caribbean Kitchen here.
Chermoula Chargrilled Lamb Cutlets from Caravan: Dining All Day by Laura Harper-Hinton, Miles Kirby & Chris Ammermann
Who better to turn to for some barbecue inspiration than a group of Aussies? The team behind the popular Australian restaurant group, Caravan, shows us how it's done with these tempting Chargrilled Lamb Cutlets, coated in a flavourful chermoula rub.
Order a copy of Caravan: Dining All Day here.
Cauliflower Shawarma with Pomegranate, Pine Nuts and Rose from Berber & Q by Josh Katz
For the ultimate vegetarian crowd-pleaser, have a go at this Cauliflower Shawarma, one of the most popular recipes from the Berber & Q cookbook. The cauliflower is marinated in a spiced shawarma butter and roasted whole, before being finished off on the BBQ for that crucial smokey flavour.
Order a copy of Berber & Q here.
Barbecued Chicken Wings from Chicken and Rice by Shu Han Lee
A barbecue without plates piled high with hot, sweet, sticky chicken wings? Never, we hear you cry! Especially once you've tried Shu Han Lee's delicious spicy soy marinade, in this Barbecued Chicken Wings recipe that can do no wrong.
Buy a copy of Chicken and Rice here.
Mad Mango Salsa from Jamie's Food Tube: The BBQ Book by DJ BBQ
No barbecue is complete without a tasty selection of salsas and dips to accompany your grilled meats and veggies. This mango salsa from the legendary DJ BBQ will add a welcome burst of freshness to your plate.
Buy Jamie's Food Tube: The BBQ Book here.
Grilled Halloumi Burgers with Chilli Ketchup and Tahini Mayo from The World of The Happy Pear by The Happy Pear
Halloumi, how we love thee. Especially when grilled to perfection and transformed into a tasty vegetarian burger, complete with layers of charred veggies, chilli ketchup and an addictive tahini vegan mayo sauce.
Get your copy of The World of The Happy Pear here.
Seasoned-up Pepper Steak from Grill it with Levi by Levi Roots
This easy recipe for barbecued rump steak is perfect for a laidback BBQ with lots of hungry mouths to feed. Simple, packed with flavour, and a guaranteed crowd-pleaser.
Buy a copy of Grill it with Levi here.
Tandoori Prawns from Rick Stein's Fruits Of The Sea by Rick Stein
Get your seafood fix with these tasty Tandoori Prawns from Rick Stein. A clever twist on a classic barbecue dish, this Indian-inspired recipe calls for an aromatic tandoori marinade that you'll want to use on everything.
Buy Rick Stein's Fruits Of The Sea here.
Chicken Satay Skewers from Amazing Malaysian by Norman Musa
These Chicken Satay Skewers are a barbecue staple, and always the first thing to get devoured thanks to the irresistible peanut marinade and sweet chilli dip.
Buy your copy of Amazing Malaysian here.
Salad of Chilli and Honey Peaches, Leaves and Pecans from Grill it with Levi by Levi Roots
Never underestimate the importance of a fresh, flavourful salad to accompany your barbecue feast. With grilled peaches, pecans and a spicy dressing, this delicious recipe from Levi Roots is a satisfying dish even on its own!