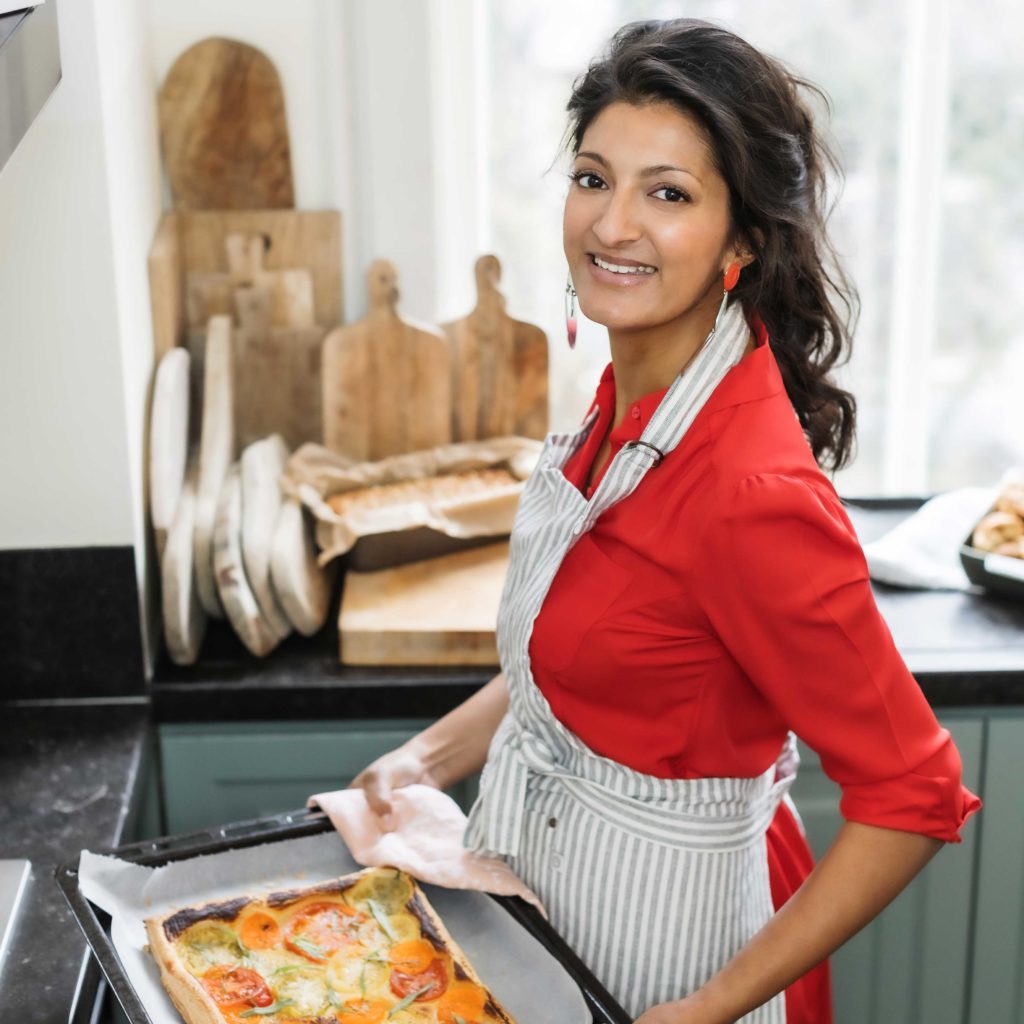 Dinner with Rukmini
Browse all of the recipes in Rukmini Iyer's cookbooks by ingredient.
Whole Stuffed Mini Pumpkins with Sage and Goat's Cheese
This gorgeous recipe for Mini Pumpkins Stuffed with Sage and Goat's Cheese from The Green Roasting Tin is the ultimate comforting vegetarian dish for chilly winter evenings.
Introduction
These beautiful little pumpkins are a real showstopper. You can find them in supermarkets around Hallowe'en, or alternatively use very small squash. They can be very be very hard to cut so you will need a sharp, strong knife.
Ingredients
| | |
| --- | --- |
| 4 | mini pumpkins |
| | sea salt |
| 16 | fresh sage leaves |
| 250g | soft goat's cheese |
| 2 tsp | chilli flakes |
| 2½ tbsp | olive oil |
| ½ tsp | chilli powder |
Method
1. Preheat the oven to 180°C fan/200°C/ gas 6. Carefully slice the top off each pumpkin, then using a small sharp knife, cut around the cavity containing the seeds. Scoop these out with a spoon and set aside.
2. Season the inside of each cavity with a good pinch of sea salt, then line with two sage leaves. Stuff each with a quarter of the goat's cheese, then scatter over the chilli flakes before replacing the lid. Rub each pumpkin with ½ tablespoon of the olive oil, scatter with a little more salt, and top each pumpkin with more sage leaves, making sure there's plenty of oil on the leaves too. Transfer to the oven and roast for 1 hour.
3. Rub the pumpkin seeds with kitchen paper to get rid of any flesh and toss with ½ tablespoon of olive oil, the chilli powder and a pinch of sea salt. Ten minutes before the pumpkins are ready, tip the seeds into the roasting tin alongside, then return to the oven.
4. Serve the pumpkins whole, along with a green salad.
More Recipes from The Green Roasting Tin
---