Food styling has come a long way in the last couple of decades. Gone are the elaborately-lit, seventies set ups, that would take a day to create, food glossy with painted-on lacquer. Today, we are bombarded with imagery from our phones and computer screens, much of it impossibly vibrant and tempting. I'm not suggesting you spend hours fiddling with your supper or brushing it with oil before eating it, but a few simple serving tricks will not only make your food look better (an important aspect of cooking for friends and family), they will encourage you to think more creatively when shopping and/or planning. Useful for the odd Instagram snap; even better to make you a better, more instinctive cook.
All photographs from Alice Hart's book, The New Vegetarian.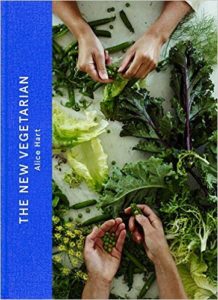 The New Vegetarian
A beautiful collection of vegetarian recipes
Inspiration for midweek cooking and weekend feasts
Fresh, flavourful recipes for every meal of the day
1. Think Colour and Texture – We've all heard the phrase 'we eat with our eyes', but of course it's true. Always, always, prioritise taste, but if you can pay as much attention as possible to colour (that means fresh produce in rainbow hues, herbs and salad), contrast (e.g. hot with cold; spicy with mild) and texture (think crunchy and crisp additions) at the same time, your food will look effortlessly beautiful and more tempting AND it will be more interesting to eat.
2. Loosen Up – The joy of beautiful food lies in just that: food's natural good looks. So have fun with it and don't mind the imperfections. Roast whole, scrubbed carrots with a hat of stalks still attached, tear fresh herbs with abandon rather than cutting them, make the most of interesting shapes such as cauliflower – cutting right through the heads to make steaks – shower a plated salad with pomegranate seeds. Don't be overly concerned with symmetry when putting food on a plate; I always prefer the look of natural, asymmetric platefuls so use a light hand and let the food fall where it wants.
3. Garnish (in a Modern Way) – 'Garnish' can feel like an old-fashioned word, but done right, it can make a real difference to a plate. The key is to make sure your chosen garnish (es) add to the food as well as the appearance. For example, you might want to finish a Thai-style salad with a shower of roast, crushed nuts, a tumble of fresh herb sprigs and a clutch of lime wedges for squeezing over. All will add laid-back beauty as well as taste and/or texture. Even a simple handful of pretty salad leaves can add a great deal. I find soft herbs and salads respond very well to a 10 minute iced-water bath. Simply pop them in a bowl of cold water with a few ice cubes. Once drained, they will look their very best. If you have young and interesting shoots or sprouts or edible flowers to scatter over too, all to the better.
4. Create Drama – It's easy to create a feeling of abundance and plenty if you use attractive platters and large plates to serve up at the table. Dress salads and finish stews with herbs right there, in front of your guests, to add to the effect. That way, everyone can help themselves as they wish and you can create a real, visual impact with very little effort.
5. Be Quick – Being aware of how food looks is a good thing, unless it impacts on the taste or temperature of your supper so it's important not to overthink things; if you've been bearing vibrant colour and texture in mind from the beginning, and serve up with a light hand, the work will be done for you. There is no need to fiddle and prink with your food or that fresh perkiness will be lost! Hot-food-turned-cold tends to look cold, and even congealed, on camera so don't mess about. These days, even on set, I will only brush food with the lightest hint of oil or dressing if it really needs it to bring out the odd highlight; my most important weapon is speed and a confident hand. Having said that, a tiny spritzer bottle of water (Muji is a good place to find these) misted gently over is an excellent tool for adding last-minute freshness to leaves and fresh fruit.
Click here to find out more about Alice's book, The New Vegetarian.