Right now, courgettes are bang in season in the UK – at their best during the summer months, these delicately flavoured veggies are well worth enjoying. Forget chunks of bland ratatouille vegetables, courgettes are incredibly versatile, shaved into salads, grated into cheesy fritters, baked into pasta traybakes or frittatas, and don't forget their flowers stuffed with oozy ricotta. We've rounded up some of our favourite summery courgette recipes from Ottolenghi and Nigella, Jamie Oliver and Smitten Kitchen's Deb Perelman to name a few. Enjoy!
Courgette, Ricotta and Dill Tart from The New Vegetarian by Alice Hart
This deep tart, filled with courgettes, peas, ricotta and buttermilk, pairs perfectly with this spelt and rye wholemeal pastry. With zesty lemon, dill and capers, this is a bright celebration of summer.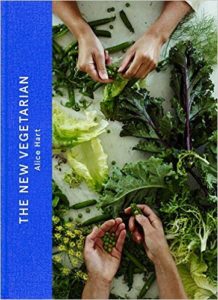 The New Vegetarian
A beautiful collection of vegetarian recipes
Inspiration for midweek cooking and weekend feasts
Fresh, flavourful recipes for every meal of the day
Courgette and Ciabatta Frittata from Simple by Yotam Ottolenghi
An extra light and fluffy frittata, made by soaking ciabatta in milk and cream and teamed with with cumin and basil courgettes. Luxurious enough for a weekend brunch or an any-night dinner. Yes!
Order a copy of Ottolenghi's Simple here.
Yellow and Green Courgettes with Mint and Almonds from A Salad for All Seasons by Harry Eastwood
This is an incredibly easy salad or side and a lovely way to champion both green and yellow courgettes. Shaving your courgettes into ribbons or very finely slicing them into rounds and leaving them to soften and 'cook' in lemon juice and olive oil is a great way to eat courgettes raw. Serve just as it is with bread or as a side to chicken or fish.
Order a copy of A Salad for all Seasons here.
Roasted Aubergine and Courgette Macaroni Bake from The Quick Roasting Tin by Rukmini Iyer
A comforting summer bake, this traybake dinner with roasted courgettes, aubergine, creamy Boursin cheese and macaroni pasta is a good family all-rounder for midweek.
Order a copy of The Quick Roasting Tin here.
Pasta with Courgettes from Nigellissima by Nigella Lawson
'This is one of my favourite pastas', says Nigella who braises the courgettes with wine and parsley until sweet and gorgeously tender. Don't be put off by the notion of braising – this takes about 15 minutes to prepare all in all. 
Order a copy of Nigellissima here.
Courgette Ribbons with Almond Pesto from The Smitten Kitchen Cookbook by Deb Perelman
The pesto dressing makes this dish sing with almonds, Parmesan, garlic, red pepper flakes and olive oil. Tossed through delicate shavings of raw courgette, this simple salad is wonderful in its own right.
Order a copy of The Smitten Kitchen Cookbook here.
Lemon Courgette Linguine from 5 Ingredients Quick & Easy Food by Jamie Oliver
Courgettes are good friends with the sharp zing of lemon, the umami savour of Parmesan and fresh, sweet mint. Here Jamie has paired them with pasta in this five ingredient weeknight dinner.
Order a copy of Jamie's 5 Ingredients here.
Courgette and Manouri Fritters from NOPI: The Cookbook by Yotam Ottolenghi & Ramael Scully
Courgettes lend themselves well to fritters, grated and flavoured here with lime, ground coriander and cardamom. Here manouri cheese is used – a Greek, semihard, creamy ewe's milk cheese. If you can't get hold of it, Ottolenghi recommends using feta or halloumi instead. Serve up with homemade lime and cardamom soured cream – delicious!
Order a copy of NOPI: The Cookbook here.
Deep Fried Courgette Flowers from My Simple Italian by Theo Randall
Stuffed with ricotta and herbs and fried in a light batter, this creamy, luxurious starter  is a classic Italian way of serving delicate courgette flowers. Courgette flowers wilt quickly so they can be tricky to get hold of although they are becoming more widely available. If you grow your own, then this is the perfect way to use them. 
Order a copy of My Simple Italian here.
Provençal Vegetable Bake from My Little French Kitchen by Rachel Khoo
This pretty dish consists of thin rounds of courgette, aubergine and tomatoes, arranged on sweet thyme onions, and baked in the oven. Enjoy with buttery potatoes.