Breakfast is all well and good, but a brilliant brunch is something else. It's meal made to be enjoyed and taken time over, so enjoy a lie in this weekend and then kick off your day with one of our favourite brunch recipes.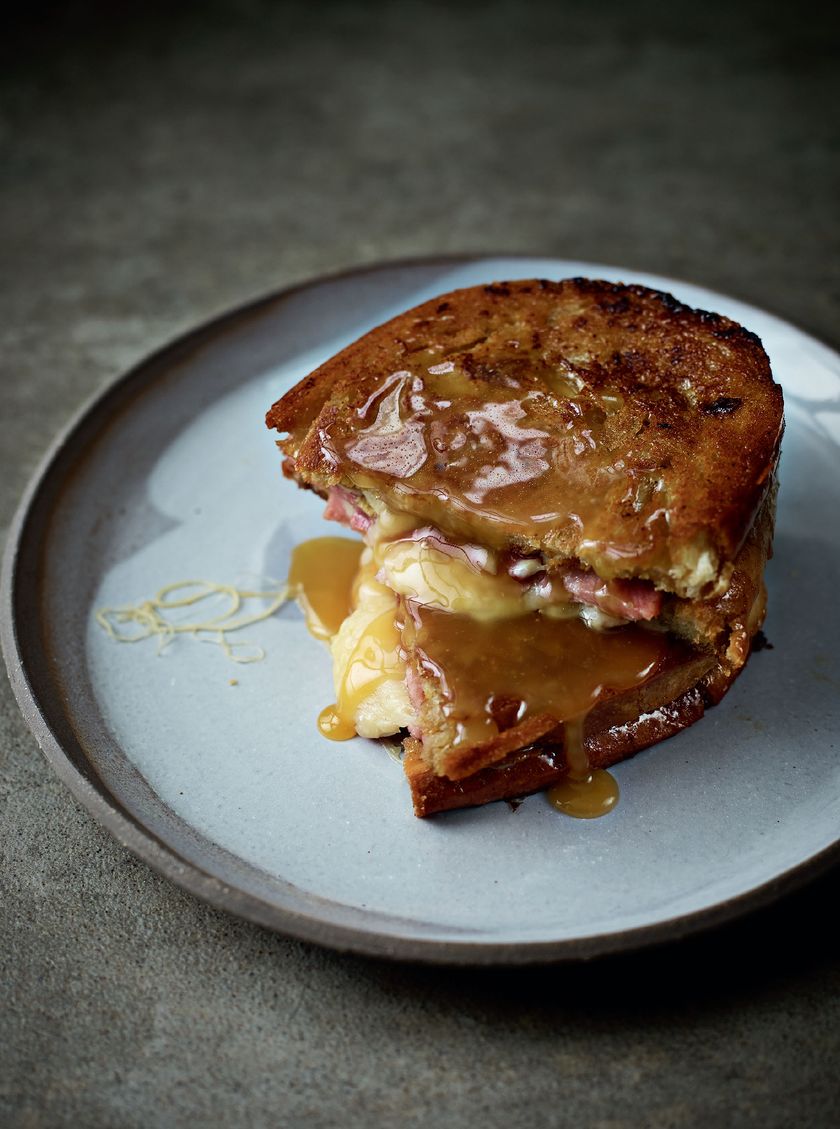 Filthy Dirty Ham and Cheese Toastie from The Sunday Brunch Cookbook by Tim Lovejoy & Simon Rimmer
The name says it all. This indulgent maple syrup-drizzled toastie oozes with melted cheese (three types of cheese, that is) layered with thick-cut roast ham and a salty kick of Dijon mustard. Could you imagine a better start to the weekend? We think not.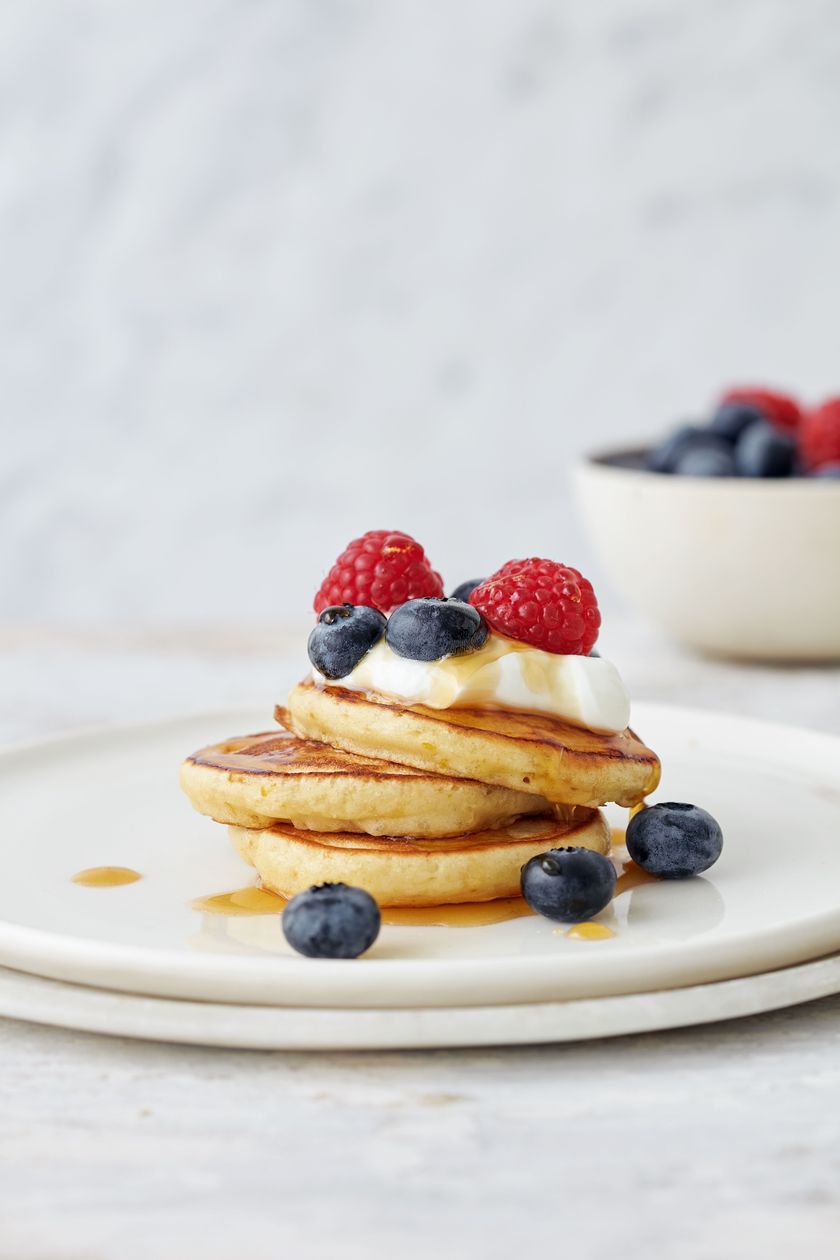 Drop Scones from Classic by Mary Berry
These tasty little drop scones are a reliable crowd-pleaser if there ever was one, but we wouldn't expect any less from Mary would we? Serve with a dollop of Greek yoghurt, fresh berries and honey or maple syrup for a classic weekend treat. 
Get your copy of Classic here.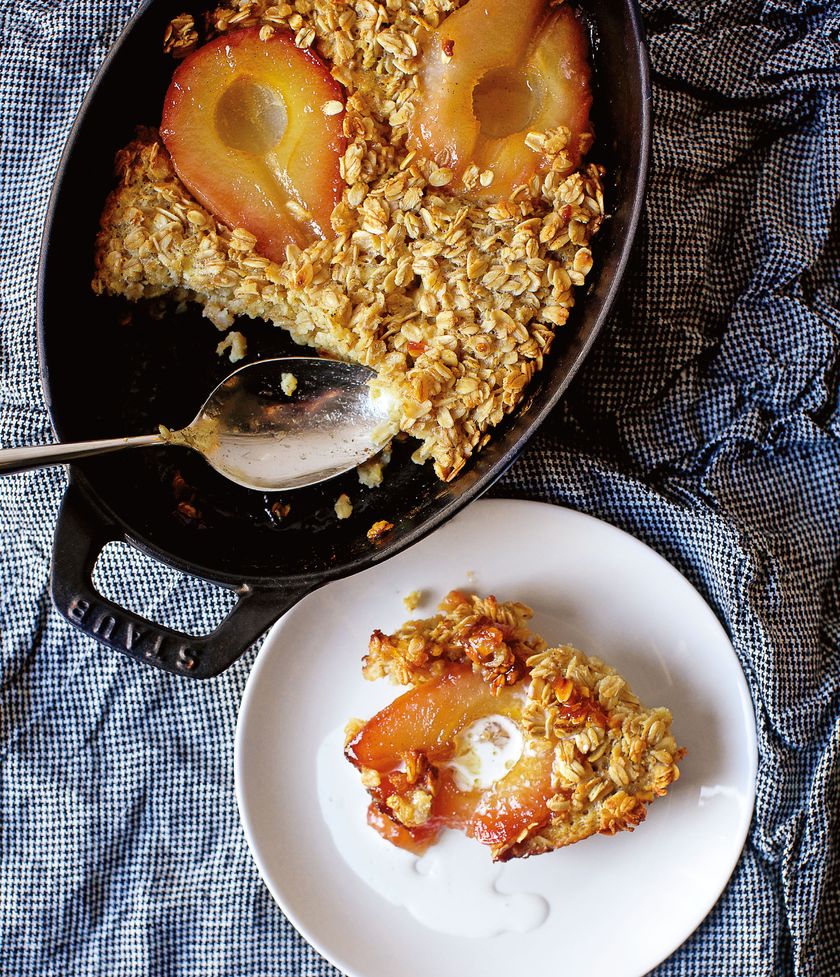 Baked Oatmeal with Caramelised Pears and Vanilla Cream from Smitten Kitchen Every Day by Deb Perelman
The Americans certainly know how to do brunch, and Deb Perelman gives us no shortage of proof. The popular New York-based blogger goes the extra mile with her recipe for baked oatmeal and caramelised pears, which hovers somewhere between breakfast and dessert and we don't mind that one bit!
Buy Smitten Kitchen Every Day here.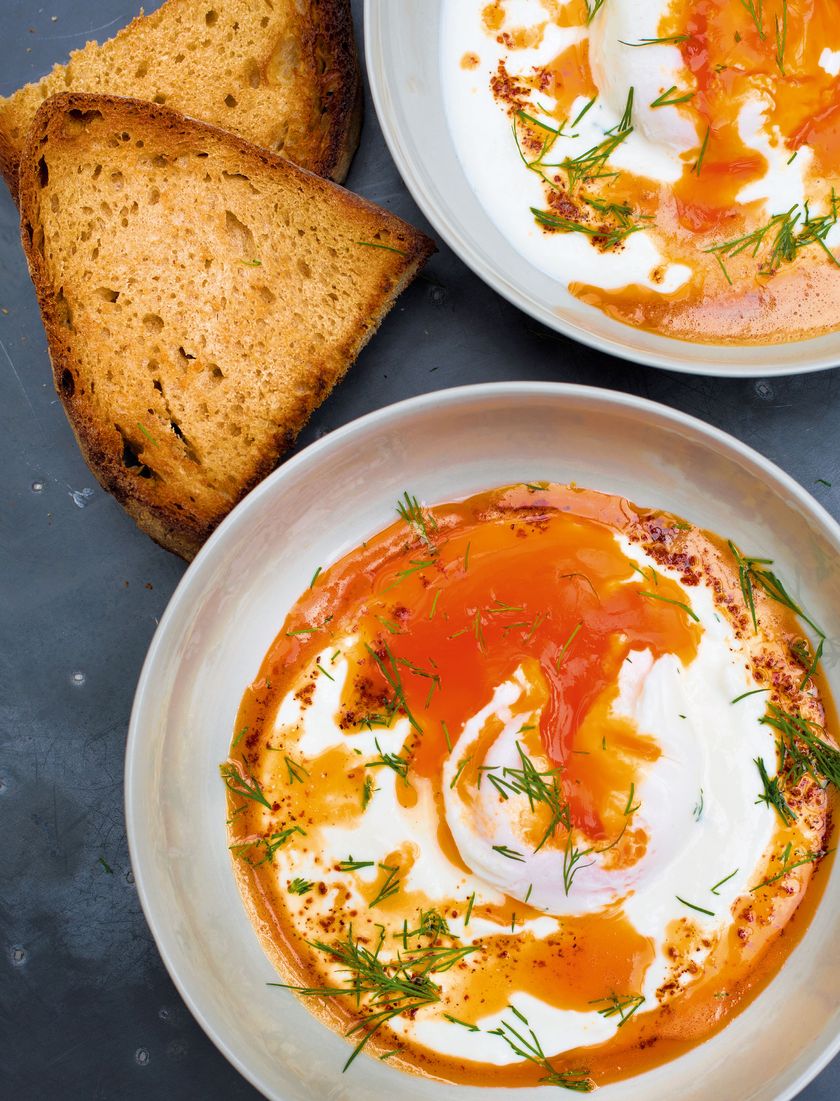 Turkish Eggs from At My Table by Nigella Lawson
When in doubt, go for eggs. This Turkish brunch dish from Nigella's At My Table really delivers on flavour, as well as looking spectacular. The perfect pairing of hot chilli with cooling yoghurt makes this a firm favourite in our brunch recipe repertoire.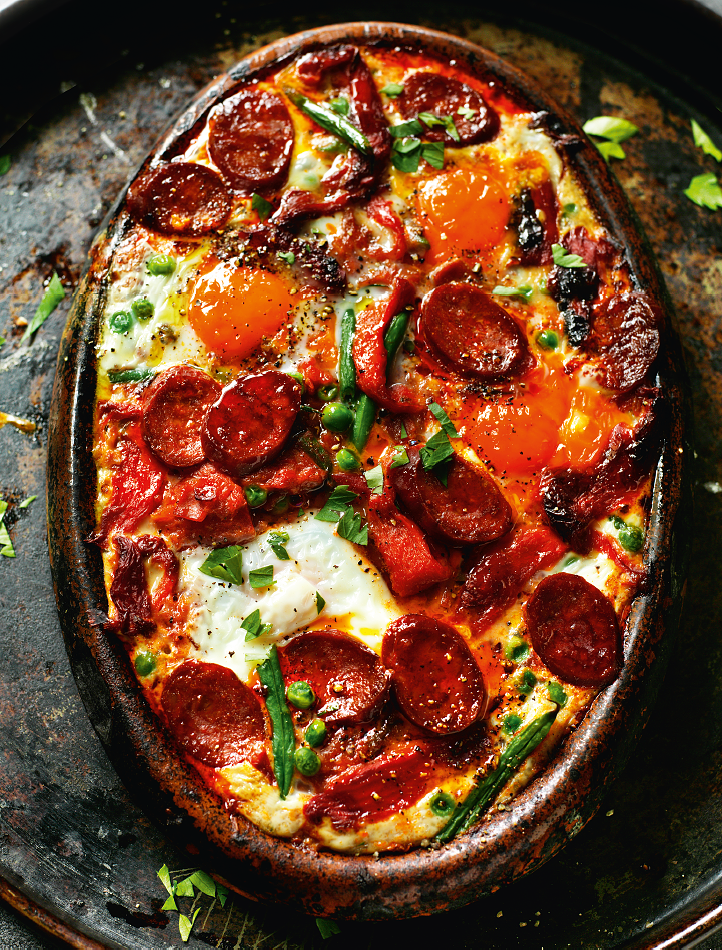 Flamenco Eggs from Rick Stein's Long Weekends by Rick Stein
From Turkish eggs to Spanish ones! Rick Stein's delicious 'flamenco' eggs, rich with Spanish flavours of chorizo and sweet peppers, make a brilliant centrepiece brunch dish. 
 Buy Rick Stein's Long Weekends here.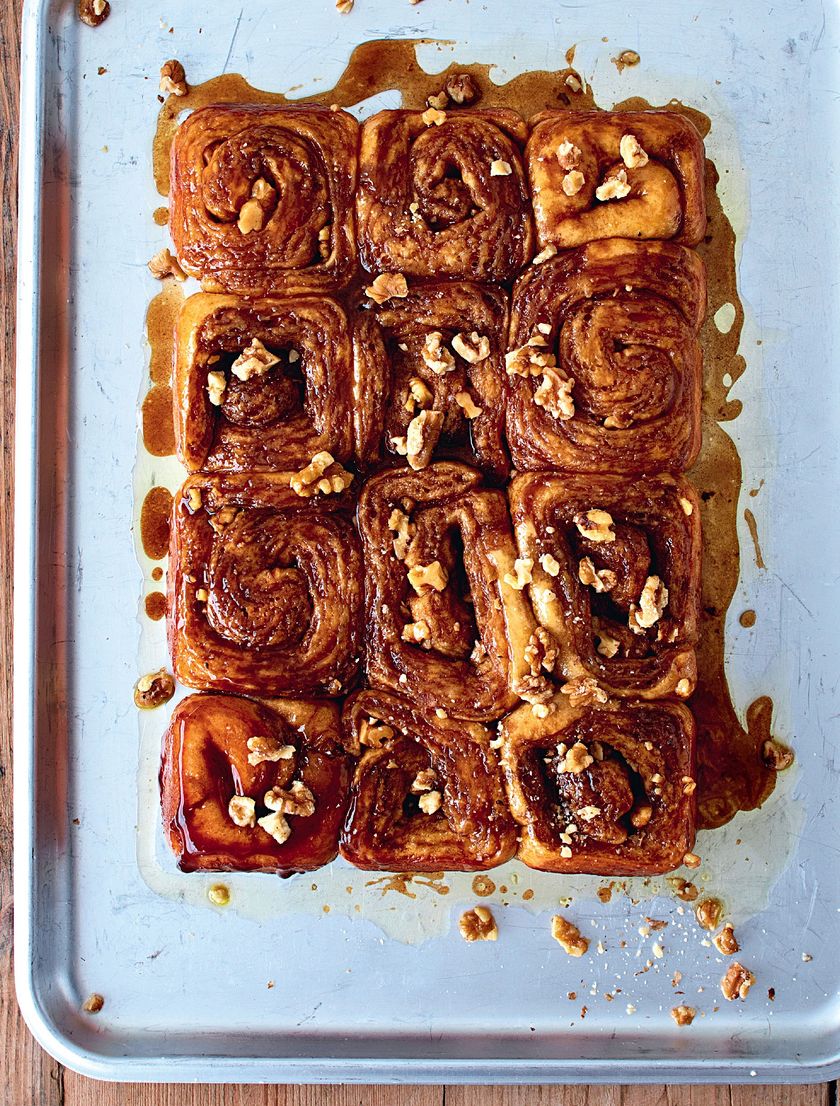 Sticky Honey Cinnamon Buns from The Great British Bake Off: Big Book of Baking
Make brunch a sweet affair with these sticky breakfast buns from the team behind The Great British Bake Off, flavoured with cinnamon, honey and walnuts for a truly delicious show-stopper. 
Buy The Great British Bake Off: Big Book of Baking here.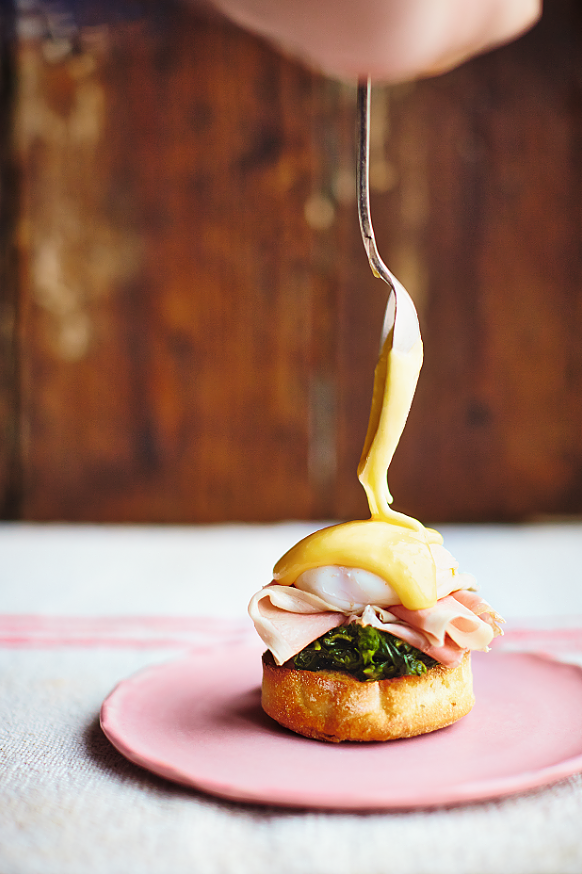 Super Eggs Benedict from Jamie's Comfort Food by Jamie Oliver
Go for a brunch classic with Jamie's eggs benedict recipe, a mouthwatering combination of hot English muffins, smoked ham, poached eggs, and oozing Hollandaise sauce. Yum! 
Get your copy of Jamie's Comfort Food here.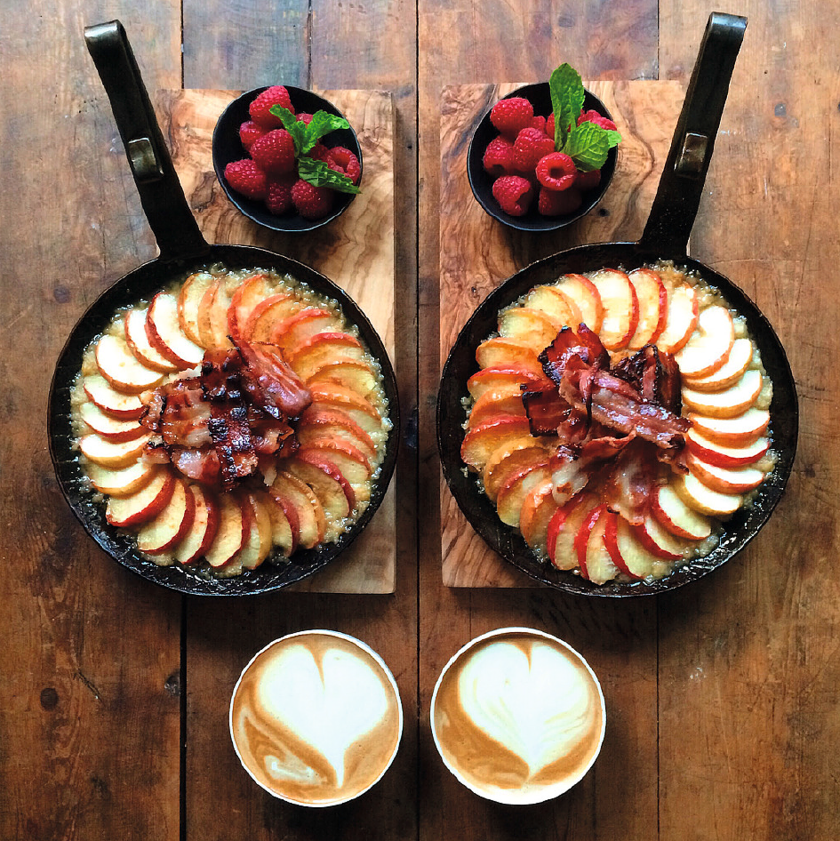 Baked Oats with Ginger Beer Bacon from SymmetryBreakfast: Cook-Love-Share by Michael Zee
An indulgent recipe that is guaranteed to go down well with a hungry crowd, these baked oats with an irresistible ginger beer-flavoured candied bacon is the stuff of brunch-filled dreams. 
Buy SymmetryBreakfast: Cook-Love-Share here.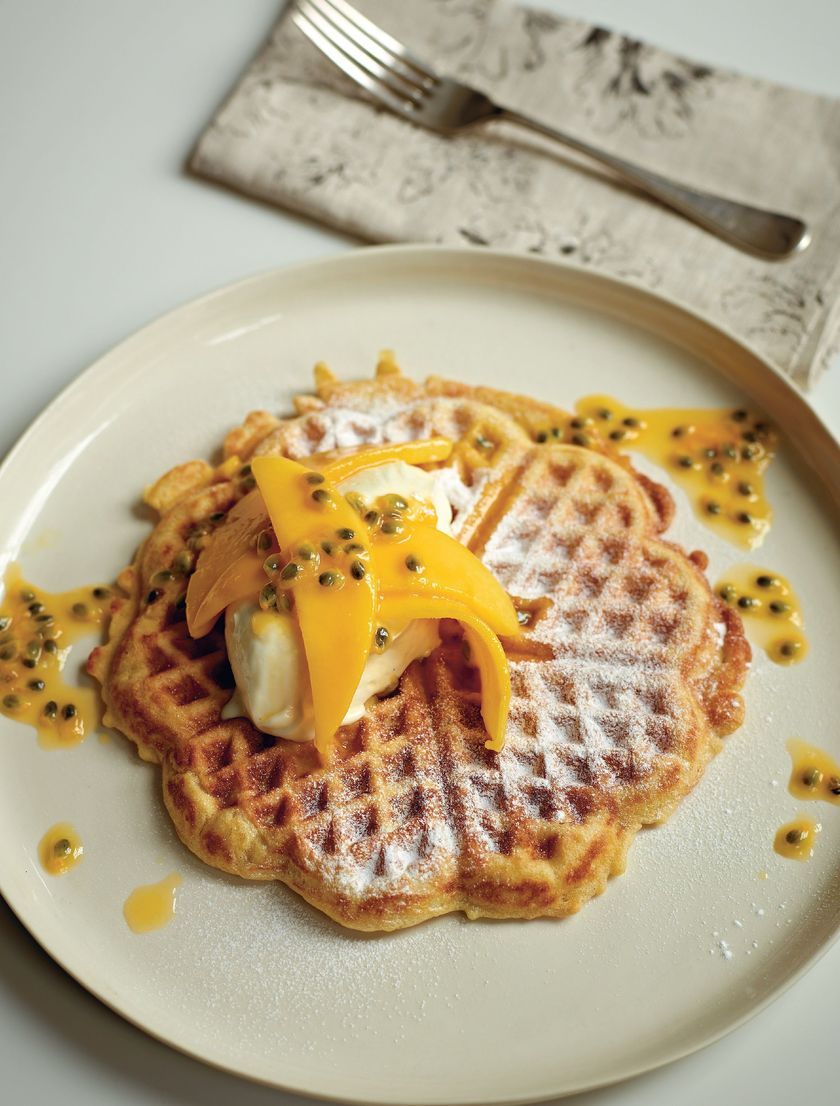 Coconut Waffles with Vanilla Mascarpone, Mango and Passion Fruit from The Modern Pantry by Anna Hansen
A fresh and fruity twist on a classic waffle recipe, this delicious dish is bursting with the vibrant flavours of coconut, mango and vanilla for a welcome taste of the tropics at your brunch table.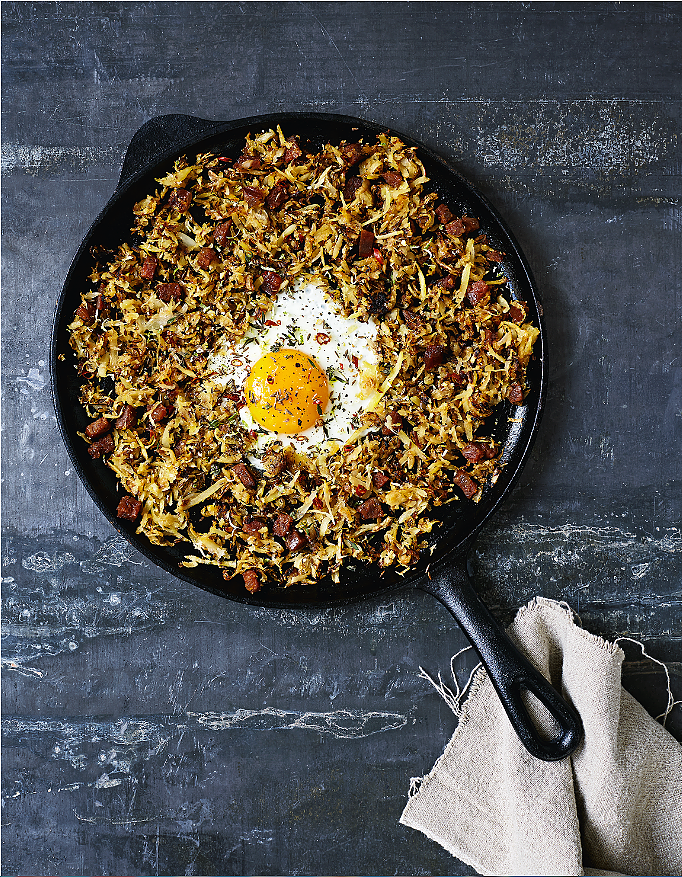 Parsnip Chorizo Hash with Lime, Thyme and Fried Eggs from FIVE by Rachel de Thample
A veggie-packed brunch dish with the fresh, flavourful addition of lime and fragrant thyme, topped off with a dash of smoky chorizo. What's not to love?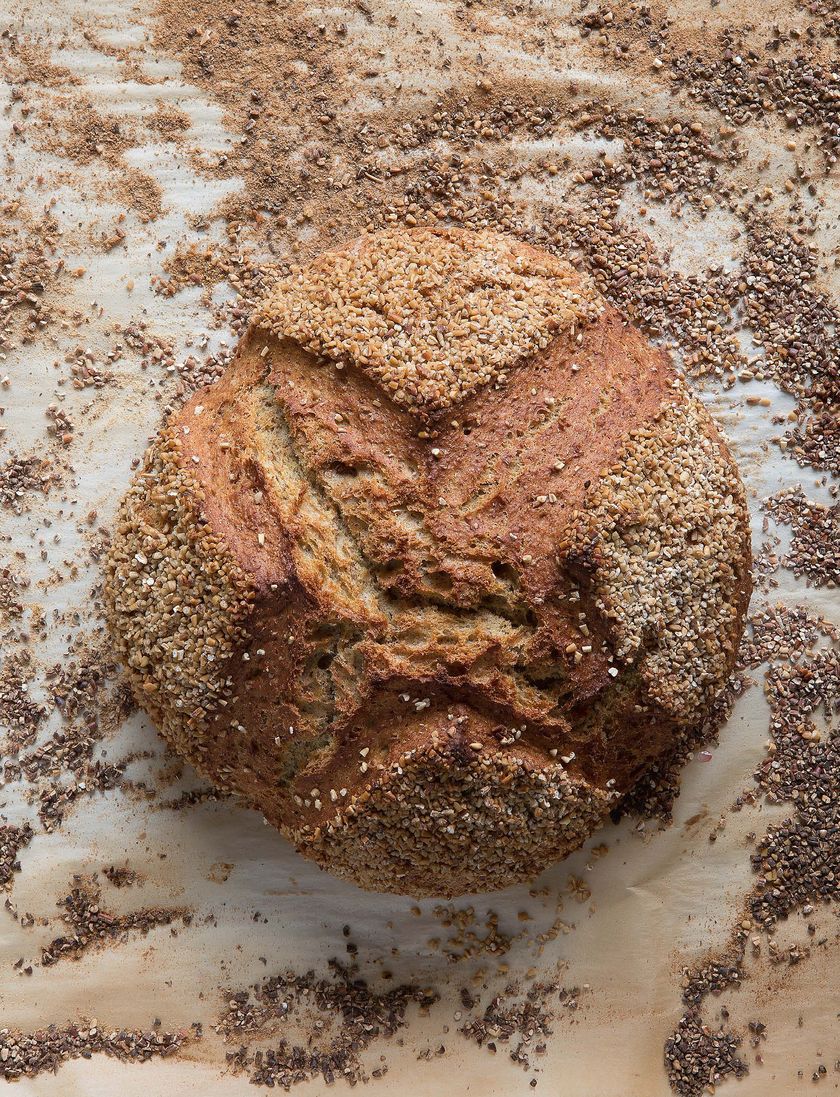 Soda Bread from Bread, Cake, Doughnut, Pudding by Justin Gellatly
This deliciously dense, flavourful bread is the perfect base for all your favourite brunch toppings, from butter and jam to cured meats and cheeses or scrambled eggs with smoked salmon. With expert guidance from the king of bread-making, you can't go wrong with this soda bread recipe. 
Buy your copy of Bread, Cake, Doughnut, Pudding here.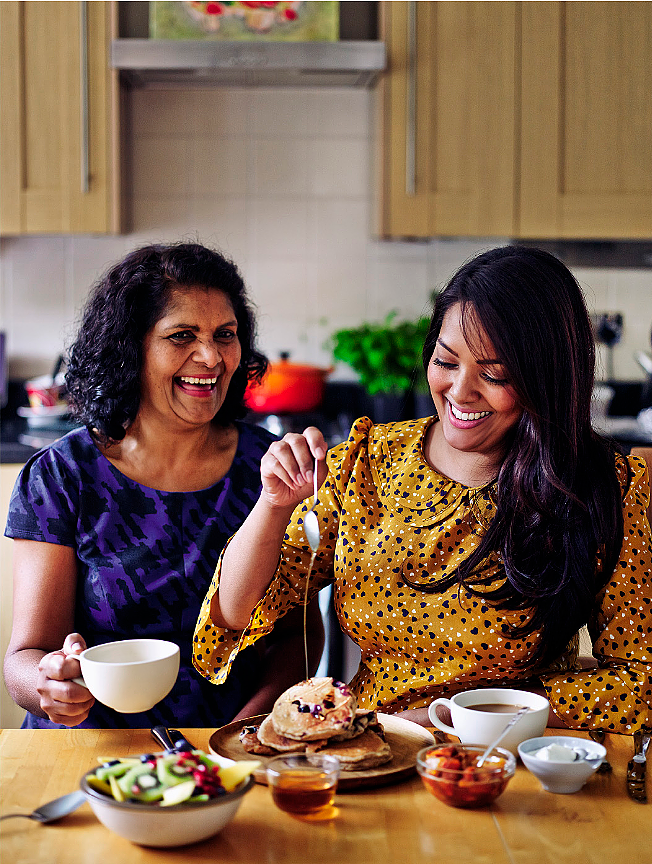 Yoghurt Pancakes with Blueberries from The Sunshine Diet by Shelina Permaloo
The sunshine queen Shelina Peramloo introduces us to a lighter pancake dish, made with fat-free yoghurt and wholegrain flour and topped with fresh fruits for a balanced and guilt-free breakfast that still feels indulgent. Win, win!
Get your copy of The Sunshine Diet here.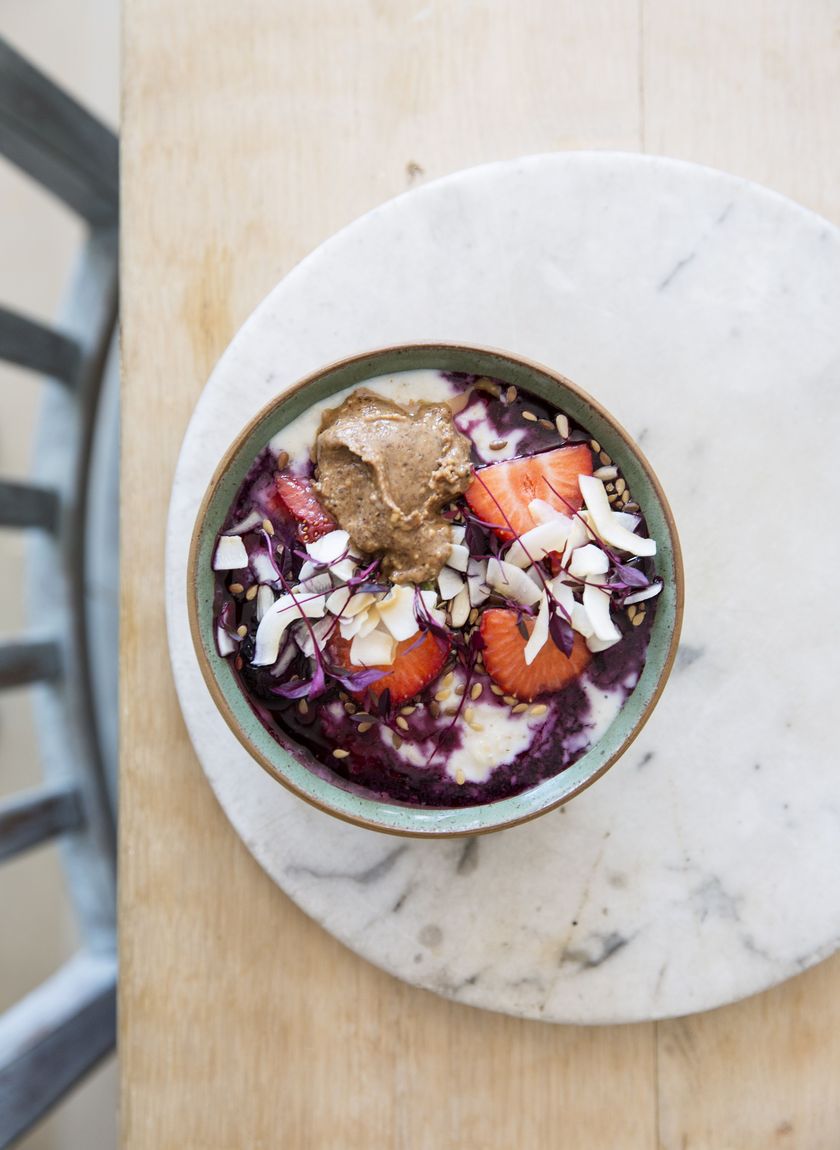 Blueberry Porridge from 26 Grains by Alex Hely-Hutchinson
Anyone who thinks porridge is boring clearly hasn't cooked from Alex Hely-Hutchinson's 26 Grains cookbook, aka the porridge bible. This beautiful bowl of eye candy is one to serve when you want to seriously impress your brunch guests, and the best part is... it tastes as good as it looks!
Buy your copy of 26 Grains here.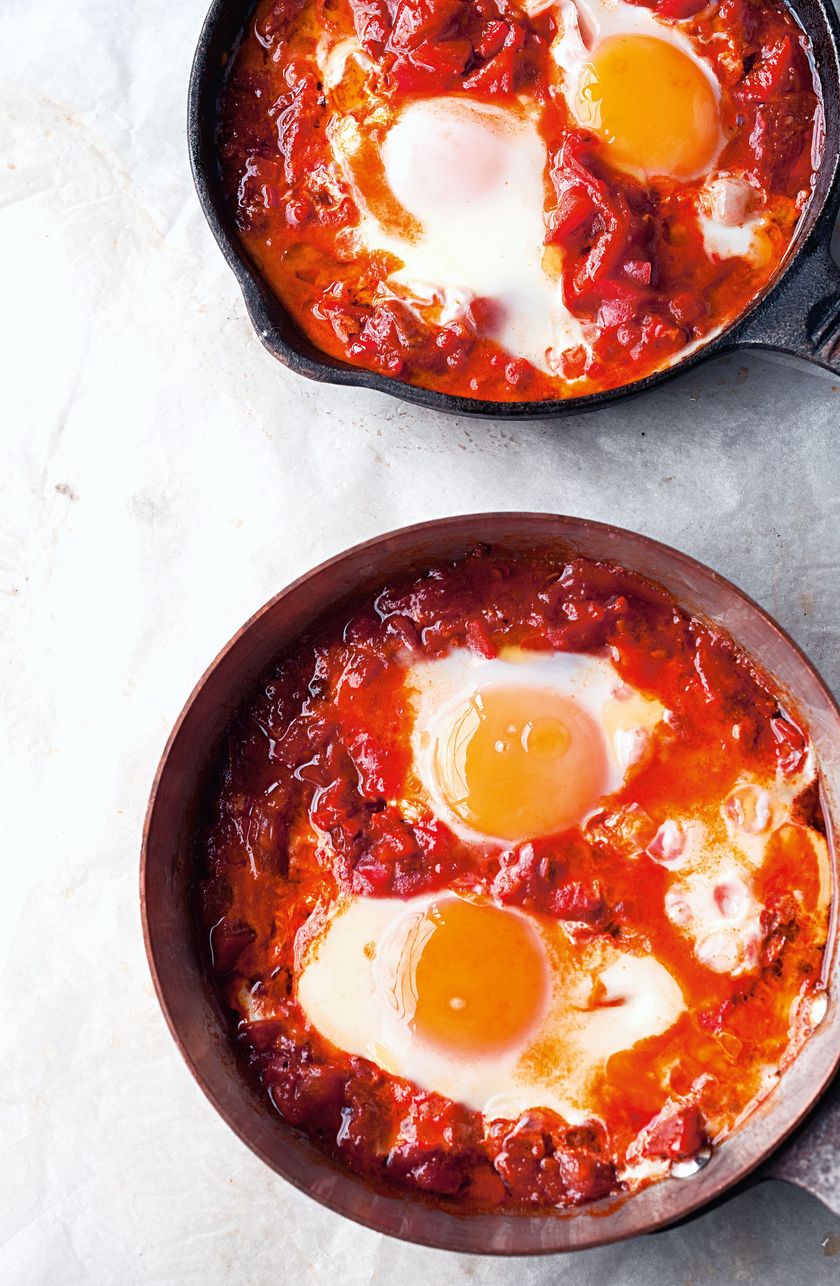 Shakshuka from Jerusalem by Yotam Ottolenghi & Sami Tamimi
Who better to turn to for a failsafe shakshuka recipe than the masters of Middle Eastern cooking, Yotam Ottolenghi and Sami Tamimi? This heavenly shakshuka recipe is everything you could want in a brunch dish: satisfying, flavour-packed, and goes perfectly with a couple of slices of sourdough toast. 
Get your copy of Jerusalem here. 
Planning on making one of these delicious brunches? We'd love to see! Do share your creations with us on Twitter or Instagram.