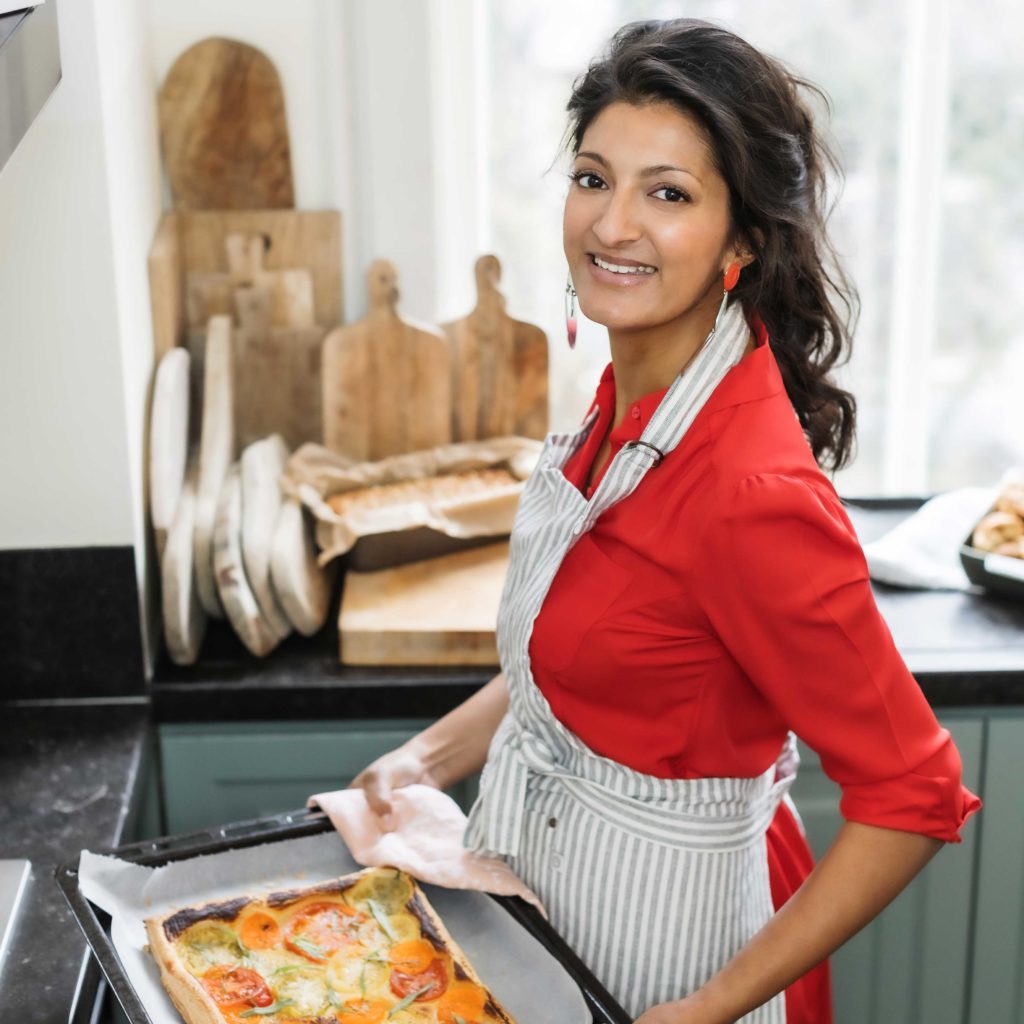 Dinner with Rukmini
Browse all of the recipes in Rukmini Iyer's cookbooks by ingredient.
Rhubarb and Custard Blondies
Taking inspiration from the classic British dessert, Rukmini Iyer's blondie recipe combines sweet custard with tangy forced rhubarb.
Introduction
The sharpness of the roasted rhubarb provides an incredible contrast to the sweetness of the custard in these mildly addictive blondies. To save time, I suggest making a condensed milk custard, but if you wish to reduce the sugar, by all means use 100ml of home-made or shop-bought custard instead.
Ingredients
400g
rhubarb (ideally bright pink)
60g
caster sugar
85ml
olive oil
80g
soft dark brown sugar
2
medium free-range egg whites (keep the yolks for the custard below)
1
medium free-range egg
150g
plain flour
A pinch of
sea salt flakes
70ml
milk
A handful of
hazelnuts, roughly chopped
For the custard:
2
medium free-range egg yolks (left over from the egg whites above)
100g
condensed milk
Method
Preheat the oven to 170°C fan/190°C/gas 5. Cut the rhubarb into 2.5cm pieces, then mix with the caster sugar in a medium roasting tin. Transfer to the oven and roast for 20 minutes.
Once the rhubarb is cooked, lower the oven temperature to 160°C fan/180°C/gas 4.
Whisk the olive oil and soft brown sugar together with the egg whites and the whole egg until smoothly incorporated. Stir in the plain flour, salt and milk, then transfer the batter to a lined 24.5cm x 17.5cm baking tin.
Beat the egg yolks with the condensed milk, then drop tablespoons of the mixture into the blondie batter in the tin. Use the handle of a teaspoon to draw the condensed milk custard gently through, then arrange the roasted rhubarb on top, reserving the juice in the tin. Scatter over the hazelnuts.
Transfer the tin to the oven and bake for 15–20 minutes, until the top of the blondie looks just set. Let the blondie cool in the tin for 5 minutes before transferring it gently to a wire rack.
Serve warm or at room temperature, drizzled with the remaining rhubarb juice before serving. Store any leftovers in the fridge.
For gluten-free: substitute the flour with 75g ground almonds and 75g gluten-free flour (I like the brand Freee, from Doves Farm).
Note: you can use the remaining condensed milk in coffee, as they do in Vietnam.