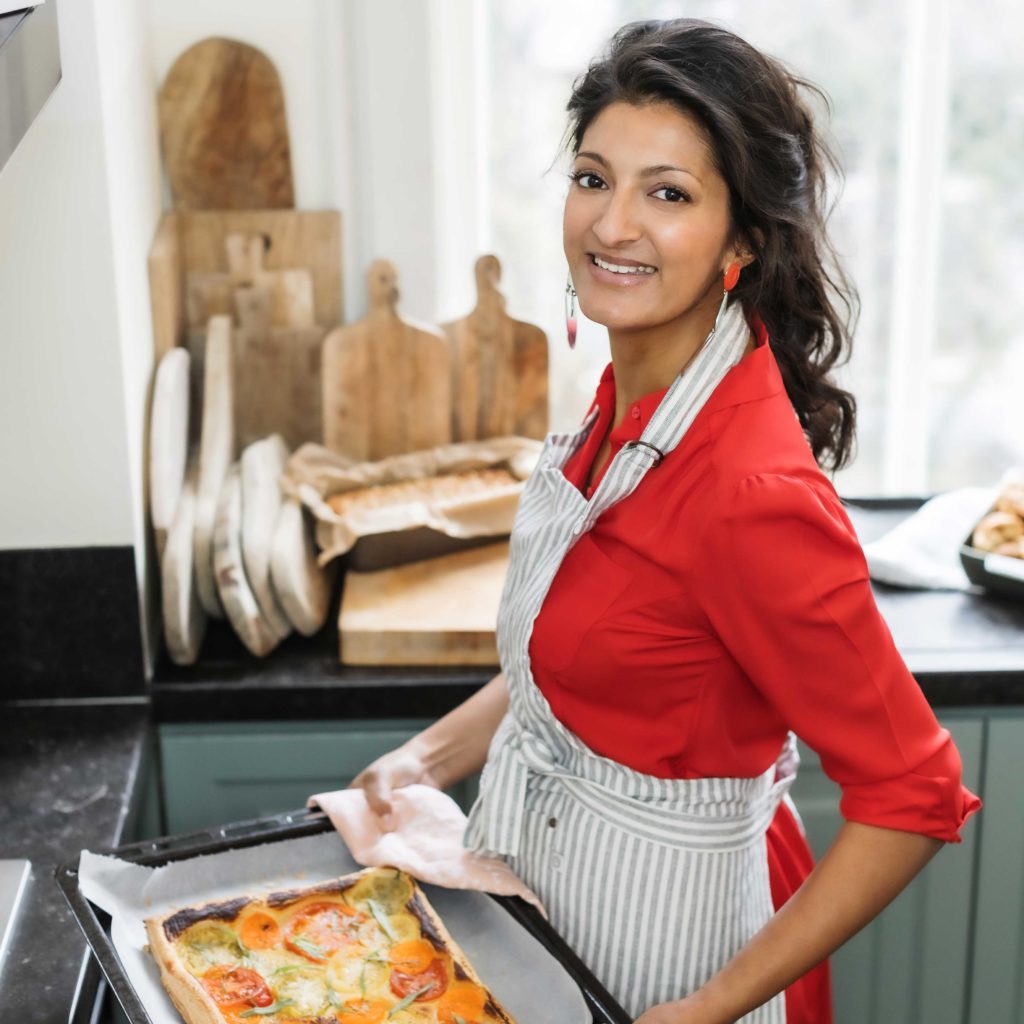 Dinner with Rukmini
Browse all of the recipes in Rukmini Iyer's cookbooks by ingredient.
Oven Baked Ratatouille: Slow Cooked Courgette, Aubergine, Peppers and Tomatoes
A classic comforting vegan dish, this recipe for oven baked ratatouille made with slow-cooked courgette, aubergine, peppers and tomatoes is simple and quick to prepare, perfect for a busy weeknight.
Introduction
The trick with this ratatouille is to cut the courgettes really thinly, so they absorb all the flavours from the sauce. This is lovely on the day it is made, but even better the next day, warmed through in the oven, so if you're in the mood for a spot of batch cooking for the week ahead, this is your dish.
Ingredients
| | |
| --- | --- |
| 2 | large courgettes, very thinly sliced |
| 1 | large aubergine, sliced into 5mm half-moons |
| 2 | red peppers, roughly chopped |
| 1 | red onion, roughly chopped |
| 2 | cloves of garlic, crushed |
| 2 tbsp | olive oil |
| 2 heaped tsp | sea salt |
| | Freshly ground black pepper |
| 25g | fresh basil, roughly chopped |
| 2 x 400g tins | chopped tomatoes |
| 75g | fresh white breadcrumbs |
| 30g | vegan Parmesan, grated |
| | To serve: |
| | Crusty bread |
Essential kit
You will need: a medium-sized roasting tin or lasagne dish.
Method
Preheat the oven to 180°C fan/200°C/ gas 6.
Mix the vegetables, garlic, oil, salt, pepper and basil in a medium-sized roasting tin or lasagne dish, then top with the tinned tomatoes. Smooth the tomatoes over the vegetables, then transfer to the oven and roast for 30 minutes.
Remove the tin from the oven and increase the heat to 200°C fan/220°C/ gas 7. Give the vegetables a bit of a stir, then top with the breadcrumbs and parmesan and return to the oven for a further 30 minutes.
Leave the ratatouille to cool down for 10–15 minutes, then serve with plenty of crusty bread.
Note: Don't panic if it looks like there's too much liquid in the tin after the first 30 minutes; this absorbs perfectly by the end.
More Recipes from The Green Roasting Tin
---