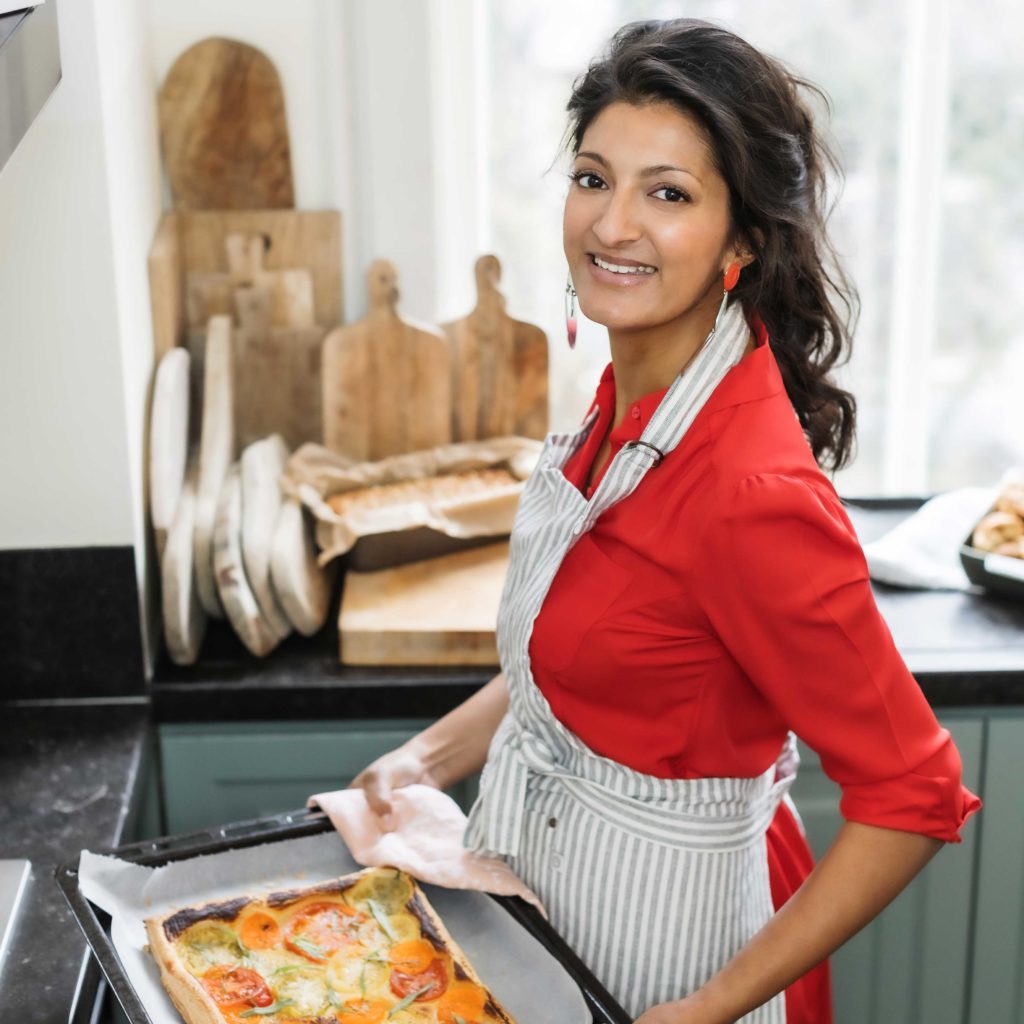 Dinner with Rukmini
Browse all of the recipes in Rukmini Iyer's cookbooks by ingredient.
Celebrate the Christmas season with Rukmini Iyer's traditional marzipan stollen. Sweet, light, and easier to make than you might think.
Introduction
German Christmas food is exactly what I want to eat and drink when December hits – lebkuchen, glühwein, gingerbread houses – and of course, stollen. This is surprisingly easy to make (admittedly, if you have a dough hook attachment), and very much worth it – the house will smell wonderful as it cooks, too.
Ingredients
| | |
| --- | --- |
| 110ml | milk |
| 350g | plain flour |
| 5g | fast action/easy bake dried yeast |
| 250g | mixed dried fruit (without mixed peel) |
| 100ml | brandy |
| 40g | caster sugar |
| A pinch of | sea salt |
| ½ tsp | ground cinnamon |
| ½ tsp | grated nutmeg |
| 1 | orange, zest only |
| 1 | lemon, zest only |
| 1 | medium free-range egg, beaten |
| 110g | unsalted butter, melted |
| 150g | marzipan |
| 3 tbsp | melted butter |
| | icing sugar, to serve |
Essential kit
You will need: a stand mixer with the dough hook attachment.
Method
Prep time: 45 mins + 3 hours rising. Cook time: 25-30 minutes.
Heat the milk in a saucepan until just barely warm to the touch (if it gets hotter than that, let it cool back to tepid). Stir in 50g of the flour and the yeast, and leave to pre-ferment for 30 minutes, after which it will look thick and bubbly.
Meanwhile, stir the dried fruit with the brandy, and set aside.
Tip the remaining flour, sugar, salt, cinnamon, nutmeg and citrus zest into a large bowl, and set aside.
Once the pre-ferment is ready, tip this into the flour and sugar mix along with the beaten egg and melted butter, and stir with a wooden spoon to bring together.
Knead with a dough hook for 7–8 minutes, until smooth and springy, or with your hands for 10 minutes, adding a little more flour as needed to get a workable dough.
Drain the brandy from the fruit, and carefully fold the fruit into the dough. Form it into a ball, then cover and leave to rise for 2 hours, or until doubled in size.
Punch down the dough, then start your shaping. As shaping stollen is a little hard to describe, you can head to The Happy Foodie's YouTube for a video where I show you how to do it.
Alternatively, shape the dough into a large oval – around 25cm long. Use a rolling pin to make a lengthways deep indentation, almost to your work surface, along one third of the long end of the oval. Roll your marzipan into a long log, and place it in the indentation. Use the rolling pin to make a shallower indentation in the middle of the remaining two-thirds of the stollen, then fold the side with the marzipan over so that the marzipan is completely enclosed – you should have a hump exactly in the middle so a cross section would look like a camel's back – pat down around the hump with your rolling pin to further define it.
Let the dough rise for 1 hour at room temperature, then transfer to a oven preheated to 180°C fan/200°C/gas 6 and bake for 25–30 minutes, until golden brown and risen.
Brush over the melted butter and sift over icing sugar to taste, then let the stollen cool on a wire rack. Once cool, you can let it mature for a week in an airtight container, but I find this easier said than done.