Now that social distancing is the new norm (for now at least), catching up with large groups of family members and friends online has never been easier. If you're looking for ways to keep it fun – and you've bored of Zoom pub quizzes – why not throw a dinner party? Here are some tips and menu ideas to get you started. 
1. Pick a theme. Choose something that everyone can get on-board with, not forgetting anyone's dietary preferences. 
2. Choose the recipes. If your friends think of themselves as kitchen pros or they're more beginners, adjust the recipes according to what you think they'd be comfortable with. 
3. Cookalong? Decide whether you want to cookalong – if you've got a recipe you love up your sleeve, this is a brilliant time to guide your pals through it. Just remember, slow-cooked or too-complicated recipes won't cut it if you're cooking along in real time, so aim for recipes that take less than an hour. 
4. Recipes chosen, write out an ingredients list to send out a few days in advance.
5. On the evening… clean your kitchen, set up some mood lighting, light a few candles and find a place to install your phone, laptop or iPad. Just like an IRL dinner party, atmosphere is important!
Here are some menu ideas that will get your taste buds going…
Mexican night
Head to Mexico for a Mexican-themed (and optionally tequilla-fuelled) evening with Rick Stein's Chicken Burritos or these Spiced Lentil Tacos or these much simpler Chicken Fajitas. Easy-to-adapt, tacos, burritos and fajitas are good options to make your virtual dinner party more interactive as you load them up while you chat. Finish off with Churros with Hot Chocolate. 
Rick Stein: The Road to Mexico
Classic dishes you'll fall in love with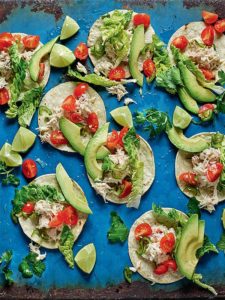 All the recipes from Rick's TV series
Learn to make authentic Mexican food
Italian night
The beauty of Italian cooking is in its simplicity, which makes it a good all-rounder for mates cooking at home. Go with Jamie Oliver's Happiness Pasta with tomatoes and aubergine or for something a little more special, this Beautiful Slow-Cooked Beef Ragu from Jamie Cooks Italy. Finish off with the option of an Amalfi Lemon Tart or Mary Berry's Tiramisu, served up in individual glasses.
Order a copy of Jamie Cooks Italy here. 
Ottolenghi night
If your friends are more into the Ottolenghi vibe or you want an easy-to-achieve Middle Eastern dinner, you can't go wrong with these recipes. Start with Hot Charred Tomatoes with Cold Yoghurt from Ottolenghi's Simple cookbook, move onto Chicken with Caramelised Onion and finish with Sumac-Roasted Strawberries with yoghurt cream. 
Order a copy of Ottolenghi's Simple cookbook here. 
Vegan night 
Got vegan mates? Accomodate everybody by opting for recipes that are packed with flavour and just happen to be meat and dairy-free. Try Melissa Hemsley's Fried Chermoula Cauliflower (ready in under 30 minutes) or this Vegetable Chilli from Rachel Ama's Vegan Eats. Finish with a Vegan Layered Pavlova with Coconut Cream or an Apple Berry Crumble. 
Order a copy of Rachel Ama's Vegan Eats here.
Asian night
An all-round crowd-pleaser, head to South-East Asia with a dinner party 'fakeaway'. Chris Bavin's Pad Thai is simple to make or for the more foodie crowd, suggest Meera Sodha's vegan twist on Pad Thai (pictured). If it's curry, you're after an Aromatic Chicken and Peanut Thai Curry is the ticket. Finish off with a Mango, Rum and Lime Syllabub.