The Roasting Tin is one of our most hotly anticipated cookbooks of the year. This brightly coloured cookbook is packed with simple one-dish recipes that require minimal preparation but deliver maximum flavour, nutrition and satisfaction. To celebrate the publication of The Roasting Tin (finally!) we've rounded up a team of Happy Foodies to cook from the book and see if the recipes live up to our hype…
Who: Julia Pal, Senior Digital Marketing Manager
What I made: Fennel, Sausage & Cannellini Beans with Tomatoes and Conchigliette
What I thought: MY CHILDREN ATE FENNEL. I repeat. MY CHILDREN ATE FENNEL. If it had nothing else going for it, the fact that this dish from The Roasting Tin persuaded my two veg-phobic children to stray beyond the safety of their usual broccoli and peas makes it pretty much miraculous in my eyes. Brilliantly, it has a whole lot more going for it too. This simple baked pasta recipe is perfect weekend comfort food for the whole family. I had managed to find some spicy Italian sausages at my local butcher's (the excellent Flock & Herd in Peckham), which worked beautifully with the caramelised fennel and fragrant oregano in the dish. A light dusting of Parmesan completed this authentically Italian crowd-pleaser once it had finished its stint in the oven. The meal was devoured by all, leaving just enough for a top notch leftovers lunch for one (me) the next day. Needless to say, I'll be making it again. And again. And again.
Who: Lottie Huckle, Digital Content Producer
What I made: Aubergine, Butternut Squash, Halloumi, Bulgur Wheat and Mint
What I thought: If you need a cookbook that enables you to keep one eye on the dinner and one eye on the rest of your life, look no further than The Roasting Tin.
After much anticipation I finally got my hands on a copy of The Roasting Tin and couldn't wait to cook a recipe from the book. After a spout of warm weather, this bulgur wheat tray bake piqued my interest complete with summery sprigs of mint.
I had been looking forward to making the recipe ever since I clocked eyes on it, but on the evening marked for making said recipe, my rather wayward life got in the way. Whilst half paying attention to the recipe (I think I put in too much butternut squash… maybe?), I juggled my mobile and various other distractions. Once the quickly assembled dish was in the oven I worried I wouldn't do justice to what I was sure, an excellent cookbook.
I shouldn't have worried. The recipe turned out perfectly. The butternut and bulgur wheat was tender, aubergine deliciously soft and the halloumi still delightfully squeaky. I should've realised really, this busy midweek evening was the perfect road test for Rukmini's cookbook, and I'm pleased to report it passed with flying colours. It now has a place on my 'tier one cookbook shelf'. And that's no mean feat.
Who: Naomi Mantin, Senior Press Officer
What I made: Spicy Chipotle Chicken Wings with Sweet Potato Wedges, Coriander & Lime Yoghurt
What I thought: Roast dinners are a glorious thing, but they are no friends of the lazy. Whilst I am more than partial to than a plate of gravy-drenched roast potatoes, I shy away from Sunday cooking as I fear the faff that inevitably accompanies it: the setting of multiple timers on my phone, the piles of washing up, the million ingredients and – worst of all – the last minute juggling act of 'oh-god-I've-lost-the-oven-mit-and-forgotten-the-peas-and-now-the-chicken-is-overdone-why-oh-why-didn't-we-get-Nandos-instead'. I firmly believe that Sundays are precious and should be spent doing far more important things with your favourite people; mainly lying or sitting down, pottering and watching endless episodes of Arrested Development.
That said, food plays an enormous part in my weekend, and so I rejoice at the concept of The Roasting Tin: big hefty delicious dinners with minimal effort required. I found the Spicy Chipotle Chicken Wings recipe outrageously straightforward – just two ingredients in a tin covered in an easy chipotle mixture and shoved in the oven. We actually used two tins for this as the wings take up rather a lot of space, but transferred them to one for a final more impressive photograph. If you do the same, I'd recommend doubling the chipotle mixture as we did to make sure the wings and wedges are extra sticky and succulent.
The end result looks mighty impressive and tastes bloody nice: smoky, zesty and satisfying. I had mine with a cold beer and copious amount of kitchen roll, and I'd encourage you do to the same. You'll be left feeling smug , well-fed and sleepy with plenty of time left over to go back to doing absolutely nothing. Bliss.
Who: Penny Liechti, Rights Manager
What I made: Crispy Olive & Pine Nut Crusted Cod with Roasted Red Onions & Cherry Tomatoes
What I thought: I am a huge fan of one pot cooking. Midweek evening meals for me are all about getting something interesting on the table with the least possible amount of time and effort. So the idea behind The Roasting Tin is like manna from heaven: imaginative food requiring minimal preparation (i.e. whilst the kids are having their supper), which can happily sit in the oven whilst I get them into bed.
Having said that, the first thing I was drawn to make was the speedily-cooked crispy olive and pine nut-crusted cod with roasted red onions and cherry tomatoes, an irresistible combination of flavours on a day when it finally felt as if summer could be round the corner. It's almost laughably easy to prepare, slicing an onion and crushing some pine nuts in a pestle and mortar being the most complicated cooking manoeuvres required – about all I was capable of after a long day in any case. Everything went into the eponymous tin and into the oven, and I barely had time to pour a glass of wine and ring my mum before the oven timer started beeping 15 minutes later. It's an instant winner with the magical combination of simplicity of preparation, speed of cooking and fabulous flavours and textures (the pine nut and panko topping is inspired).
I'm always looking for ways to work more fish into our everyday diets, and this recipe would work equally well with hake or pollock as well as cod. I love the way Rukmini encourages you to experiment with different combinations with the clever infographics at the start of each chapter, which gives confidence to even the most recipe-bound cook like me. I've already earmarked several pages of more recipes to try, and can see The Roasting Tin becoming one of the best-used books on my kitchen shelves.
Who: Corina Romonti, Vintage Communications Team Assistant
What I made: Bulgur Wheat with Roasted Red Peppers, Tomatoes, Feta and Pine Nuts
What I thought: Cooking for the closest people in my life is one of my favourite things to do, not least because it's a way of showing love and care. My culinary skills have developed during many adventures of trial and error, some things come easy and are imprinted in my memory, but many, no matter how many times I try them, always need a jolt from olive oil stained pages. When the opportunity arrives to try delicious and, at the same time, easy to remember recipes, I can't help but get excited.
Because the weather was so generous this weekend, I wanted something light and colourful to mirror the amazingly bright day outside. I chose bulgur wheat with roasted red peppers, tomatoes and feta. The taste of roasted peppers and tomatoes takes me back to my childhood in Romania and my grandmother's amazing cooking, so that's always a win. The recipe advises to simply add everything to a roasting tin, put it in the oven, wait for a bit (while you experience mouth-watering smells), and then, voila, you have a delicious and healthy dish with minimum effort. I must say, it was a hit in our house, healthy and full of flavour, it will most definitely become a summer staple. Plus, I always love when there's enough food for next day's lunch. Put your hands up for delicious Monday left-over lunches!
Find out more about Rukimini's celebrated The Roasting Tin by clicking here.
The Roasting Tin: Deliciously Simple One-Dish Dinners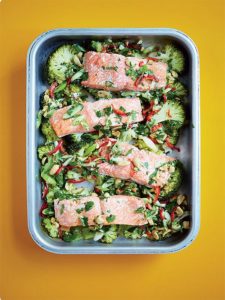 Simple, quick and inventive one-tin recipes
Revolutionise your midweek meal repertoire
Leave the hard work to the oven with 75 life changing recipes