Get a delicious dinner on the table in a flash with one of these easy fish traybakes that are perfect for warmer days.
All-in-One Steam-roasted Salmon & Broccoli with Lime, Ginger, Garlic & Chilli from The Roasting Tin: Deliciously Simple One-Dish Dinners by Rukmini Iyer
Vibrant, healthy and substantial, this one-tin wonder with salmon and and broccoli ticks every box.
The Roasting Tin: Deliciously Simple One-Dish Dinners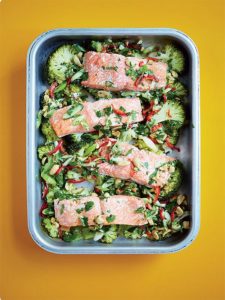 Simple, quick and inventive one-tin recipes.
Revolutionise your midweek meal repertoire.
Leave the hard work to the oven with 75 life-changing recipes.
Smoked Haddock and Cauliflower Gratin from Mary Berry Everyday by Mary Berry
Make Mary's quick haddock gratin when a little bit of easy comfort food is what you're craving. 
Crumbed Pesto Fish, Roasted Cherry Vines, Spuds and Greens from Everyday Super Food by Jamie Oliver
A lighter twist on breaded fish, this recipe from Jamie Oliver's Everyday Super Food is packed with the freshness of basil, the creaminess of pine nuts and the saltiness of Parmesan cheese. 
Grilled Sardines with Coarsely Chopped Green Herbs from Rick Stein's Fish & Shellfish by Rick Stein
A dish that celebrates the wonderful simplicity of grilled sardines, this recipes tops them with green herbs, garlic and and olive. 
Baked Sea Bass with Roasted Red Peppers, Tomatoes, Anchovies and Potatoes from My Kitchen Table: 100 Fish and Seafood Recipes by Rick Stein
For a dinner packed with the flavours of Provence, this simple baked sea bass dish is surprisingly simple to put together. 
Couscous-coated Salmon from The Savvy Shopper's Cookbook by Amy Sheppard
Cost-effective as well as fast, this clever budget-friendly recipe uses cous-cous to create a healthier version of breaded salmon. 
Sea Bass with Coriander and Chilli from Sunshine on a Plate by Shelina Permalloo 
Quick, colourful and easy to put together, this recipe packs delicate sea bass with plenty of vibrant flavours.