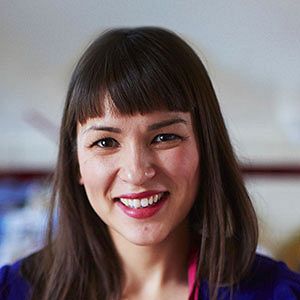 Rachel Khoo
Occupation: Chef, food writer and broadcaster
Best known for: Her debut TV series 'The Little Paris Kitchen' in which she took viewers us from her own tiny kitchen in Paris to the capital's timeless bistros.
Usually found: Discovering new recipes from around the world, developing new dishes and indulging her passion for illustration.
Dishes we love: Her Winter Salad with a Goat's Cheese Mousse, Beer-Doused Ham Hock and Tarte Au Fromage Blanc.
Fun fact: Rachel has written two cookery books published in French: Barres à céreales, muesli et granola maison (Homemade muesli bars, muesli and granola) and Pâtes à tartiner (Homemade spreads). Both of these have been translated into English – Rachel Khoo's Muesli and Granola, and Rachel Khoo's Sweet and Saveoury Pâtés.
Profile
Rachel is a graduate of Central Saint Martin's College of Art and Design in London. It was her passion for patisserie that lured her to Paris, where she obtained a pastry diploma. She then put her skills to use at the delightful Paris culinary bookstore and tea salon, La Cocotte, where she catered for book launches and hosted cookery classes. She released My Little French Kitchen in September 2013, followed by a two-part series Rachel Khoo's Kitchen Notebook: London and Rachel Khoo's Kitchen Notebook: Cosmopolitan Cook. Rachel's new book Rachel Khoo's Kitchen Notebook, out 12 February 2015.
More about Rachel Khoo
---
Features
To celebrate the release of her gorgeous new cookbook, Rachel Khoo's Kitchen Notebook, we asked Rachel Khoo to take us on a tour of her personal cookbook collection. The first cookbook she ever bought, which cookbooks inspire her the most and which she would rescue in a house fire! Find those out and more here.
Recipe Collections
This fabulous dinner party menu from Rachel Khoo is oozing with festive style. Inspired by her love of simple yet elegant French food, this equisite menu is perfect for entertaining guests over the festive period.
Subscribe to The Happy Foodie email newsletter
Get our latest recipes, features, book news and ebook deals straight to your inbox every week