Spiced Lamb, Aubergine and Mint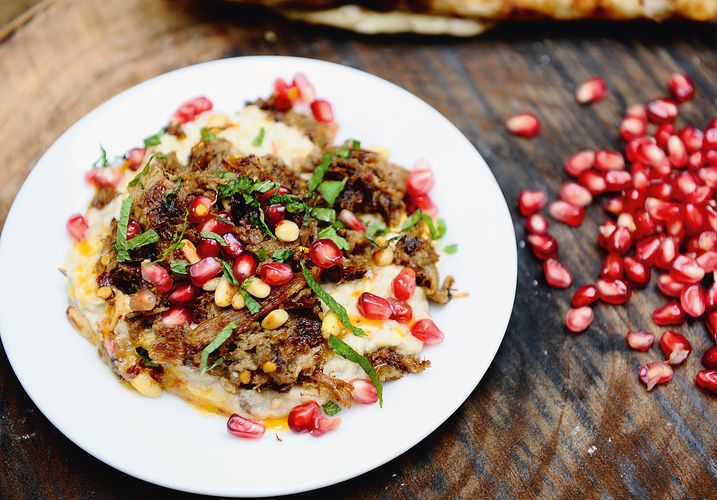 We found this Turkish recipe while watching videos on YouTube. It is an excellent way of learning about real, home-cooked food, and as it is a visual medium it doesn't matter about the language barrier.
Ingredients
SPICED LAMB

600g

lamb shank, off the bone

1 tsp

coriander seeds

1 tsp

cumin seeds

1

cinnamon stick

1

onion, halved

2

sprigs of thyme

3

bay leaves, preferably fresh

AUBERGINE

4

aubergines

4 tbsp

strained Greek yoghurt, such as Total

4 tbsp

extra virgin olive oil

1

small garlic clove, crushed to a paste with ½ teaspoon salt juice of ½ lemon

TO CRISP THE LAMB

50g

butter

1

large Spanish onion, thinly sliced

½ tsp

cumin seeds, lightly toasted and ground

1 tsp

ground cinnamon

TO SERVE

1 quantity of Chilli Butter

1 tbsp

shredded mint

1 tbsp

pine nuts, toasted

2 tbsp

pomegranate seeds
Instructions
Watch the guys at Morito prepare this gorgeous dish in our video tutorial.
Put the lamb, coriander, cumin, cinnamon, onion, thyme, bay leaves and ½ teaspoon of salt in a saucepan and cover with water. Simmer for 30-40 minutes, skimming off any froth that builds up, until the meat is tender and falls apart when handled. Remove the lamb from the pot. When cool enough to handle, shred the meat, discarding any small bones or fat.
Grill the aubergines, ideally whole over a barbecue for a smoky flavour, or bake for about 45 minutes in a hot oven (240°C/475°F/Gas 9) until soft. Remove and leave to cool. Peel the aubergines and place the flesh in a bowl. Add the yoghurt, olive oil, garlic and lemon juice. Season with salt and pepper and mix well.
To crisp the lamb, melt the butter in a saucepan, add the onion with a pinch of salt and cook slowly for 10-15 minutes, until soft, golden and sweet. Add the cumin and cinnamon, fry for 1 minute, then add the lamb and continue to cook, stirring occasionally, until the lamb is part crispy and part still moist and juicy. Check the seasoning.
To serve, spread the aubergine purée on a plate and sprinkle the hot, crispy lamb on top, followed by the warm chilli butter, mint, pine nuts and pomegranate seeds.