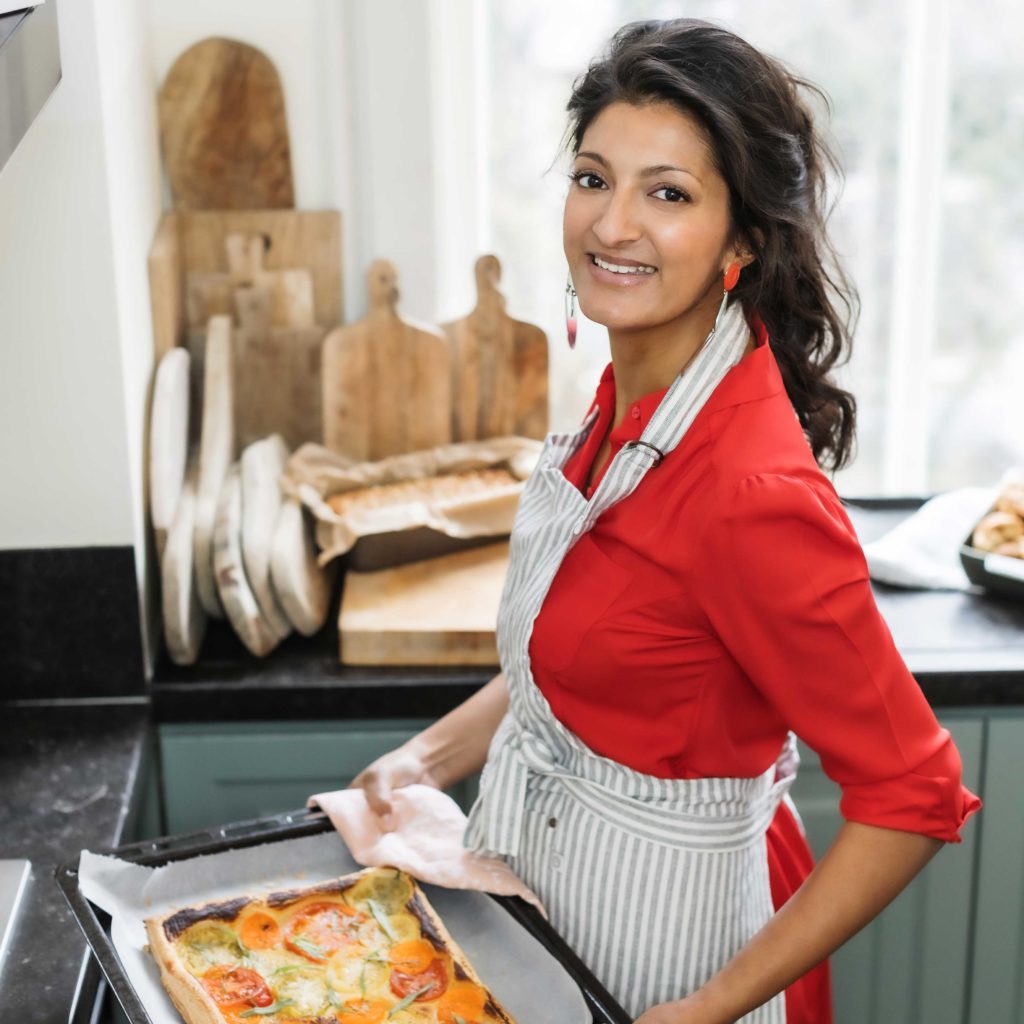 Dinner with Rukmini
Browse all of the recipes in Rukmini Iyer's cookbooks by ingredient.
Bengali-Style Mustard Fish with Crushed Peas and Spiced Sweet Potato
Rukmini Iyer's take on the classic Bengali dish, mustard fish, features a mustard and panko topping and a side of sweet potato and peas.
Introduction
I've written about Bengali mustard fish before, and it's just too lovely a recipe not to include here, albeit with my favourite breadcrumb topping and a side of spiced sweet potatoes and peas. This is a really easy, crowd-pleasing weeknight dinner.
Ingredients
For the fish:
A handful of
panko breadcrumbs
4
thick sustainable cod or pollock fillets
3 tsp
grainy Dijon mustard
1 tbsp
oil, for drizzling
For the sweet potatoes:
3
large sweet potatoes, cut into 2cm chunks
1 tsp
ground cumin
½–1 tsp
mild chilli powder
1 tsp
sea salt flakes
2 tbsp
neutral or olive oil
For the crushed peas:
200g
frozen peas
1 tbsp
neutral or olive oil
1 tsp
finely grated giner
1 tsp
ground roasted cumin seeds
2 tbsp
natural yogurt
juice of ½ lemon
sea salt flakes, to taste
Method
Preheat the oven to 180° fan/200°C/gas 6. Tip the sweet potato, ground cumin, chilli powder, sea salt and oil into a large roasting tin, then transfer to the oven to roast for 25 minutes.
Toast the panko breadcrumbs in a small, dry frying pan for 2–3 minutes until golden brown. Transfer to a plate to cool.
Cook the peas in a saucepan of boiling salted water for 5 minutes. Drain well, then mash roughly with a potato masher. Heat the oil in the frying pan you used for the breadcrumbs and add the grated ginger. Stir-fry for 30 seconds, then add the crushed peas and stir-fry for 2–3 minutes. Stir through the ground roasted cumin seeds, yogurt and lemon juice, then taste and add salt as needed. Set aside.
Once the potatoes have had 25 minutes, remove them from the oven, and make space for the 4 fish fillets. Spread the mustard over each piece of fish and top with the toasted breadcrumbs. Drizzle over the oil, then transfer to the oven to bake for 20–25 minutes until the top is just golden brown and the fish is cooked through. Serve the fish and chipped sweet potatoes with the crushed peas on the side.
More Recipes from India Express
---