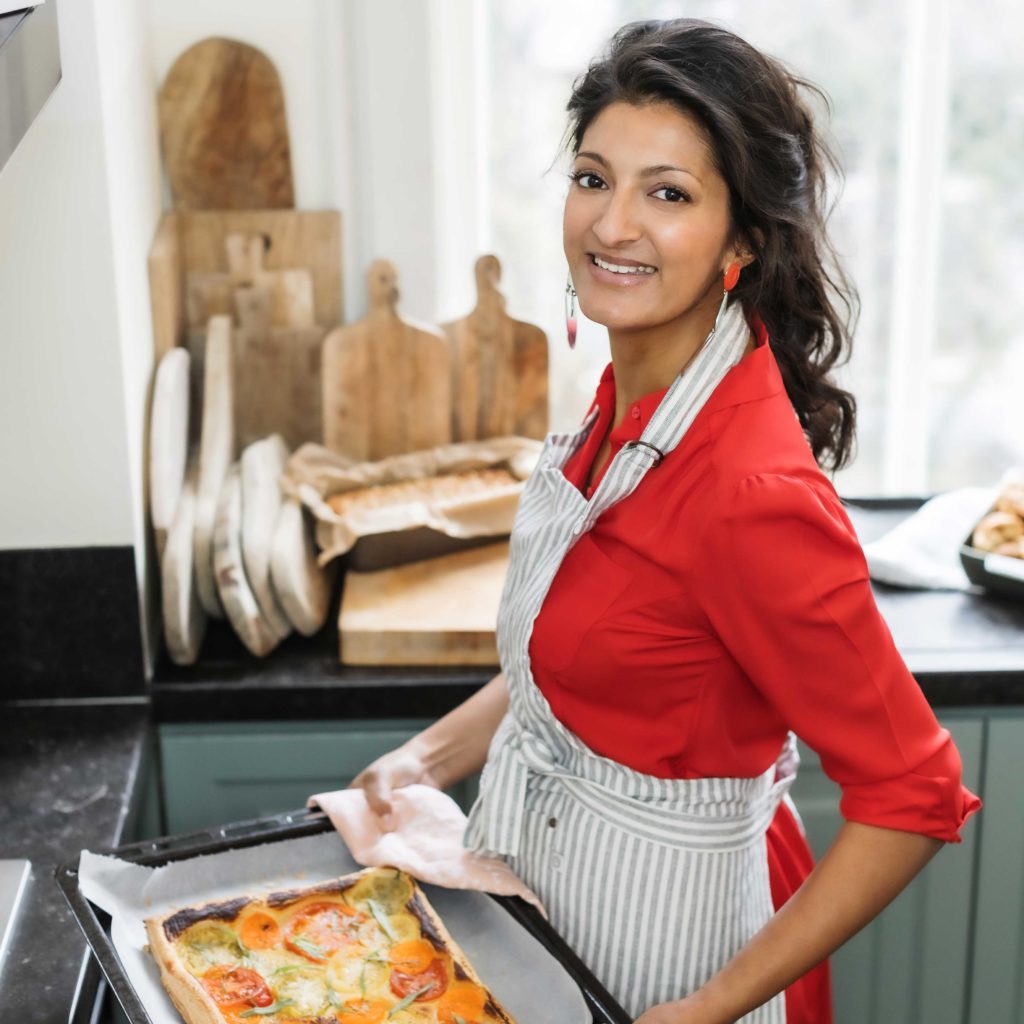 Dinner with Rukmini
Browse all of the recipes in Rukmini Iyer's cookbooks by ingredient.
Rich Potato and Mushroom Gratin with Cream and Reblochon
Ward off the cold with this rich, creamy, and extra-indulgent one-tin potato recipe from The Green Roasting Tin.
Introduction
Somewhere between a tartiflette and a dauphinoise, this rich gratin takes elements from both and combines them for a very satisfying, if calorific, winter dish. (I have been known to have leftovers for breakfast.) If you can't find a reblochon, substitute Gruyère and layer it in between the gratin as well. Serve with a green salad.
Ingredients
| | |
| --- | --- |
| 1kg | Maris Piper potatoes, sliced paper thin |
| 1 | onion, finely sliced |
| 300g | chestnut mushrooms, thinly sliced |
| | sea salt |
| | freshly ground black pepper |
| | fresh nutmeg |
| 2 | cloves of garlic, grated |
| 800ml | double cream |
| 1 x 240g | reblochon cheese |
| 10–12 | fresh sage leaves |
| | To serve: |
| | green salad |
Method
1. Preheat the oven to 180°C fan/200°C/ gas 6. Butter a medium-sized roasting tin or lasagne dish, then add a layer of potatoes, followed by onions and mushrooms. Season with a generous pinch of sea salt, black pepper and a grating of nutmeg, then repeat the layers, seasoning between each, finishing with a layer of potatoes.
2. Mix the garlic with the double cream, another good pinch of salt, pepper and grated nutmeg, then pour it all over the potatoes. Top with the reblochon, scatter over the sage leaves, then transfer to the oven and cook for 1 hour.
3. Let the gratin sit for 10 minutes, then serve with a crisp green salad alongside. Note: It might seem like you're adding a lot of salt, but the potatoes absolutely drink it in: you may need to serve salt on the table so people can season to taste.
More Recipes from The Green Roasting Tin
---