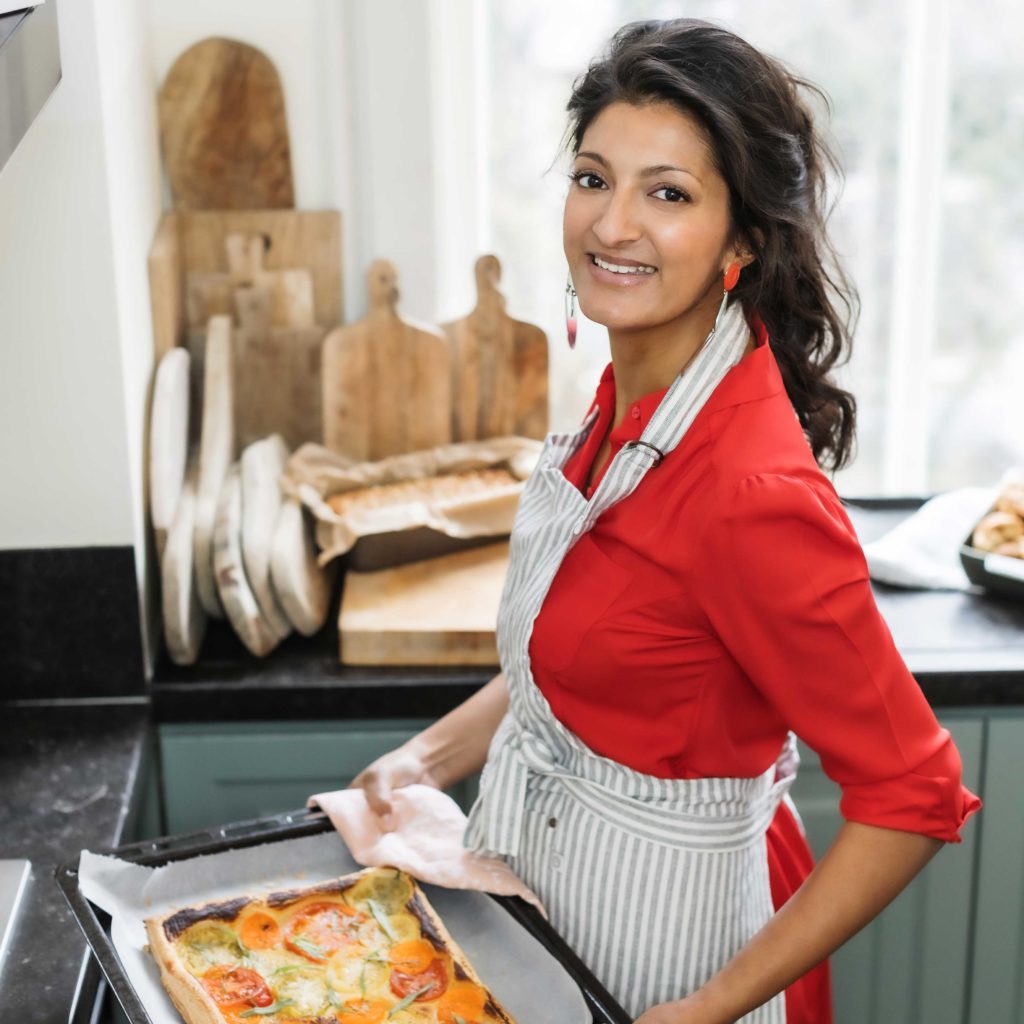 Dinner with Rukmini
Browse all of the recipes in Rukmini Iyer's cookbooks by ingredient.
Goat's Cheese, Red Pepper, Mushroom and Pesto Fusilli Traybake
If you're looking for a simple pasta bake that's packed with flavour, you can't go wrong with this goat's cheese, mushroom and pesto recipe.
Introduction
This is my version of my sister Padmini's favourite traybake. When we were flatmates, we'd cook on alternate nights, and I was always so happy to come home and find this in the oven – a lovely, filling vegetarian main.
Ingredients
| | |
| --- | --- |
| 3 | red peppers, roughly chopped |
| 500g | chestnut or portabellini mushrooms |
| 3 tbsp | olive oil |
| 4 cloves of | garlic, smashed |
| 3-4 sprigs of | fresh rosemary |
| | sea salt and freshly ground black pepper |
| ½ tsp | chilli flakes |
| 300g | fusilli |
| 2 x 400g tins of | chopped tomatoes |
| 150g | green pesto |
| A good handful of | grated Parmesan cheese |
| 240g | goat's cheese |
Method
Preheat the oven to 200° C fan/220° C/ gas 7. Tip the peppers, mushrooms, olive oil, garlic, rosemary, 2 teaspoons of sea salt and the chilli flakes into a really large roasting tin and mix well. Transfer to the oven and roast for 20 minutes.
Meanwhile, bring a large pan of salted water to the boil, and cook the fusilli for 11 minutes before draining well.
Add the fusilli and chopped tomatoes to the tin along with a good couple of pinches of sea salt, and mix well. Dollop over the pesto, and scatter over the Parmesan and goat's cheese. Return to the oven for a further 30 minutes until golden and bubbling.