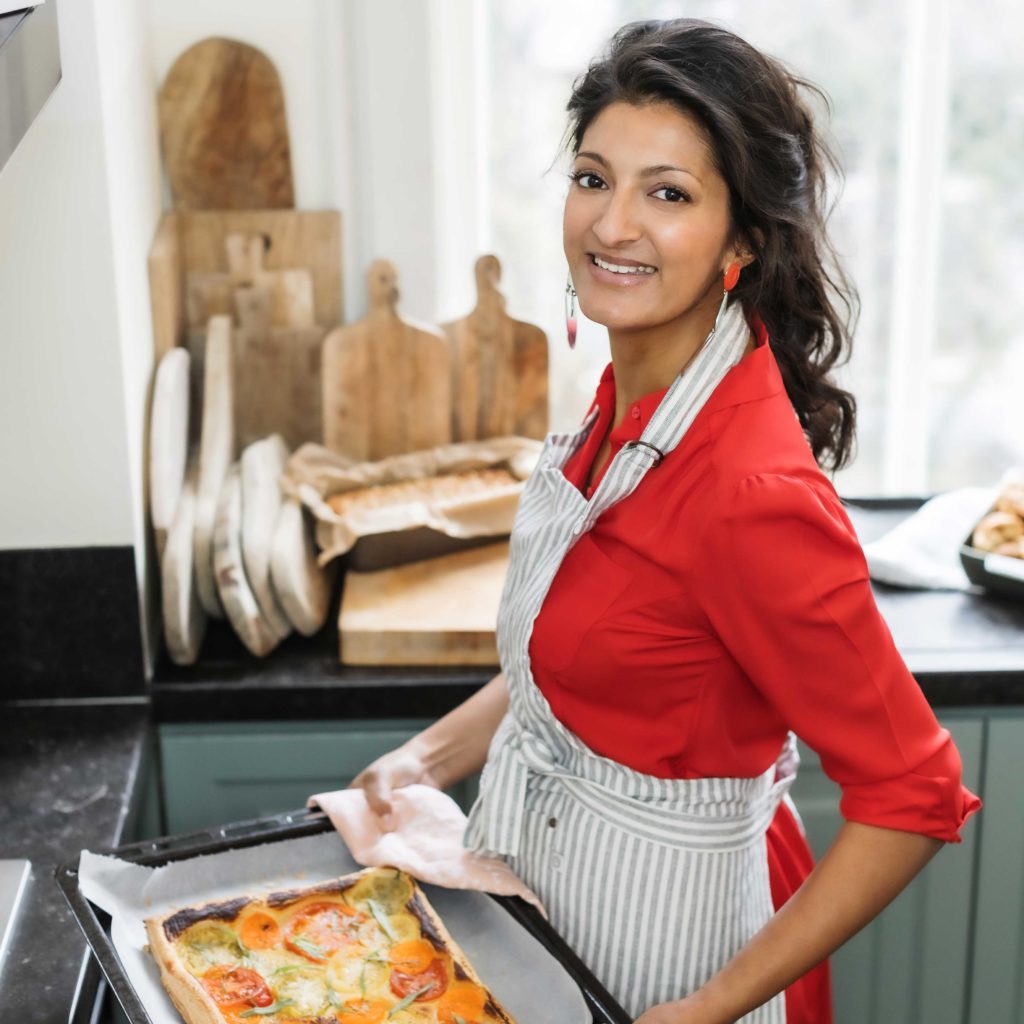 Dinner with Rukmini
Browse all of the recipes in Rukmini Iyer's cookbooks by ingredient.
Crispy Barbecue Tofu Lettuce Wraps with Cashews, Carrots and Nuoc Cham
This simple but flavour-packed plant-based barbecue dish combines crispy tofu, fresh lettuce, and crunchy carrot pickle, all served with a Vietnamese-inspired dipping sauce.
Introduction
This is a combination I first tried in Vietnam – nuoc cham is such an addictive dipping sauce that it's tempting to drink it straight up. If you can resist, save some and use it for your crispy tofu instead.
Ingredients
For the tofu:
280g
firm tofu (I like to use Tofoo)
1
lime, zest and juice
1 tbsp
soy sauce
1
clove of garlic, grated
1 tbsp
sesame oil
For the carrot pickle:
1
medium carrot, cut into matchsticks
1 tbsp
rice vinegar
1 tsp
caster sugar
½ tsp
sea salt flakes
For the nuoc cham:
1
clove of garlic, peeled
1
fresh red chilli, roughly chopped
2½cm
fresh ginger
1–2 tbsp
soy sauce
50ml
water
½
lime, zest and juice
To serve:
1
small cos lettuce, leaves separated
A handful of
toasted cashews
Essential kit
You will need: a barbecue
Method
Cut the tofu into large cubes, and put them into a bowl with the lime zest and juice, soy sauce, garlic and sesame oil. Mix gently to coat, then cover and set aside.
For the carrot pickle, mix the carrot matchsticks with the rice vinegar, caster sugar and sea salt flakes. Cover and set aside.
To make the nuoc cham, put the garlic, chilli and ginger in a pestle and mortar, and bash into a paste. (Alternatively, grate all the ingredients into a jug.) Add the soy sauce, water, lime zest and juice, and taste. Adjust the amount of soy, water and lime as needed, and set aside.
When your barbecue is good and hot, griddle the marinated tofu for 2–3 minutes per side, until lightly charred and crisp. Scatter with a pinch of sea salt.
Arrange the lettuce cups on a platter and add a spoonful of carrot pickle to each. Divide the crispy tofu between the cups, scatter with the toasted cashews and a drizzle of nuoc cham, and serve the remaining nuoc cham alongside.