Med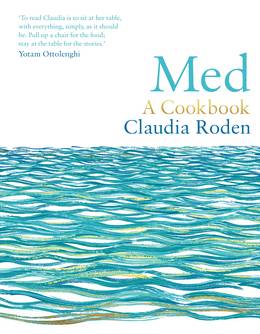 Who is the author?: Claudia Roden is one of the most esteemed names in food writing. Her passionate, definitive, and trailblazing cookbooks explore cuisines with the attention to detail of an academic combined with the warmth and practicality of a home cook. A blend of authentic recipes and fascinating stories, her books manage to be at once useful and entertaining. Rightly credited with changing the way Britons eat and paving the way for many of today's cookbook authors, Claudia counts the likes of Yotam Ottolenghi and Nigella Lawson among her many admirers. 
What's it about?: Thirty years after the publication of her first Mediterranean cookbook, Claudia returns to our kitchens (and our favourite reading nooks) with a fresh set of recipes from this diverse region. Promising effortless and authentic dishes and culinary tales from Provence to Petra, Madrid to Morocco, Med is a celebration of sun-soaked dishes, diverse ingredients and influences, and food to be enjoyed with family and friends. 
Who is it for?: If you love to cook easy-going recipes full of the fresh, vibrant, and authentic flavours of the Mediterranean, make a space on your shelf for Med and you'll find yourself reaching for it again and again.