There are few in the food world who command as much respect and admiration as Claudia Roden. The Egyptian-born cookbook author and award-winning food writer has spent the past 85 years eating, cooking and drawing inspiration from the many diverse people and places she has encountered on her travels. Perhaps best known for her influential works, Middle Eastern Food and Mediterranean Cookery, she counts Yotam Ottolenghi and Nigella Lawson amongst her devoted fans.
Claudia's new cookbook, Med, takes us on a journey across the varied coast of the Mediterranean, from Nice to Morocco. With over 120 recipes and 8 chapters separated by course, there are sumptuous soups, fresh salads and sweet desserts to be mixed and matched for your next dinner party menu. Peppered with personal stories and little nuggets of knowledge, Claudia happily welcomes you to her own dining table to help you eat, entertain and enjoy food like they do on the sunny coast of the Mediterranean.
We asked a group of willing volunteers to try out a selection of recipes from Med, from a homemade focaccia to an Egyptian-inspired lentil dish. Read on to see how they fared.
Med: A Cookbook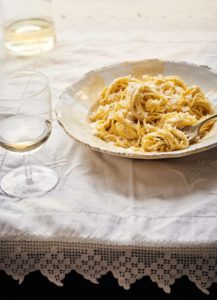 Traverse the varied cuisines of the Mediterranean with the inimitable Claudia Roden
From Provence to Morocco, there are over 300 pages of stories, recipes and places to explore
Select flavourful dishes for your next dinner party, or night in with friends and family
Who: Steph Reynolds – Head of Campaigns, Ebury Publishing
What I made: Sweet and Sour Minty Grilled Courgettes
What I thought: Ah Claudia, this is such a lovely recipe. I expected nothing less from this beautiful book. I managed to find the only sunny day in August to make this dish, so we grilled the courgettes on the BBQ (always my preferred way to do courgettes!). It was super easy, and my kind of recipe as it has maximum impact for very little effort. The dressing made the courgette sing rather than overpower it, and I highly recommend adding the ricotta – I had to resist the urge to eat it straight from the bowl and save some for the actual dish. The perfect summery side dish!
Who: Abby Watson – Marketing Manager, Ebury Publishing
What I made: Focaccia, Tapenade and Aubergine Puree
What I thought: I normally rely on my KitchenAid and dough hook to make bread, but thought I'd give Claudia's 'machine free method' a go. I was not disappointed. Whilst kneading did feel like an arm workout, at around 7 minutes in, the dough came together and felt wonderfully smooth. Claudia offers a few suggestions for toppings, so I did a half and half focaccia – one side was salt, garlic and rosemary, the other olive and oregano. Both the tapenade and aubergine puree were delicious and easy to make, and made the perfect accompaniment to the focaccia.
Who: Alice King – Publicity Manager, Ebury Publishing
What I made: Vegetable Couscous
What I thought: I've never made couscous using a broth before, and this was so amazing that I will now never make couscous without one. The cinnamon and allspice gave the dish such a warmth, and the harissa sauce on the side gave it the perfect kick. I chucked some feta cheese onto mine which worked really nicely, and used some courgette instead of pepper which worked just as well. This dish really did transport me for a moment to a Mediterranean holiday!
Who: Emily Brickell – Editor, Ebury Publishing
What I made: Roasted cheese polenta cubes
What I thought: These were really simple and delicious, perfect for having people over as you can make them in advance and pop them in the oven when ready. No need for a sauce, just sprinkled with Maldon salt was so yummy. Great as a starter on their own, or as a side.
Who: Samuel Heaton – Editorial Assistant, Ebury Publishing
What I made: Lentils and Rice with Dates and Caramelised Onions
What I thought: This delicious meal is based on an Egyptian dish called Megadarra that Claudia's father used to eat during childhood. The meal was incredibly simple to put together, but the end result was really impressive, making it perfect for a small dinner party. The cinnamon and allspice go so well with the sweetness from the dates and caramelised onion. I followed Claudia's advice and added yoghurt, halloumi, and a tomato salad to create a satisfying main course. This is definitely a recipe I will be making again and again!