Jamie Oliver: 7 Ways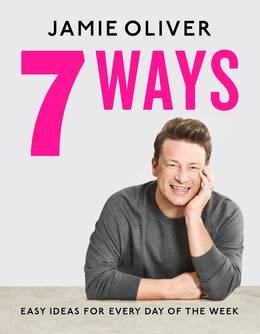 Who is the author: Best known for inspiring the world to cook from scratch with his quick, nutritious and delicious recipes, Jamie Oliver has been a household name since he catapulted into the limelight as The Naked Chef in 1999 and has since gone on to sell over 45 million cookbooks worldwide. His most recent cookbook, VEG, has become the best-selling vegetarian cookbook of all time. There really is only one Jamie!
What's it about: Having changed the way we cook and eat for the better with 5 Ingredients and VEG, Jamie Oliver is back with yet another kitchen revolution, and this time it's all about helping you make the most of the ingredients you buy week in, week out. Jamie has had a good look inside the nation's shopping trolley and picked out 18 of our favourite supermarket purchases, from chicken to mince, mushrooms to broccoli. In 7 Ways he shares 7 different simple, affordable and achievable ways to make the most of each of these household heroes, helping you get inspired in the kitchen without having to shake up your shopping list or ditch the food you like to eat.
Recipes we love: Expect time-saving traybakes, fun-but-nutritious fakeaways and plenty of midweek winners that slot seamlessly into the end of a busy day at work or with the kids.
Perfect for: If you find yourself returning to the same recipes time and time again and could use a little Jamie magic to help you reinvent your repertoire without having to completely change your routine, this is the book for you.