Jamie Oliver's latest cookbook, 7 Ways, is revolutionising our kitchens yet again. This time, he's helping us make the most of the ingredients we buy week in, week out and giving us 7 different simple, affordable and achievable ways to make the most of each of them. Jamie shows that a pack of chicken breasts can be exciting, flavourful and healthy, and a classic roast chicken needn't be boring.
Try these chicken recipes from Jamie's 7 Ways and you'll see it's more than possible to get inspired from your fridge without needing a basket-full of new ingredients.
My Kinda Butter Chicken with Fragrant Spices from Jamie Oliver: 7 Ways
This one-pan dinner is full of flavour: charred, gnarly spiced chicken in a nutty yoghurt sauce with smoky-sweet tomatoes and chilli. A great way to use a pack of chicken breasts, with only a few extra ingredients to turn it into a glorious midweek meal.
Jamie Oliver: 7 Ways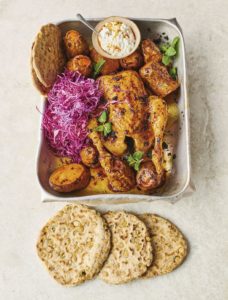 7 inventive new ways to cook with each of the UK's 18 favourite ingredients
With pared back ingredients lists and easy-to-follow instructions, you'll find plenty of quick and easy dinner solutions
Featuring family favourites, one-pot wonders, tray bakes, roasts, fakeaways and more
Cumberland Roast Chicken from Jamie Oliver: 7 Ways
Jamie's 7 Ways comes with an entire chapter dedicated to roast chicken, with 7 clever ways to reinvent the classic. This is one of our favourites with a layer of Cumberland sausage cooked underneath the skin for extra delight. Roasted in one tray with potato, parsnip, leek and sage, and served with a refreshing pear and watercress salad, this is ideal Sunday food.
Order a copy of Jamie's 7 Ways here.
Filo Chicken Kiev with Sweet Pea and Potato Mash from Jamie Oliver: 7 Ways
Jamie makes a healthier version of a freezer favourite, stuffing chicken breast with garlicky butter and wrapping it with crunchy filo. Make mash more exciting with the addition of frozen peas, and serve it all up with sprouting broccoli.
Order a copy of Jamie's 7 Ways here.
Easy Peri Peri Chicken from Jamie Oliver: 7 Ways
Whole chicken is slathered with harissa and paprika in this recipe. Onions, chilli and garlic are roasted underneath, then blitzed up with all the delicious juices into a peri peri sauce. Served up with chunky chips, this is an epic riff on a classic.
Order a copy of Jamie's 7 Ways here.
Sesame Chicken with Kimchi and Silken Tofu from Jamie Oliver: 7 Ways
For a real centrepiece surprise, try this spicy roast chicken, coated in sticky, sweet sesame and served up with a crunchy veg slaw and kimchi and tofu dressing.