From mushroom toad-in-the-hole to cullen skink fishcakes to twists on classic roast chicken and spag bol, Jamie Oliver: 7 Ways is full of clever riffs and shortcut spins on our family favourites. In his genius new cookbook, Jamie hones in on the everyday ingredients we buy week in, week out and shows that it's more than possible to find new inspiration from our usual shopping list. With the colder weather drawing in, we've picked 7 of our favourite comfort dinners from Jamie's 7 Ways that reinvent the wheel.
Mushroom Toad-in-the-Hole from Jamie Oliver: 7 Ways
This vegetarian take on a classic toad-in-the-hole makes the most of meaty Portobello mushrooms, roasted until tender and juicy and baked in batter. Jamie has even made a rich veggie gravy with Porter beer, onion and rosemary to pour all over this comforting Sunday dinner.
Jamie Oliver: 7 Ways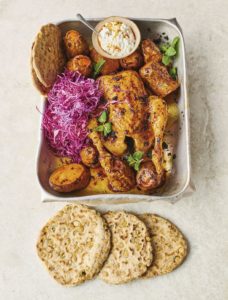 7 inventive new ways to cook with each of the UK's 18 favourite ingredients
With pared back ingredients lists and easy-to-follow instructions, you'll find plenty of quick and easy dinner solutions
Featuring family favourites, one-pot wonders, tray bakes, roasts, fakeaways and more
Sausage and Mash Pie from Jamie Oliver: 7 Ways
Sausage, apple and creamy leek forms the filling in this epic pie with a secret layer of mash on the base and a golden crust on top. You can make this veggie by swapping the Cumberlands for veggie sausages instead.
Order a copy of Jamie's 7 Ways here.
Cheat's Fish and Chips from Jamie Oliver: 7 Ways
Make a healthier version of your favourite takeaway with this simple fish and chips recipe, complete with salty bacon crumb, potato wedges, smashed peas and quick mint sauce.
Order a copy of Jamie's 7 Ways here.
Cullen Skink Fishcakes from Jamie Oliver: 7 Ways
Jamie has turned the traditional elements of this famous Scottish soup – smoked haddock, potatoes and onions – into fishcakes here and served on a creamy chive sauce. 
Order a copy of Jamie's 7 Ways here.
Easy Salmon en Croute from Jamie Oliver: 7 Ways
This super simplified version of a dinner party centrepiece layers up puff pastry with tasty garlic spinach, salmon fillets and jarred red pesto. Baked until beautifully golden and enjoyed with lemon wedges for squeezing over.
Order a copy of Jamie's 7 Ways here.
Cumberland Roast Chicken from Jamie Oliver: 7 Ways
Reinvent your Sunday roast with this Cumberland twist. Roasted in one tray with potato, parsnip, leek and sage, this roast chicken comes with a layer of sausage baked underneath the skin. Serve with a refreshing pear and watercress salad.
Order a copy of Jamie's 7 Ways here.
A Very British Bolognese from Jamie Oliver: 7 Ways
While there's nothing very British about a traditional Bolognese, this version champions pale ale and mushrooms for a decidedly different take on a family favourite. Cooked until rich and full of flavour, this is a British 'ragù' worth trying.