If you cast your mind back to the simpler times of Bake Off series six, you may well recall that Nadiya Hussain was not only crowned the overall winner of the series, but star baker of the show's notoriously challenging Chocolate Week. It's no surprise then that Nadiya's chocolate-based recipes stand out as some of the most popular from across the cookbooks she has gone on to publish since, from the hot cookie dough dessert from her first cookbook, Nadiya's Kitchen to the triple chocolate brownies from her latest release, Nadiya Bakes. Here we have rounded up eight of our favourite recipes that combine two of the greatest gifts to the world of baking: chocolate and Nadiya Hussain.
Chocolate Caramel Flan from Nadiya Bakes
Bringing together flavours of coffee, caramel and chocolate in a light and airy two-toned sponge cake, this is the bake to call upon if you're looking to impress.
Nadiya Bakes
A collection of all new baking recipes accompanied by gorgeous photography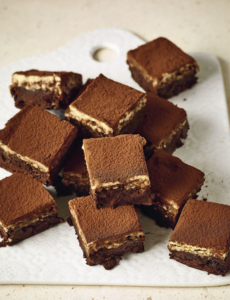 Packed with cakes, pies, and puddings to warm the heart and lift the spirits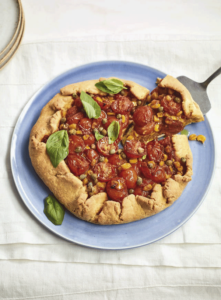 Including mouthwatering savoury bakes as well as irresistible sweets
Money Can't Buy You Happiness Brownies from Nadiya Bakes
If there's a single phrase guaranteed to inspire sheer elation in any chocolate fiend it's triple layer chocolate brownie. Well, chocolate fiends, here Nadiya presents to you her best-ever brownies, consisting of a choc chip brownie base, dulce de leche nut middle and and zesty cheesecake topping.
Get your copy of Nadiya Bakes here.
Roasted Fruit Cobbler from Nadiya Bakes
Because why have a plain cobbler when you could have a chocolate one?
Get your copy of Nadiya Bakes here.
Rocky Road Cake from Nadiya's British Food Adventure
Nadiya's chocolate rocky road might just be the greatest cake and bar collab of all time. Think moist fudgey chocolate base meets crunchy, nutty and chewy topping.
Get your copy of Nadiya's British Food Adventure here.
Crispy Chocolate and Salted Peanut Tart
If you love chocolate but a chocolate tart can sometimes be a little intense for you, you'll want to try Nadiya's chocolate tart with a thick-cut salted crisp base. Yes, you read that right. Don't knock it 'til you've tried it people, especially if it's an innovation emerging from Nadiya's kitchen.
Get your copy of Nadiya's British Food Adventure here.
Hot Cookie Dough and Ice Cream from Nadiya's Kitchen
Just in case the words 'hot cookie dough and ice cream' haven't yet convinced you you need to make this recipe immediately, we advise scrolling back up and taking another look at the oozing, gooey chocolate centre of this true one-pan wonder.
Get your copy of Nadiya's Kitchen here.
Éclair Roll from Nadiya's Family Favourites
Nadiya dedicates this fuss-free and time-saving cross between a swiss roll and an éclair to anyone who loves this timeless French choux pastry treat but wishes it took less time to make. Your wish is Nadiya's command.
Get your copy of Nadiya's Family Favourites here.
Chocolate Hazelnut Mousse from Time to Eat
Chocolate mousse but make it (even more) fancy with the addition of chocolate hazelnut spread and a sprinkling of roasted hazelnuts.