Summer is heating up thanks to brilliant new cookbook, Berber & Q by Ottolenghi protégé Josh Katz. Full of recipes to transform your barbecue fare with flavours of the Middle East and beyond, it is packed with mouth-watering mezze, glorious meat, seafood and veggie grills, dishes for lazy Sundays and dreamy desserts. This is barbecue food as you've never eaten it before.
Berber & Q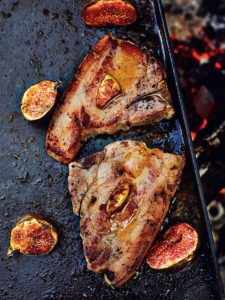 Over 120 innovative barbecue recipes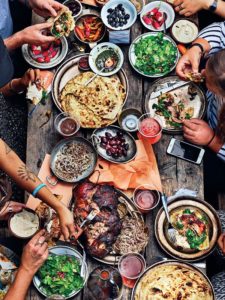 The most popular dishes from the well-loved restaurant
Flavour-packed vegetarian recipes
The Happy Foodie team would have walked over hot coals to get a copy of this cookbook, so we couldn't wait to start cooking from it. Find out how we got on…
Who: Indira Birnie, Senior Manager, Penguin Audiences
What I made: Cauliflower Shawarma
What I thought: Despite being quite a meat-filled cookbook, as a vegetarian, I was excited to look through and try some of the recipes from Berber & Q. I hadn't been to the restaurant when I got the book but had heard a lot about their signature cauliflower shawarma, which has been raved about by both meat-eaters and vegetarians alike. Fortunately, the recipe is in the book so I tried it out for myself – and was pleasantly surprised to find that something which looks and tastes so complex was actually pretty simple and quick to make. While there are a fair few spices and some slightly unusual ingredients involved, you really don't need to be a skilled cook to make this. The resulting roasted cauliflower is both spiced, sweet and slightly smoky, and it's big enough for two meals for two people. We supplemented the cauliflower with the grilled Turkish chillies from the cookbook, as well as some bread, olives and salad. I'll definitely be making this again!
Who: Claire Davis, Marketing Manager, Page Turners
What I made: Buttermilk Chicken Shish Kebab
What I thought: Who knew beautifully grilled food could be a midweek treat instead of a weekend BBQ activity? The buttermilk chicken shish kebab was simple and relatively quick to make, and bursting with the flavours Berber & Q are known for. I used chicken thigh meat instead of breast just out of personal preference, and I couldn¹t get hold of any hot red pepper paste so instead I used tomato puree and a chopped up chilli for a bit of heat, which seemed to work well. The garlic, lemon and sprinkle of cinnamon made a gorgeous smoky taste that, after marinating overnight, soaked into the meat and made it flavourful and succulent. I often worry about chicken kebabs being a little dry, but follow this recipe and it¹ll be nothing of the sort (I mean anything with buttermilk is going to be a winner, is it not?).
Before eating I drizzled it with some garlic mayo (probably unnecessary as the flavours in the kebab were more than enough) and served it with pittas for a tasty Tuesday treat. Regretted hugely not making the Middle Eastern slaw to go with it – I'll definitely be doing that next time!
Who: Louise McKeever, Editor, Ebury
What I made: Seared Tuna Fish with Olive, Preserved Lemon and Slow-Roasted Tomato Salsa
What I thought: I consider myself exceptionally lucky to have already tried a lot of the recipes from Berber & Q (there is no better perk than photo shoots). Over the course of those weeks of shooting I became utterly addicted to the stunning tastes and exciting flavours and have since recreated many of the recipes at home, always to great success.
As I knew the recipes were so reliable, and all so delicious, I decided to venture into the great unknown and choose one of the rare recipes without a photograph. My guests for the evening were pescetarians and the tuna sounded perfect.
I started off by popping the tomatoes in the oven to slow-cook, and then quickly made the white bean salad and prepped the rest of the salsa ingredients. This only took about 15 minutes, so I was then free to wander off for an hour to have a drink with my friends. Sadly the sun wasn't out so I couldn't put my newly learnt barbecue skills to good use, but I used a griddle pan over a high heat to cook the tuna very quickly, achieving an impressive charred pattern! All I then had to do was mix the tomatoes into the salsa, pile everything onto a platter and serve. It couldn't have been any simpler.
The flavours were punchy, the tuna tender and everything complemented each other so beautifully. My friends absolutely loved it and couldn't stop raving, and the best thing was that they thought I had spent hours on it rather than little to no time at all. This was truly delicious, an absolute winner that I will definitely make again.
Berber & Q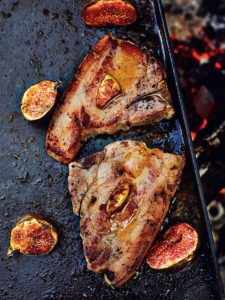 Over 120 innovative barbecue recipes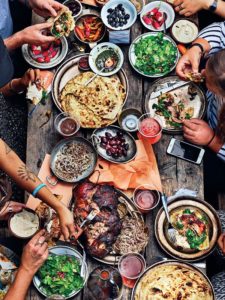 The most popular dishes from the well-loved restaurant
Flavour-packed vegetarian recipes