Typically made using lamb or chicken slow-cooked on a rotating spit over hot coals and served on flatbreads, shawarma is one of the world's most popular street foods. Similar to both Greek gyro and Turkish doner, its exact origins are unclear, but it is believed to have come from Levantine cuisine, with the word shawarma thought to be from the Turkish word "çevirme", which describes the turning process of cooking the meat. But while gyro and doner kebabs also use the same cooking method, what sets shawarma apart is the mix of spices used in the rub, (typically a blend of turmeric, cardamom, cinnamon and cloves). The myriad toppings and sauces added to the meat, from pickled vegetables and fruit, to flavourful sauces, also explain the dish's widespread popularity and versatility.
While it may not be straightforward to mimic the cooking method of shawarma at home without your very own rotisserie, help is at hand when it comes to getting bags of that shawarma flavour into your meat or whole-roasted vegetables, thanks to brand new barbecue cookbook, Berber & Q, from talented Ottolenghi protégé, Josh Katz. In this feature, Josh, whose recipes are inspired by flavours from the Middle East and beyond, explains the brilliant properties of a good shawarma rub and shares his signature Berber & Q recipe. Over to you, Josh…
Our shawarma rub is considered our 'master rub' at Berber & Q because of it's versatility. We tend to find it goes well with just about any cut of meat that's good for smoking and we always make a large batch of it because it keeps well in an airtight container and will invariably get used up pretty quickly. We rub it on all cuts of chicken, large joints of lamb, but also on short-rib and brisket and even pork butts and shoulders. It's a complex rub, with a long list of different spices and aromatics, but the combination at its core of cinnamon, cumin, turmeric & coriander is one that we find particularly captivating and relevant to the regional food that we're inspired by. When putting together a rub, the key ingredients are the spices, salt, and brown sugar which helps to caramelise the meat.
Berber & Q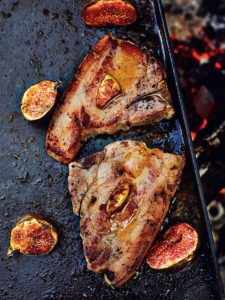 Over 120 innovative barbecue recipes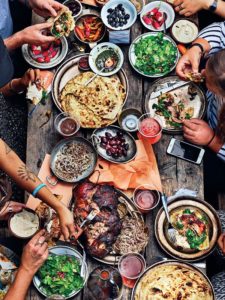 The most popular dishes from the well-loved restaurant
Flavour-packed vegetarian recipes
Josh Katz' Shawarma Rub recipe from Berber & Q (Makes about 160g)
Ingredients:
5 cardamom pods
3 cloves
¾ tsp fennel seeds
10g coriander seeds, toasted and ground
20g cumin seeds, toasted and ground
¼ tsp dried chilli flakes
10g ground allspice
¼ tsp ground white pepper
18g table salt
25g soft dark brown sugar
2 tsp cinnamon
¾ tbsp ground ginger
1½ tsp ground turmeric
pinch of cayenne
grated zest of 1 lemon
Method:
Toast the caramom pods, cloves, fennel seeds, coriander seeds and cumin seeds over medium heat in a heavy-based pan until smoking and fragrant. Set to one side and cool.
Blitz the toasted aromatics with the chilli flakes to a coarse powder, then combine with all of the remaining ingredients. Trasnfer the rub to an airtight container where it will keep well, sealed, for up to 5 days.
For more shawarma inspiration from Berber & Q, why not check out Josh's Shawarma Cauliflower recipe, or the Berber & Q Hummus, which works perfectly served with your shawarma meat.