If you took a good look at our cookbook collections, you'd notice that the Jamie Oliver books tend to be among the most splattered, battered, and dog eared copies on the shelves. There's good reason for this - aside from us being clumsy, that is. Jamie's books are the kind you can pick up and cook from any day of the week, whether you're throwing together a quick dinner using odds and ends from the veg drawer, or planning a big weekend lunch for a crowd of friends and family. From The Naked Chef to 30 Minute Meals, and right up to his latest release, 7 Ways, Jamie's books have always been characterised by their insistence on fuss-free, flavour-focussed home cooking, with recipes are designed to deliver delicious results regardless of skill level. Choosing just a handful of these recipes was a struggle, but these ten are the ones we go back to again and again, and which combine everything that's wonderful about Jamie's cooking - ease, simplicity, and, most importantly, robust, crowd-pleasing flavours. Read on for our ten ultimate Jamie Oliver recipes . . .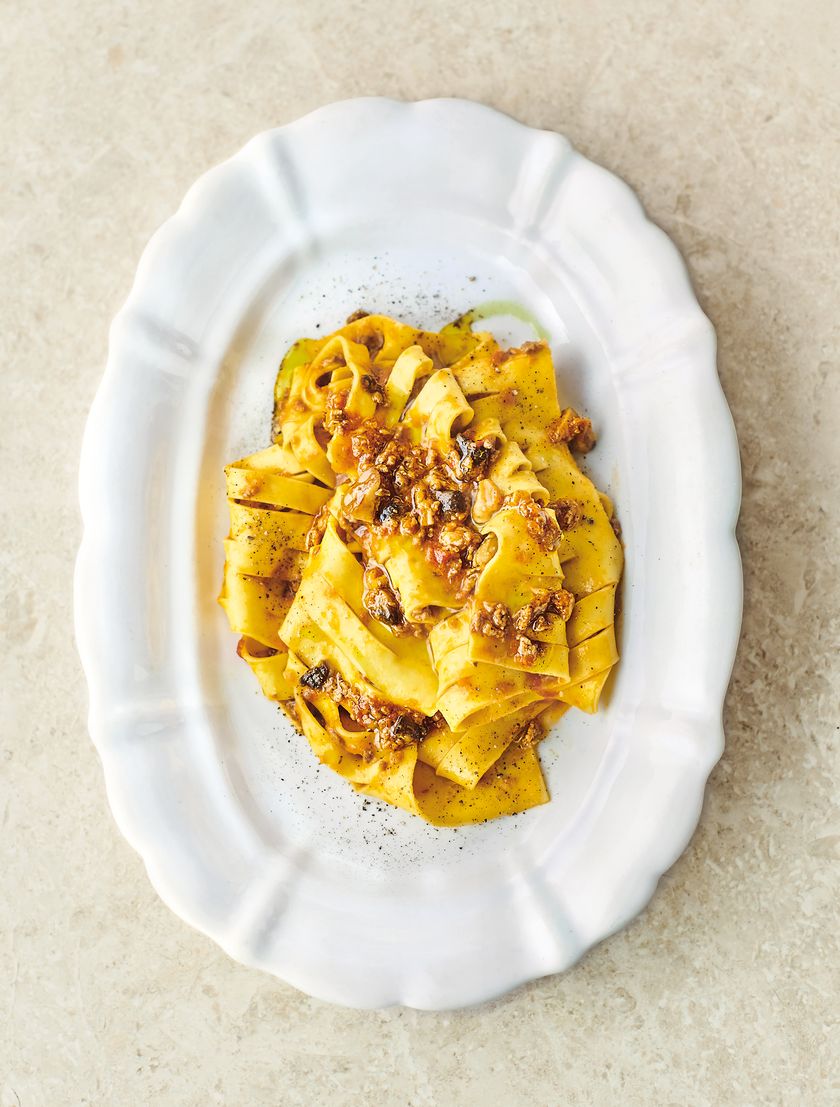 A Very British Bolognese from 7 Ways
This thoroughly British take on an Italian classic, made with pale ale and finished with a sprinkling of Cheddar cheese, is a great way to give your go-to bolognese a revamp. Jamie serves it with fresh pasta, which does an excellent job of soaking up the rich, savoury juices. 
Get your copy of 7 Ways here.
Easy Peri Peri Chicken from 7 Ways
Peri peri chicken is a strong contender for the nation's favourite dish - the combination of garlic, paprika, and tender, juicy chicken never goes out of style. This easy version from Jamie's latest book 7 Ways takes all the hassle out of the prep while ensuring that the finished dish is still lip-smackingly good.
Get your copy of 7 Ways here.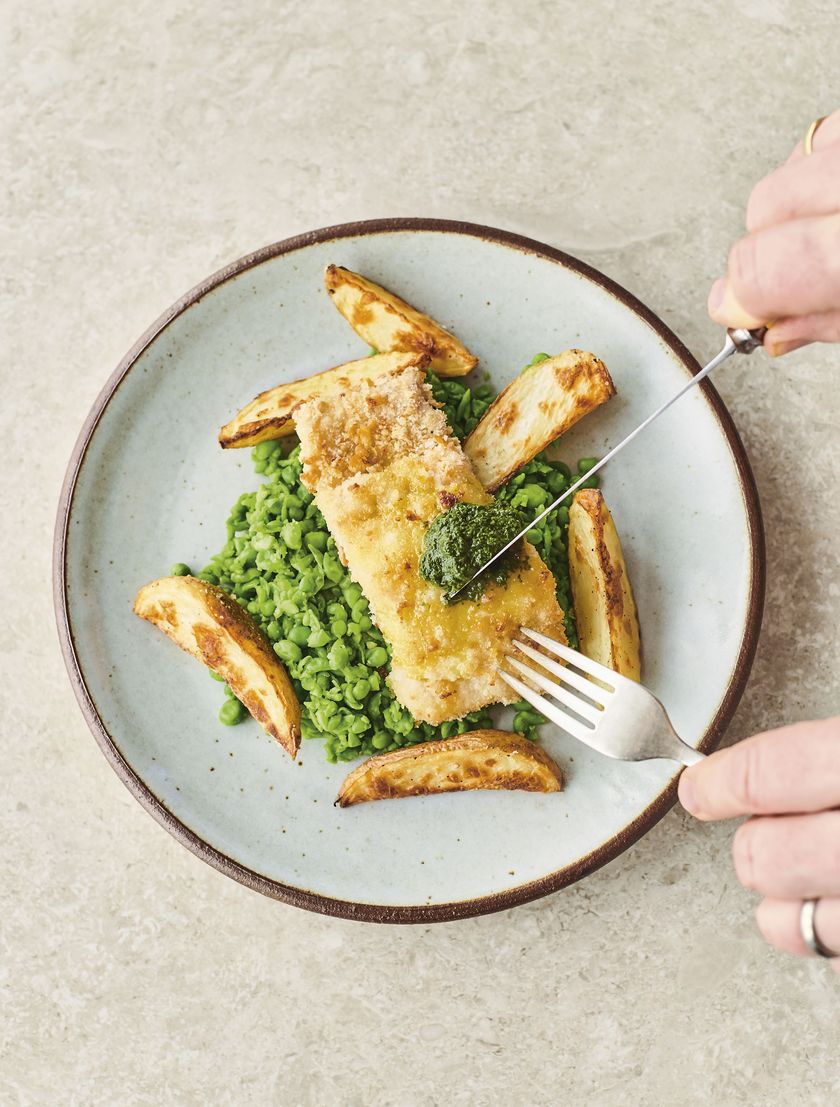 Cheat's Fish and Chips with Bacon Crumb, Smashed Peas and Quick Mint Sauce from 7 Ways
Jamie is a master of cheats, tricks, and kitchen shortcuts. Here, he coats some white fish fillets with a mixture of bacon and breadcrumbs to create a crisp, savoury crust which contrasts beautifully with the mild flavour and soft texture of the fish. Served with chunky potato wedges and smashed peas, it's the ideal Friday night fakeaway.
Get your copy of 7 Ways here.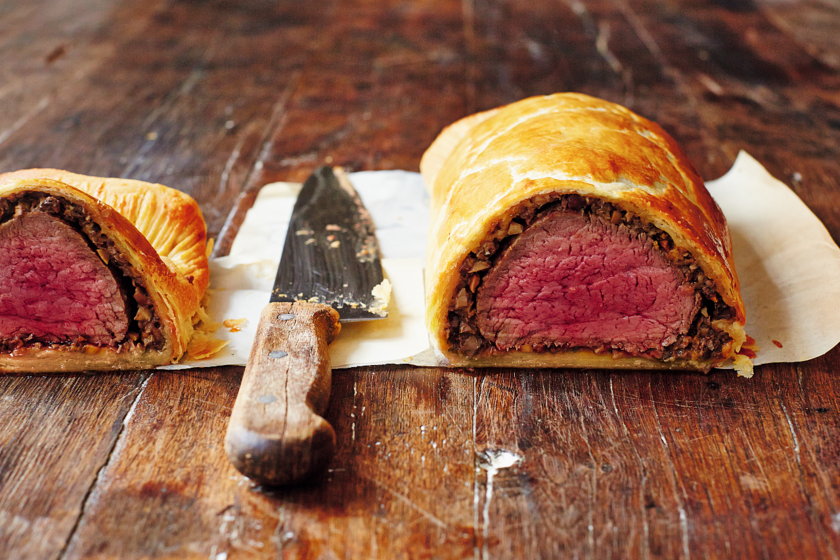 Beef Wellington from Jamie's Comfort Food
This classic dish is made easy with Jamie's simple, clear instructions. It's the perfect thing to cook for a special occasion, or if you're looking to dazzle guests with your culinary skills. It's served with an irresistibly rich gravy, for an added flavour boost.
Get your copy of Jamie's Comfort Food here.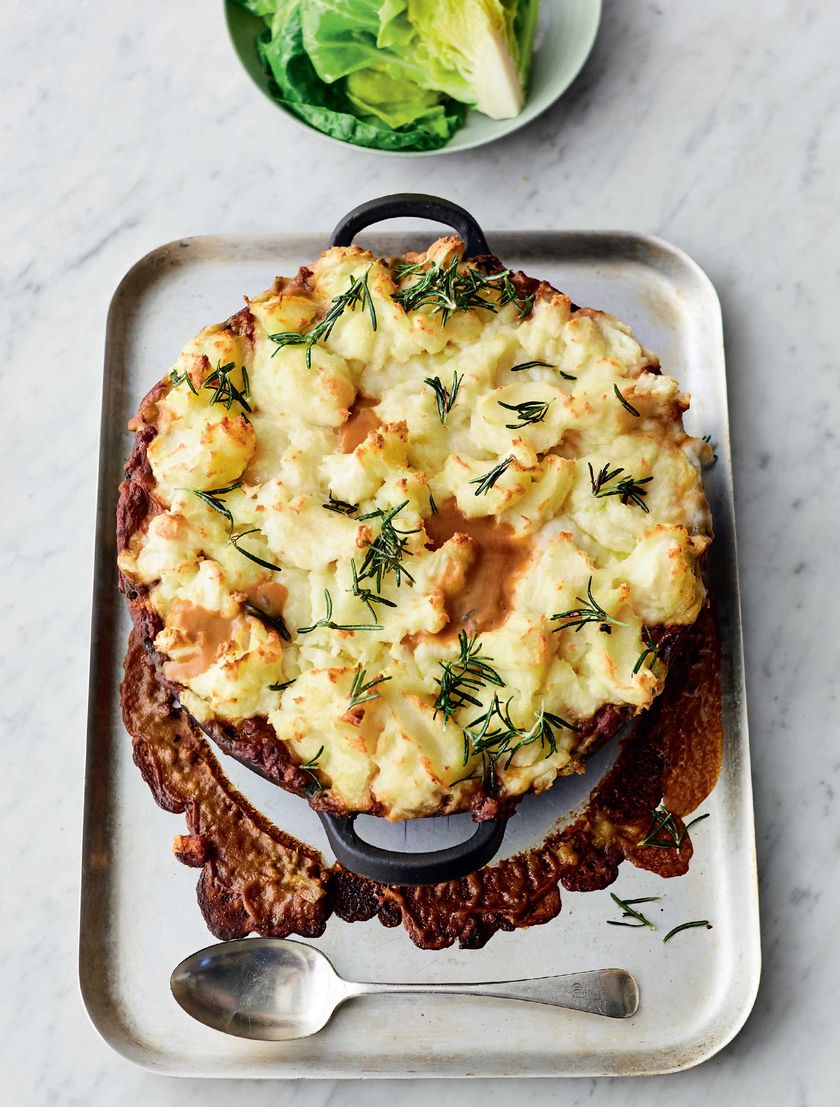 Allotment Cottage Pie with Root Veg, Porcini Mushrooms, Marmite and Crispy Rosemary from Veg: Easy & Delicious Meals for Everyone
Jamie's meat-free cookbook, Veg, is full of delicious vegetarian takes on classic recipes, including stroganoff, moussaka, and pad thai. This "allotment" cottage pie is one of our favourite recipe remixes - made with green lentils and vegetables in a tasty savoury sauce and topped with a fluffy cloud of mashed potato, it's vegetarian comfort food at its finest. 
Get your copy of Veg here.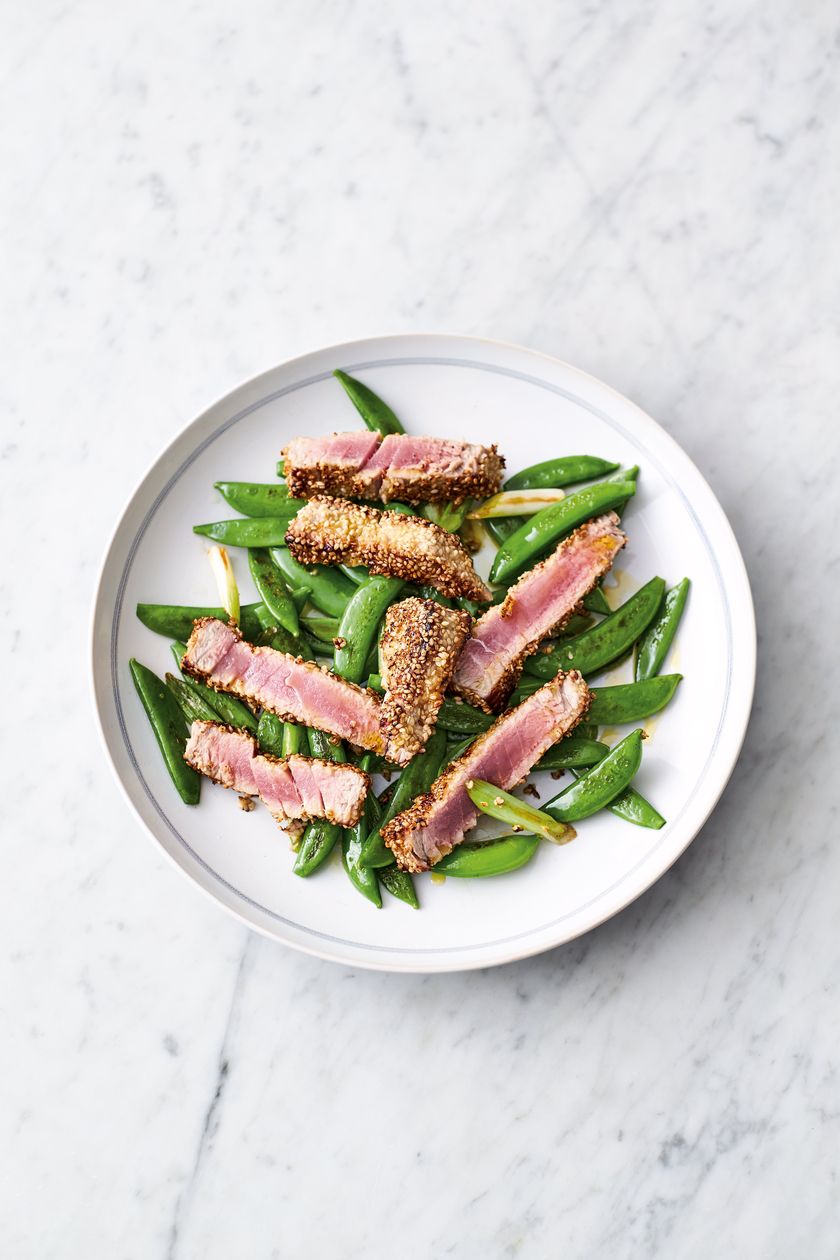 Seared Sesame Tuna from 5 Ingredients Quick & Easy Food ​​​​​​​
You only need five ingredients and ten minutes to create this mouthwatering seared sesame tuna. Coated in white miso and sesame seeds and served on a bed of fresh, crunchy sugar snap peas, these tuna steaks make for a speedy and stylish midweek meal. 
Get your copy of 5 Ingredients Quick & Easy Food here.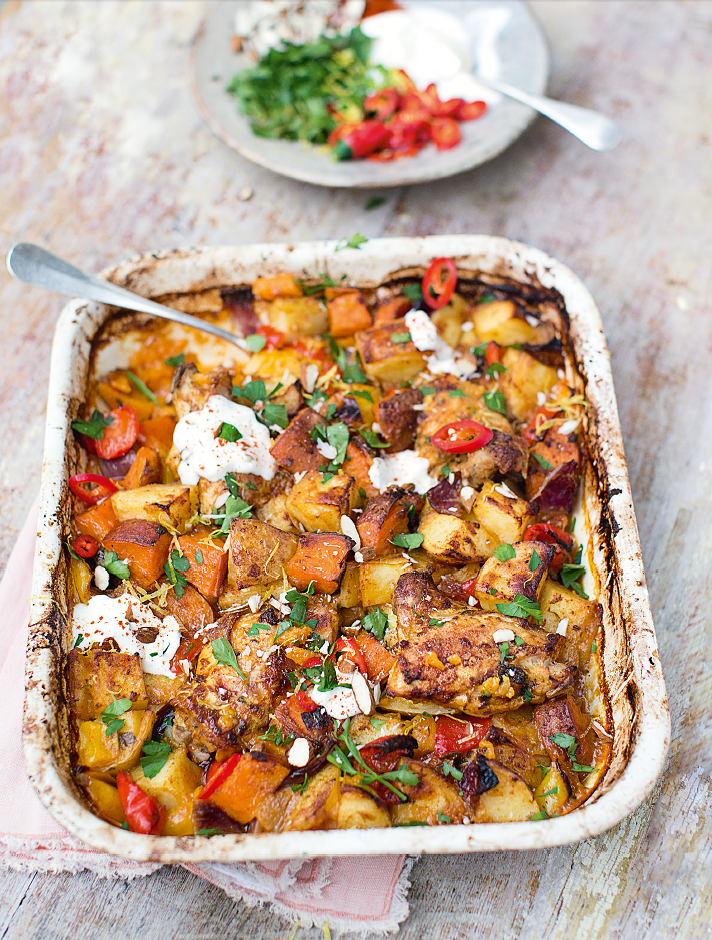 Chicken & Chorizo Bake Peppers, Sweet Potatoes & Spuds from Super Food Family Classics ​​​​​​​
This chicken and chorizo bake is a failsafe - it's healthy and highly nutritious, with lots of potatoes, sweet potatoes, and peppers. It packs a flavourful punch too, courtesy of the chorizo, and is pretty much guaranteed to go down well with kids.
Get your copy of Super Food Family Classics here.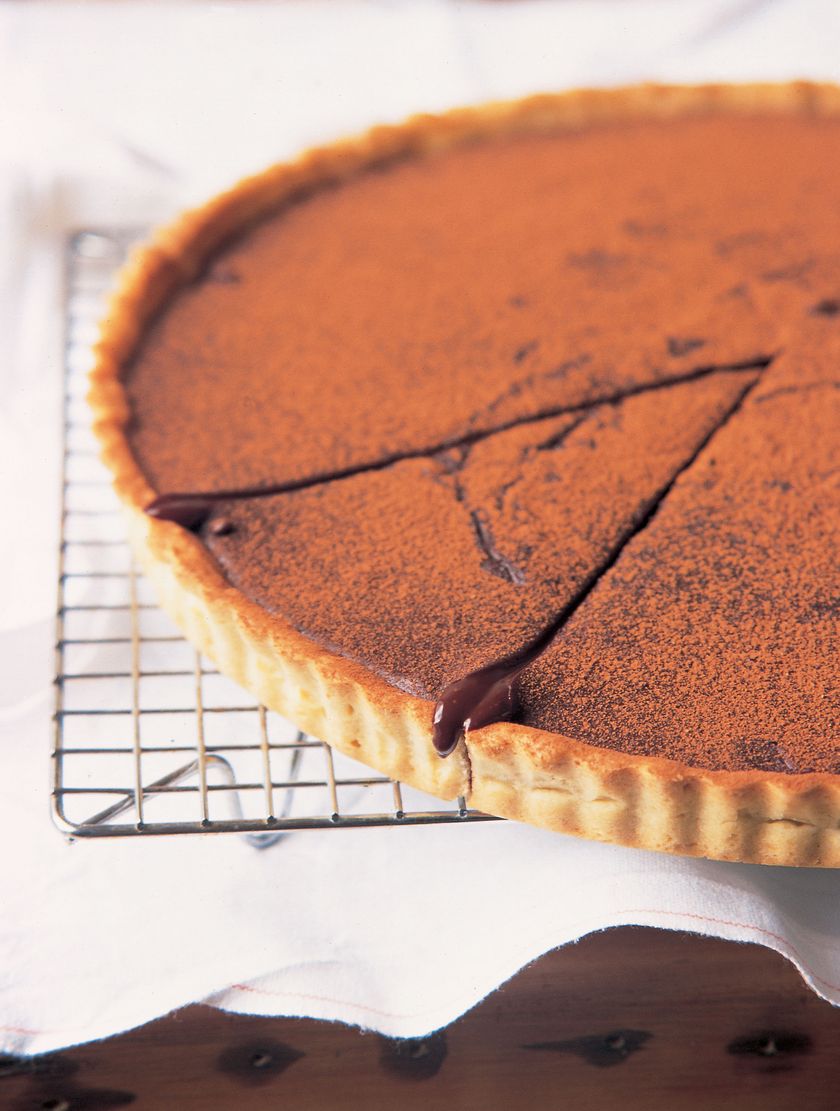 Jamie Oliver's Simple Chocolate Tart from The Naked Chef ​​​​​​​
True chocoholics know that sometimes simplicity is best. This elegant chocolate tart from The Naked Chef is as straightforward as can be; just a deliciously sweet shortcrust pastry case holding in a rich, velvety, and intensely chocolatey filling. Perfection.
Get your copy of The Naked Chef ​​​​​​​here.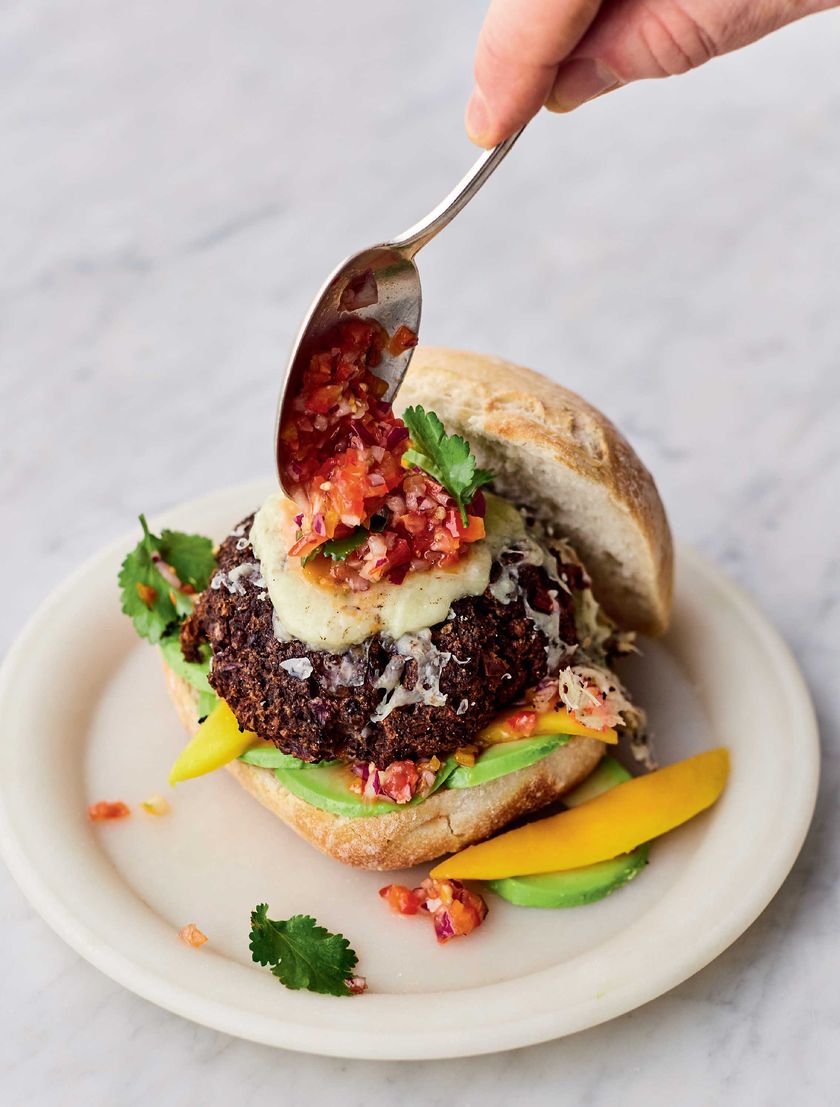 Roasted Black Bean Burgers with Zingy Salsa, Yoghurt, Sliced Mango and Avocado from Veg: Easy & Delicious Meals for Everyone ​​​​​​​
This really is an all-time classic Jamie recipe! A hearty, crowd-pleasing dish with big, bold flavours, this meat-free burger will appeal to carnivores and vegetarians alike. The zingy tomato salsa, fresh mango, and sliced avocado make for a delicious flavour explosion.
Get your copy of Veg here.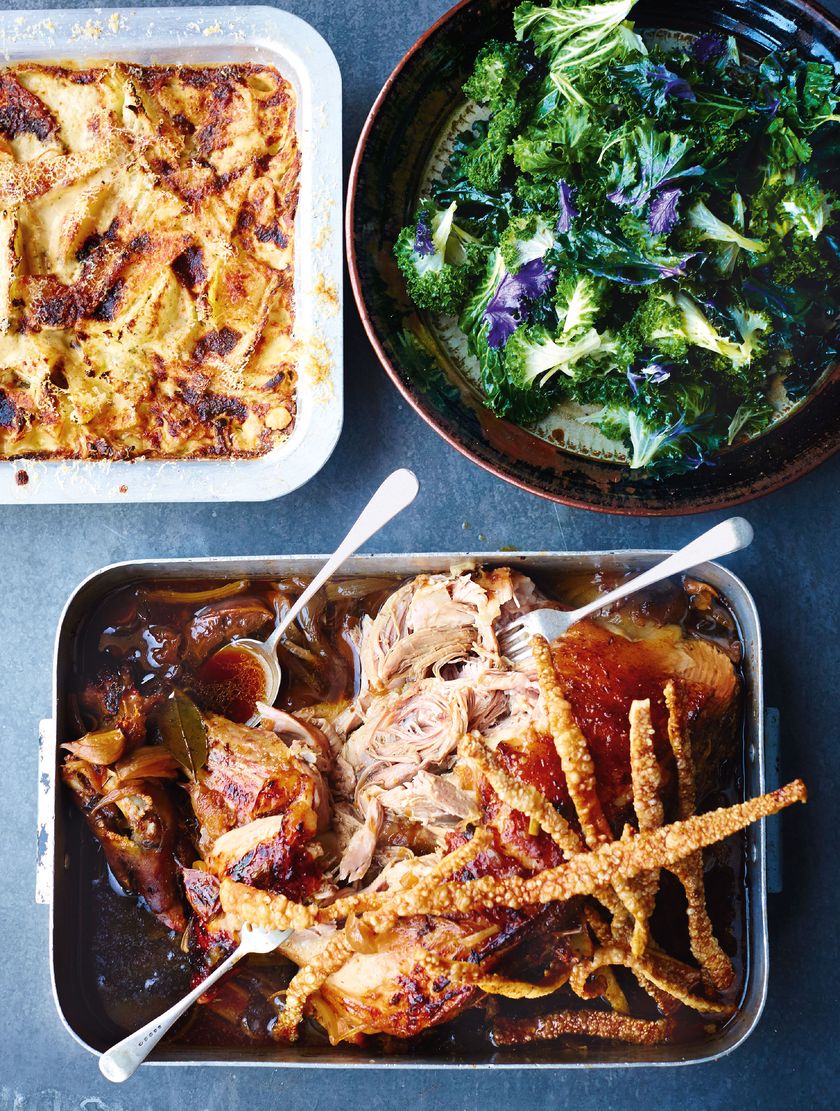 Jamie Oliver's Overnight Roasted Pork Shoulder from Jamie's Comfort Food
If you're looking for a show-stopping Sunday lunch centrepiece, look no further than this pork shoulder, served with rich and creamy gratin potatoes. The cooking process starts the night before, making for some incredibly tender, melt-in-the-mouth meat.
Get your copy of Jamie's Comfort Food here.