We all know that reducing our intake of meat is great for the environment and our health, but falling back on familiar meat-based dishes is easily done, particularly after a long day at work and when time is of the essence. Enter this collection of fast and simple veggie midweek meals that can be easily flung together midweek to keep you on the path to greener eating.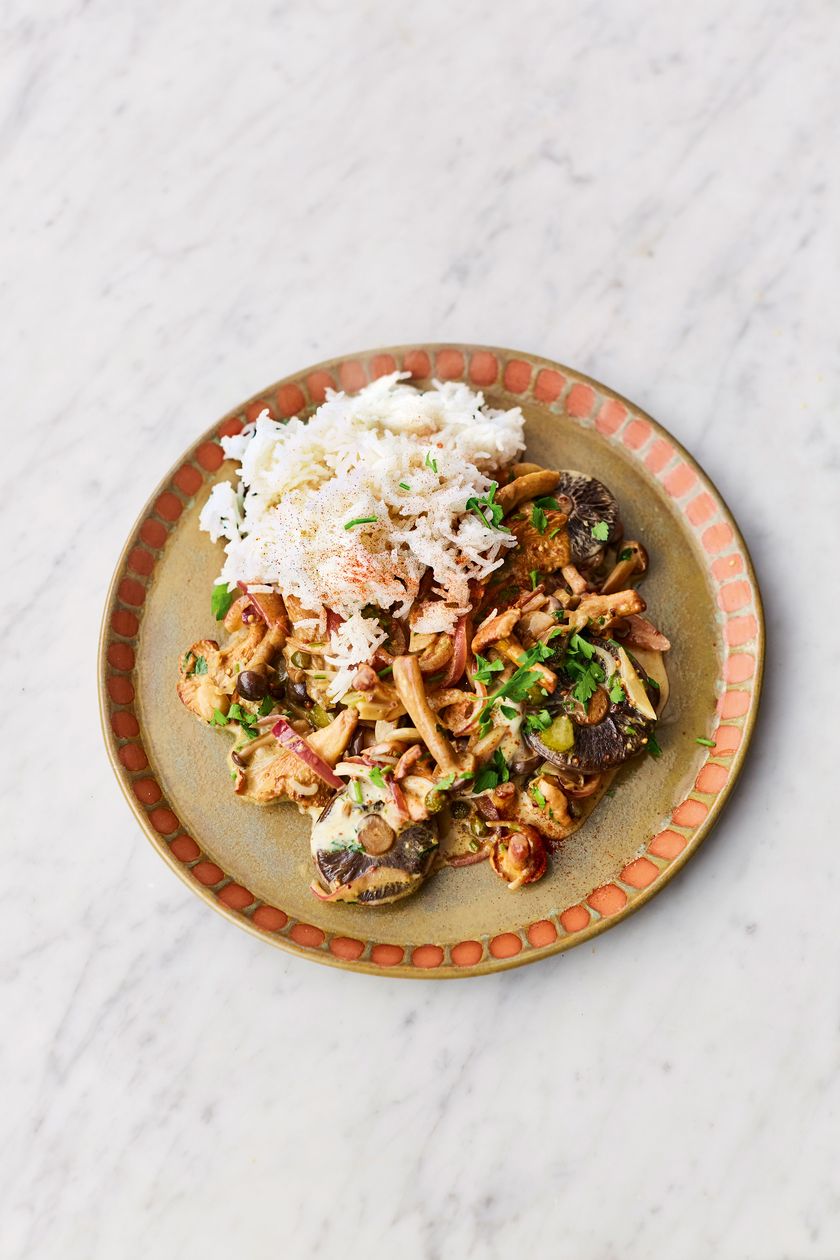 Mushroom Stroganoff with Crunchy Cornichons, Fragrant Capers, Creamy Whisky Sauce and Parsley from Veg: Easy & Delicious Meals for Everyone by Jamie Oliver.
Jamie Oliver's vegetarian take on this old favourite can be whipped up in just 20 minutes and packs a flavoursome punch, with mushrooms offset by crunchy cornichons and coated in an indulgent whisky sauce.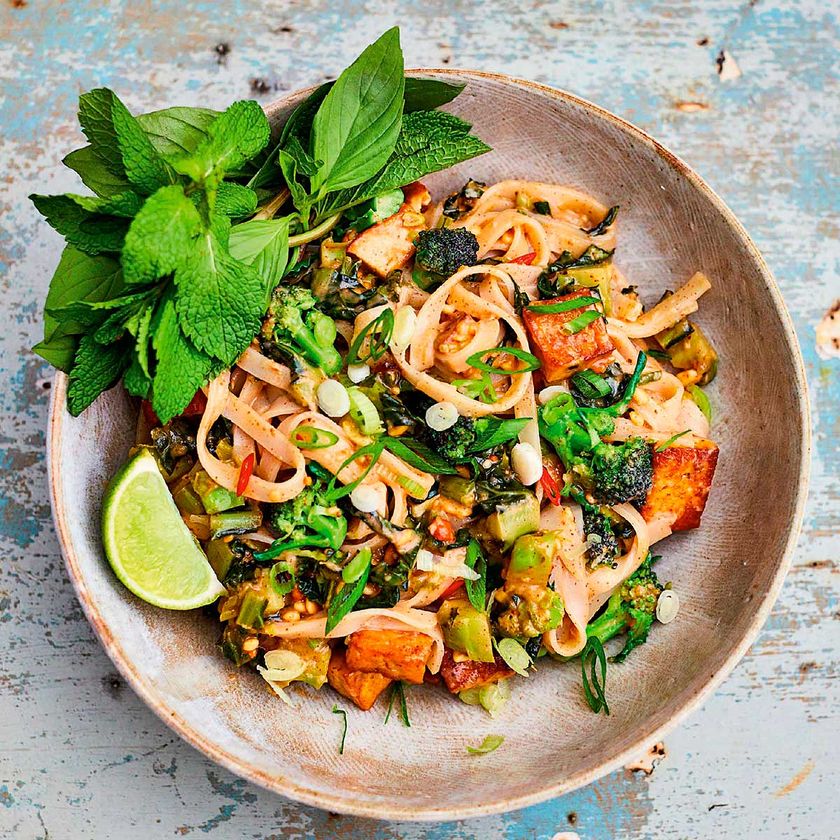 Pad Thai from EAST by Meera Sodha
A perfect balance of acidity and creaminess, Meera Sodha's pad thai uses tofu and broccoli, making it perfect for vegetarians.
Get your copy of EAST here.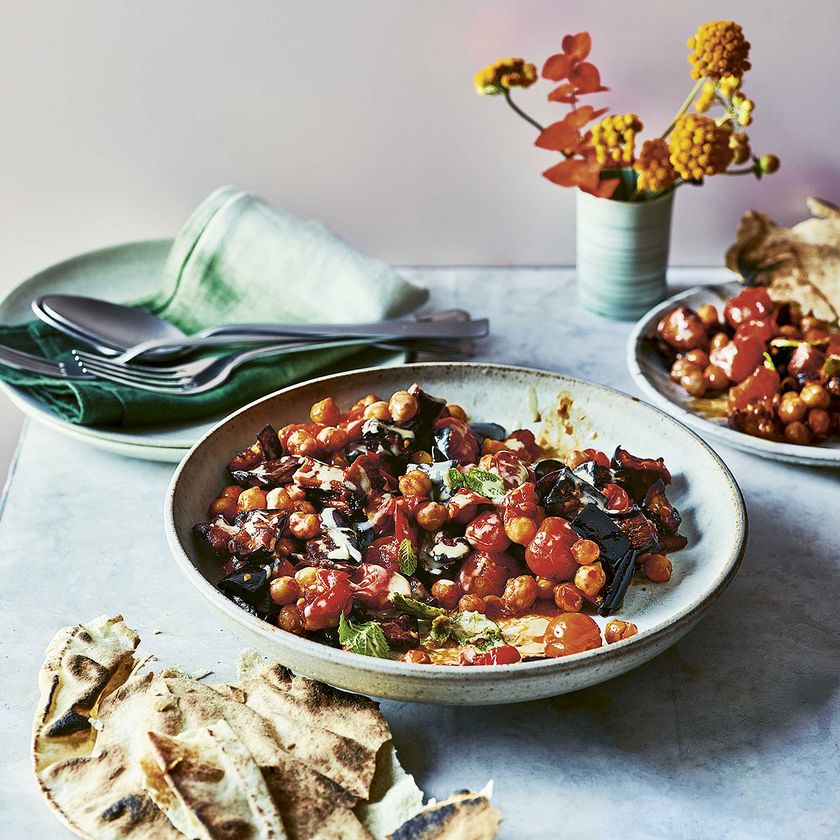 Tomato, Aubergine and Chickpea Bake from Green: Veggie And Vegan Meals For No-Fuss Weeks And Relaxed Weekends by Elly Pear
Every repertoire needs a good traybake and this recipe from Elly Pear's Green is a great veggie option, packed with substantial chickpea and aubergine and flavourful cherry tomatoes.
Get your copy of Green here.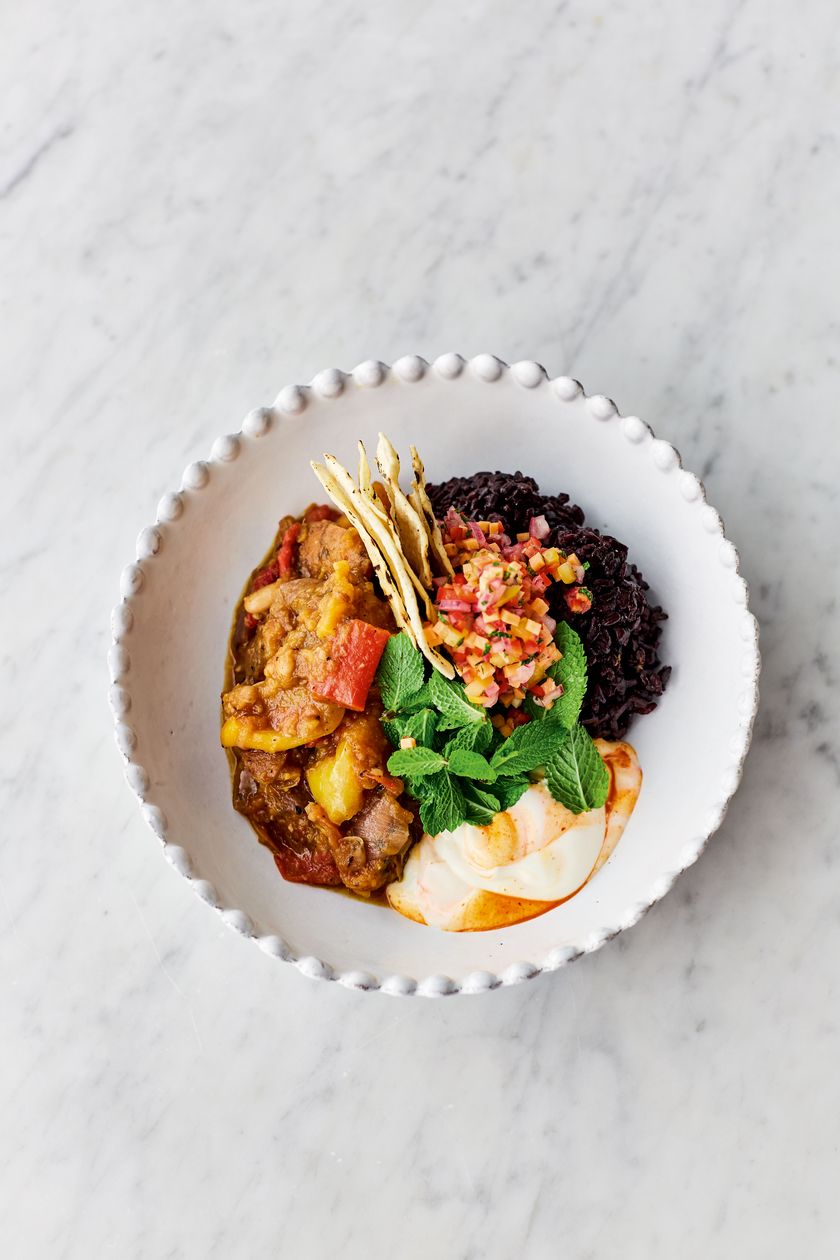 Amazing Veggie Chilli with Comforting Black Rice, Zingy Crunchy Salsa, Chilli-rippled Yoghurt from Veg: Easy & Delicious Meals for Everyone by Jamie Oliver.
This bold, flavourful chilli from Jamie Oliver's Veg is absolutely packed with veggies. It's comfort food at its best, and the fresh, crunchy salsa adds a welcome zing.
Get your copy of Veg: Easy & Delicious Meals for Everyone.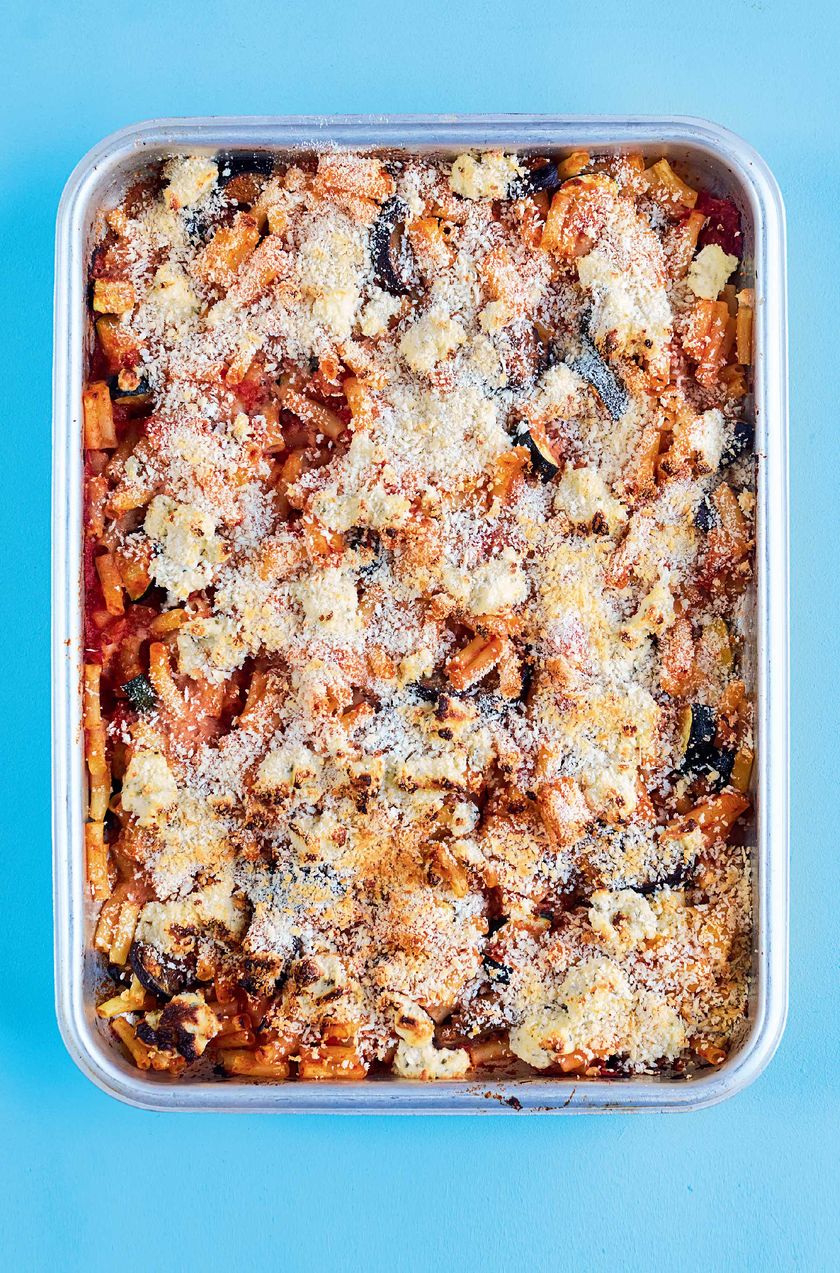 Roasted Aubergine, Courgette and Macaroni Bake from The Quick Roasting Tin by Rukmini Iyer
Rukmini Iyer's latest one-tin wonder, The Quick Roasting Tin, is packed with super-speedy weeknight dinner inspiration. The addition of Boursin to this easy pasta bake is a great way to get that moreish garlic and herb flavour while minimising time spent chopping and prepping ingredients.
Get your copy of The Quick Roasting Tin.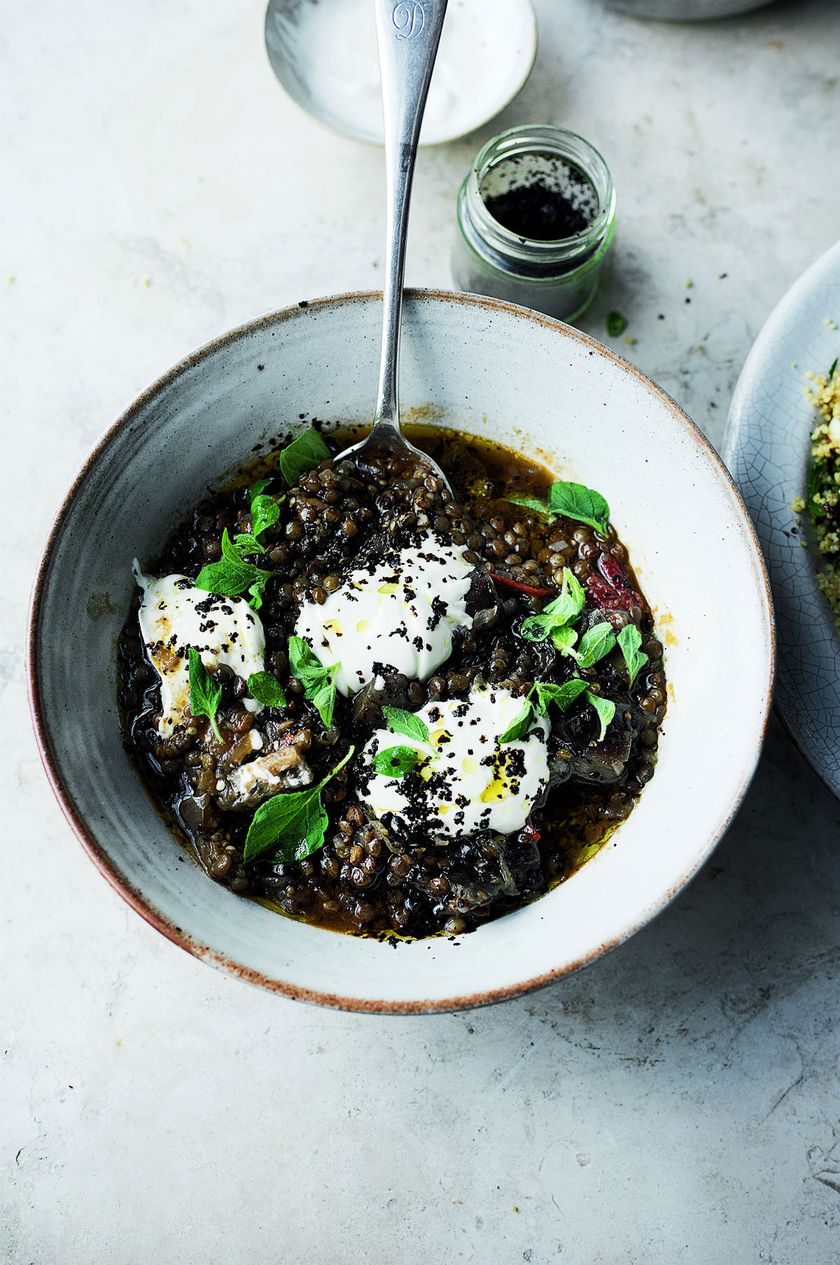 Puy Lentil and Aubergine Stew from Ottolenghi SIMPLE by Yotam Ottolenghi
Looking for a vegetarian meal that feels substantial and comforting? Yotam's got you covered with this hearty aubergine and lentil stew that's bursting with flavour and easy to put together. 
Get your copy of Ottolenghi SIMPLE.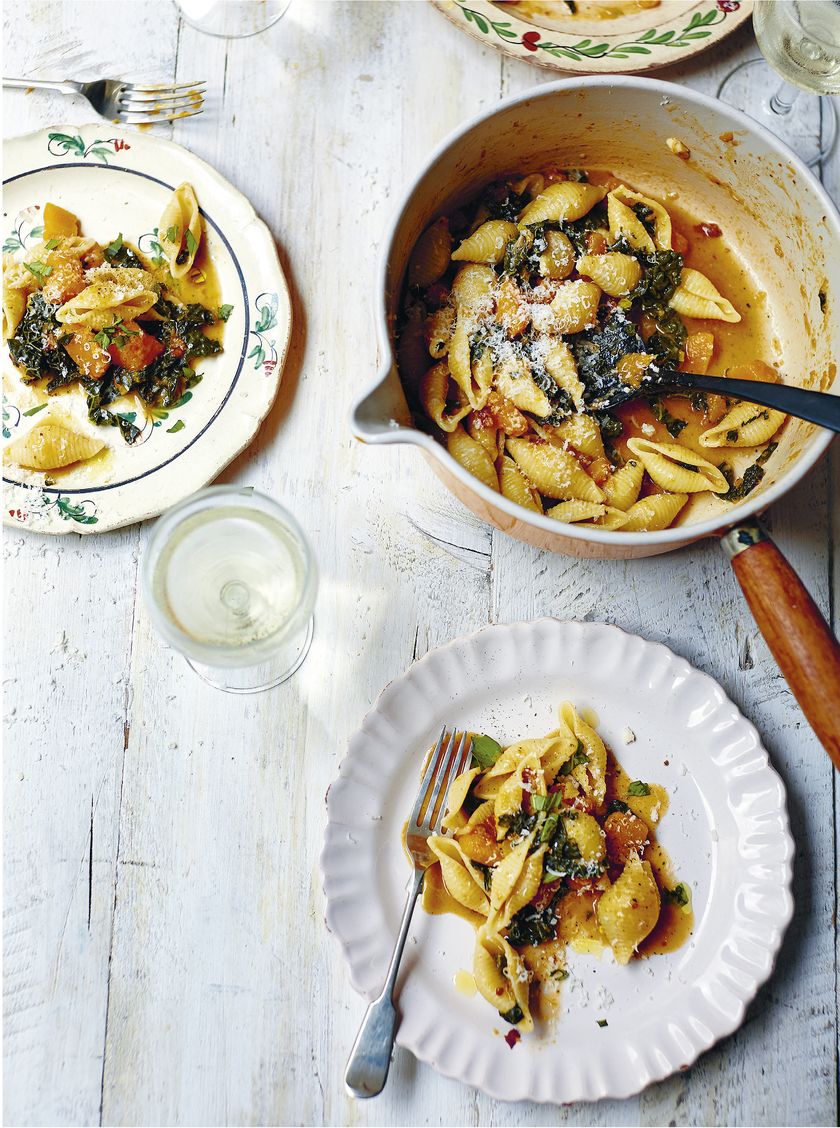 Creamy Butternut Squash Pasta from Stirring Slowly by Georgina Hayden
The perfect recipe to help you incorporate more starchy veg into your diet, this one-pan pasta is the kind of recipe a hectic midweek evening is crying out for. Just switch the Parmesan for a vegetarian-friendly alternative and away you go. 
Get your copy of Stirring Slowly.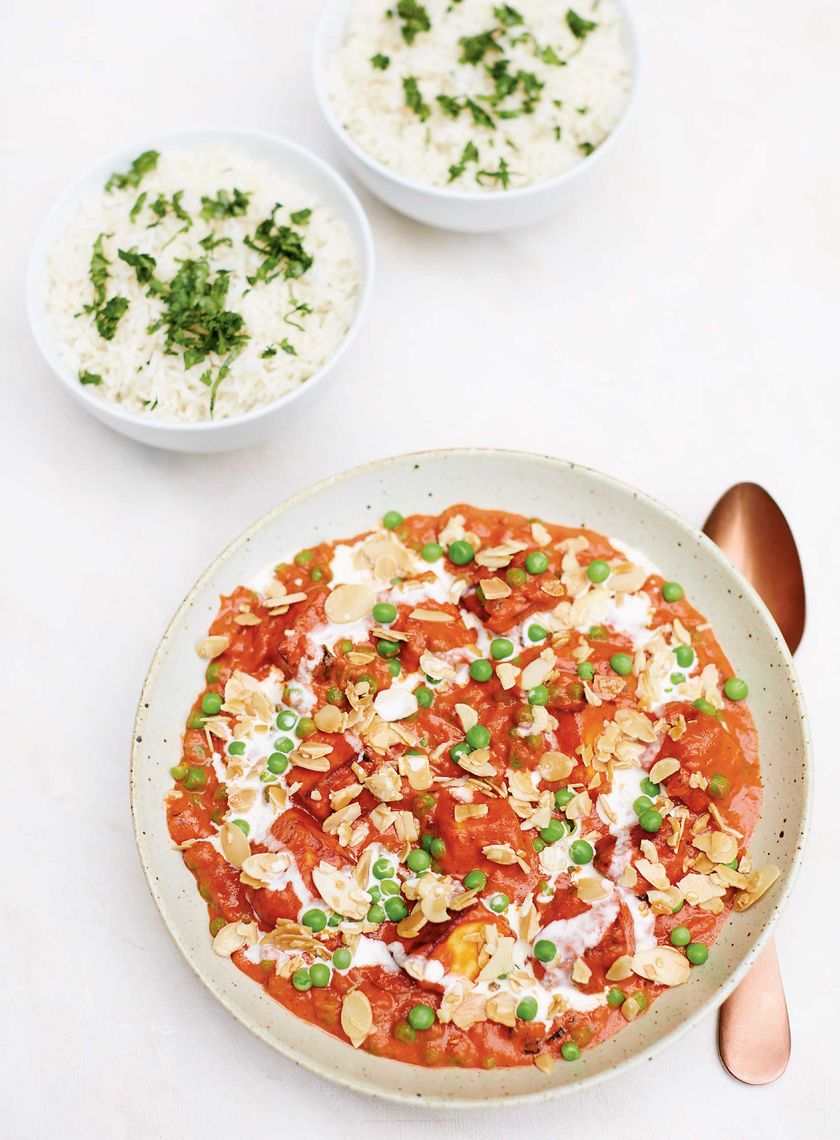 Paneer Butter Masala from Fresh India by Meera Sodha
Love chicken tikka masala and yet to find a meat-free alternative that is just as good? Call off the search because this paneer-based recipe from Fresh India is the answer. Sweet, creamy, substantial and quick to cook, it's a true all rounder.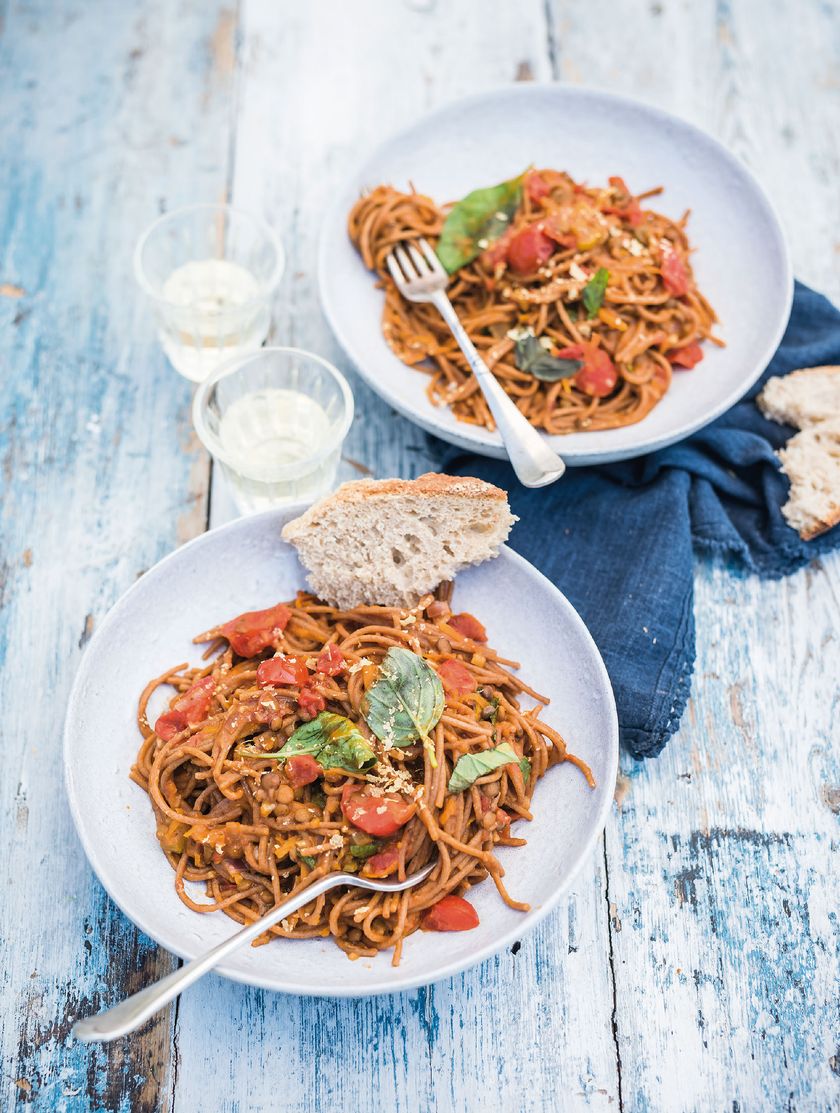 One-pot Spag Bol from The Happy Pear: Recipes for Happiness by Stephen and David Flynn
Go one step greener with this one-pot vegan twist on a family favourite from Recipes for Happiness.
Get your copy of The Happy Pear: Recipes for Happiness.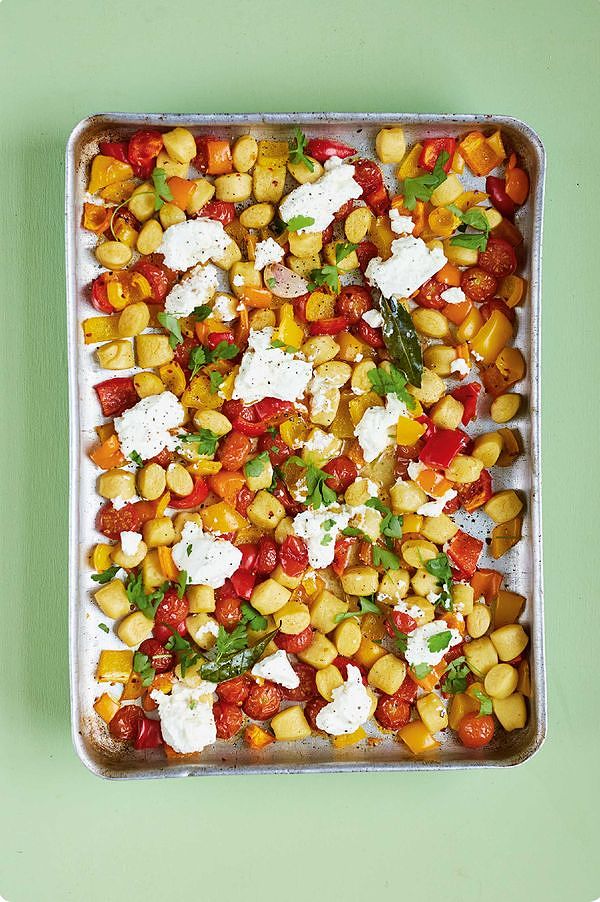 Crispy Gnocchi with Roasted Peppers, Chilli, Rosemary and Ricotta from The Green Roasting Tin by Rukmini Iyer
The Green Roasting Tin is the vegetarian midweek meal bible no green eating cook should be without and this one-tin gnocchi wonder is one of our favourites from the book. Just chuck all of the ingredients in a tin and leave the hard work to the oven. Winning. 
Get your copy of The Green Roasting Tin.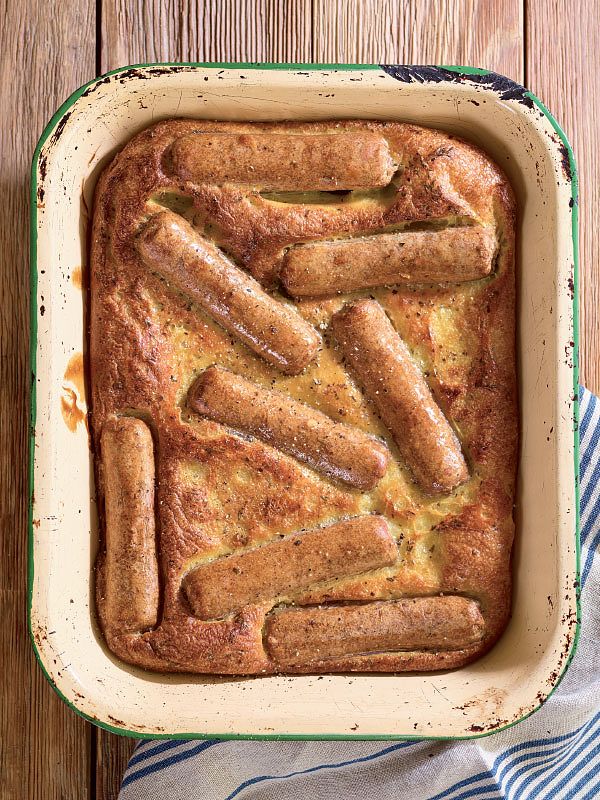 Vegetarian Toad in the Hole from The Savvy Shopper's Cookbook by Amy Sheppard.
A veggie twist on this comfort food classic that's super quick and economical too. 
Get your copy of The Savvy Shopper's Cookbook.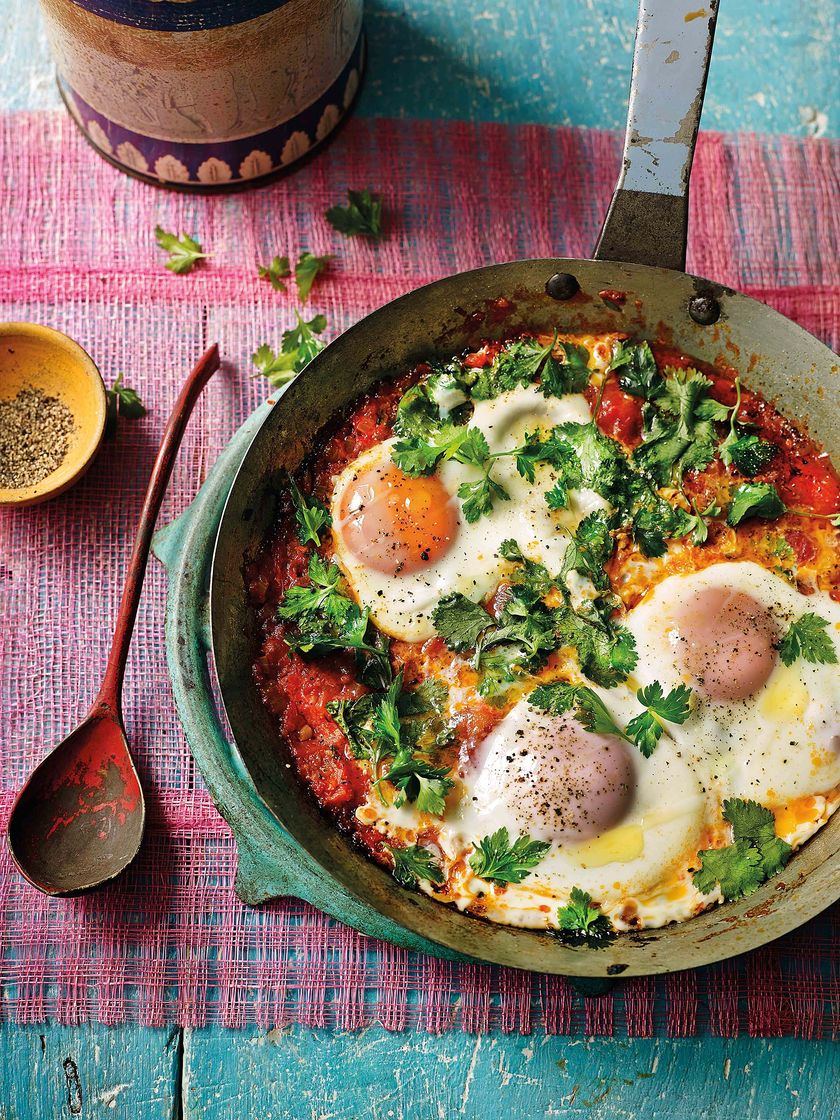 Egg Rougaille from Sunshine on a Plate by Shelina Permaloo.
Who doesn't love brinner? This quick and easy one-pan egg wonder is a satisfying quick supper that would also work well as a brunch dish too.
Get your copy of Sunshine on a Plate.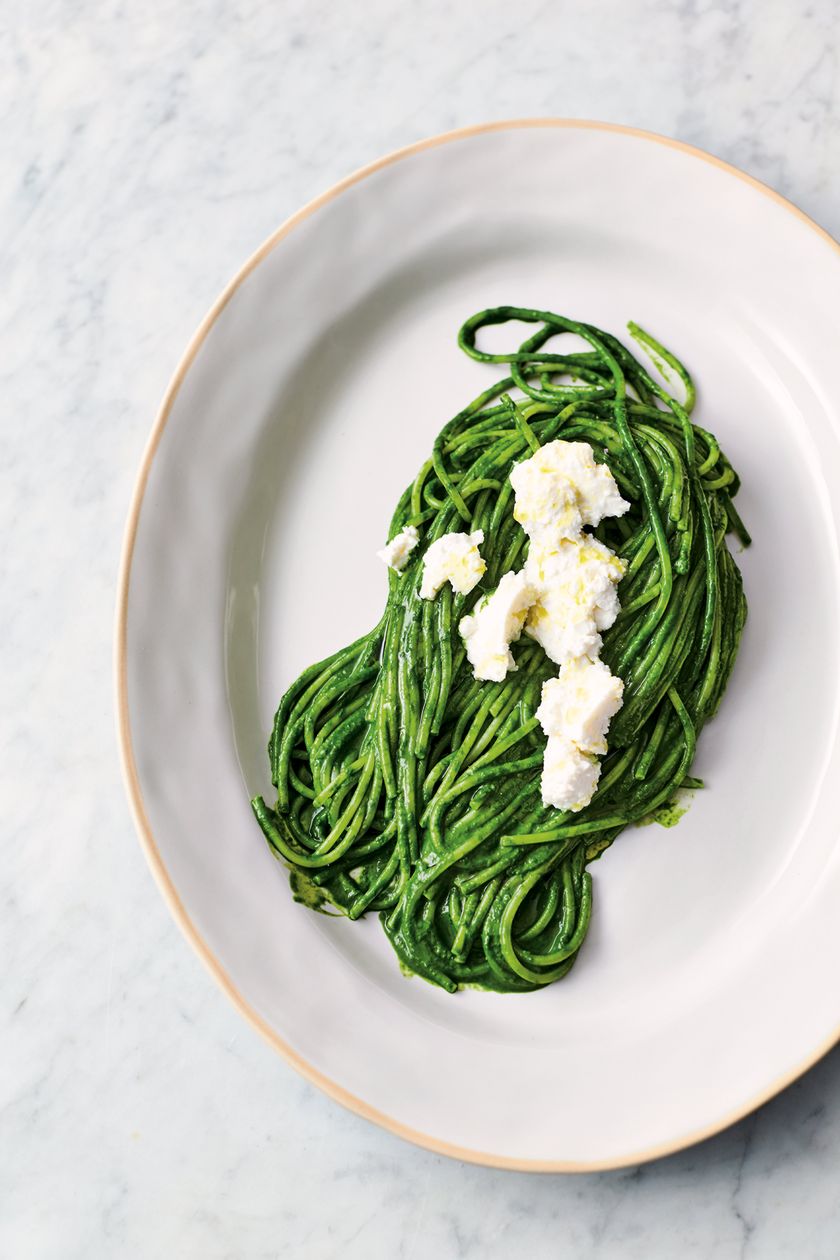 Super Green Spaghetti from 5 Ingredients - Quick & Easy Food by Jamie Oliver
Using just five ingredients and less than 15 minutes of your time, this creamy pasta will feature high up on your midweek meal hit list. Switch to vegetarian Parmesan and it's just as delicious. 
Get your copy of 5 Ingredients - Quick & Easy Food.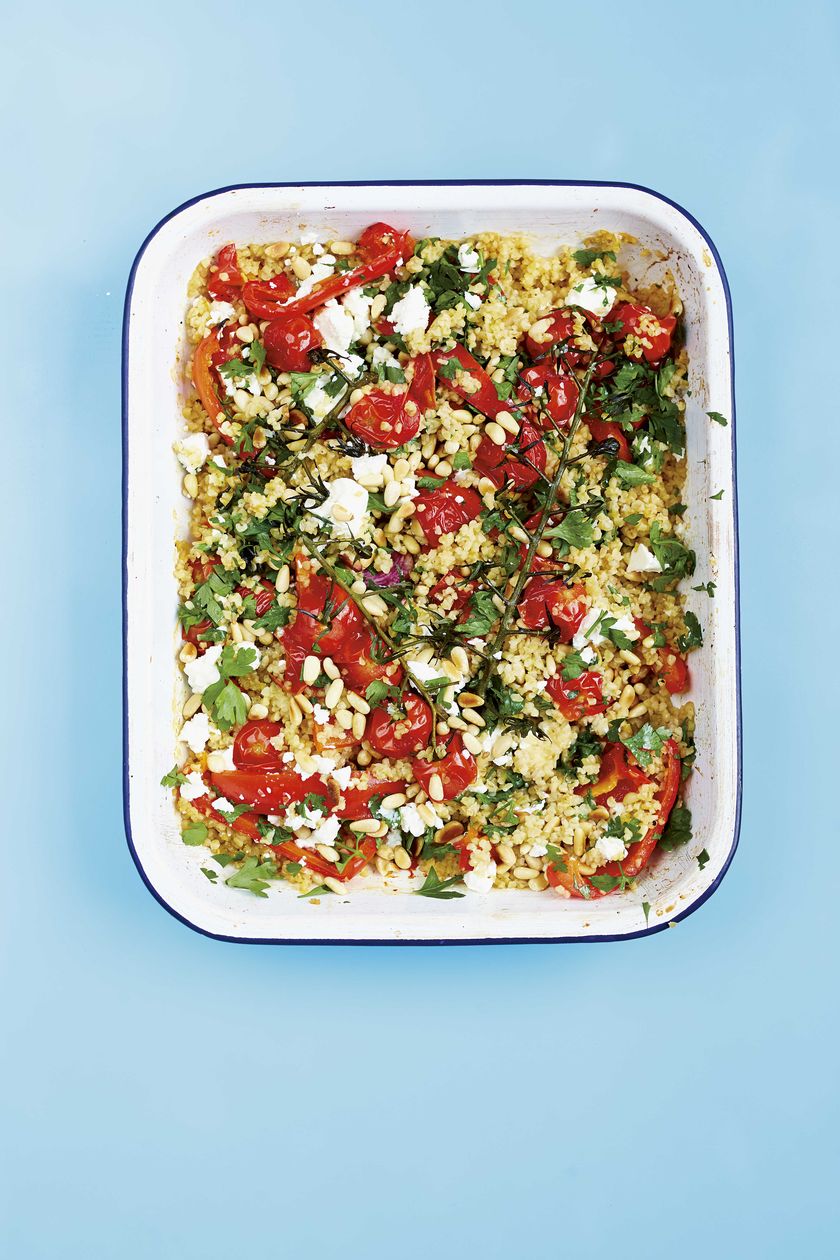 Bulgur Wheat with Roasted Red Peppers, Tomatoes, Feta & Pine Nuts from The Roasting Tin by Rukmini Iyer
Another one-tin favourite from the orginal The Roasting Tin cookbook, we love the Mediterranean flavours of this easy dinner that also works perfectly as a packed lunch (if you manage to leave leftovers!). Use a rennet-free feta cheese to ensure this dish is fully vegetarian.
Get your copy of The Roasting Tin.