Kale, Sprouted Beans and Goji Salad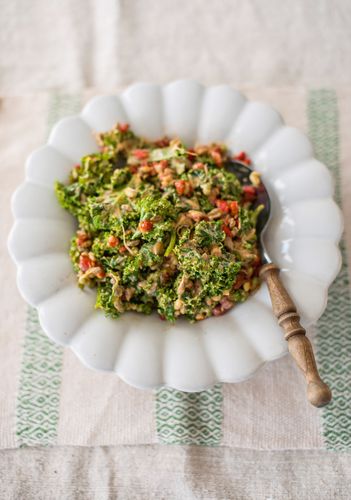 A total superfood salad that tastes fantastic. With the kale, sprouted beans and goji berries, this salad packs a seriously high antioxidant-rich punch. Raw kale isn't usually that appealing, but Phil's fantastic spicy tahini dressing will make you want more!
For how many?
Serves 4, or 6 as a side salad
Ingredients
400g

kale

3

pinches of salt

1 tsp

lemon juice

3 tbsp

extra virgin olive oil

200g

sprouted bean mix

100g

sunflower seeds

100g

goji berries

For the dressing:

1

clove of garlic

125ml

tahini

80g

cashew nuts

1 tbsp

lemon juice

1/2 tsp

salt

2 tsp

honey or maple syrup

1 tsp

ground coriander

1 tsp

ground cumin

1 tsp

paprika

1/4 tsp

chilli powder

2 tbsp

extra virgin olive oil
Instructions
Watch The Happy Pear brothers prepare their kale salad in our video tutorial.
Remove the kale leaves from the stalks. Chop the leaves roughly with scissors and wash well, then put them into a large bowl. Add the salt, lemon juice and olive oil and massage the kale with your hands for 2-3 minutes. The kale will turn a darker green and the leaves will soften.
Wash the sprouted beans and drain well. Toast the sunflower seeds in a dry frying pan over a medium heat for a few minutes, until they start to brown.
Peel the garlic, then put into a high-speed blender with the rest of the dressing ingredients and blend until smooth. If you don't have a high-speed blender, use a food processor - the mix will be more textured but still perfectly fine. You may need to add a little water to the dressing to loosen it, though it should still be thick.
Add the dressing to the bowl of kale and mix really well. Then stir in the sprouted beans, goji berries and sunflower seeds.