Forever Young Smoothie Bowl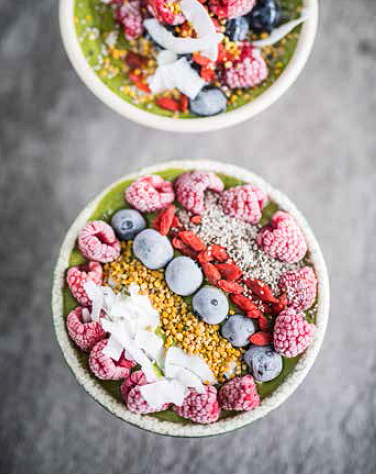 Matcha tea is the best-quality powdered green tea available. It contains five times as many antioxidants as other foods, which are the magical nutrients and enzymes responsible for fighting UV damage, giving us younger-looking skin.
Ingredients
180ml

mineral water

a handful

baby spinach leaves

1/2

avocado, peeled and destoned

1

lime, peeled

1 tbsp

coconut butter

1 tbsp

raw honey

1 tsp

matcha green tea powder

1

frozen banana

2 handfuls

chopped frozen pineapple

1 handful

ice cubes
Instructions
1. Place all the ingredients in a blender and blitz until smooth.
2. Adjust the sweetness if desired by adding more honey or a date.
3. Pour into a bowl and sprinkle on the toppings of your choice.
JUICEMAN TIP: Top with blueberries, raw cacao and goji berries for an antioxidant feast.