Chipolatas, red peppers and Puy Lentils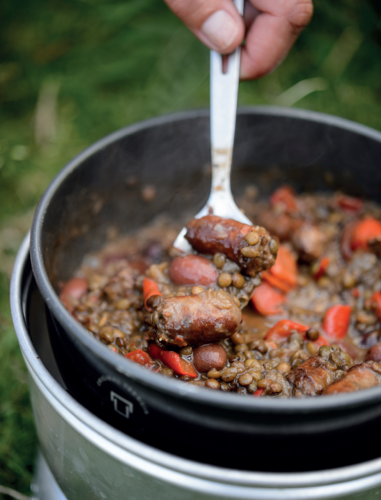 I like to use thin chipolatas as you get more of the delicious caramelized crispy outside than with regular fat sausages but, of course, you can substitute those if you like.
Ingredients
2 tbsp

olive oil

6

chipolatas, cut into 3 pieces

1

large onion, chopped

1

large red pepper, deseeded and chopped

a pinch

of dried chilli flakes (optional)

125g

Puy lentils

handful of

black olives

1

clove garlic, crushed

1/2 tsp

dried oregano

500ml

chicken stock

sea salt and freshly ground black pepper
Instructions
Heat the oil in a heavy-based saucepan set over a medium-high heat, add the chipolatas and fry for around 10 minutes until golden brown all over. Add the onion, red pepper and chilli flakes, if using, and fry for a further 10 minutes or so untul starting to colour a little at the edges.
Stir through the lentils, olives, garlic and oregano, then pour in the stock and season with black pepper. Bring to the boil, then cover and simmer steadily for around 40 minutes until the lentils are soft, stirring occassionally. Add a little salt and more black pepper if necessary.