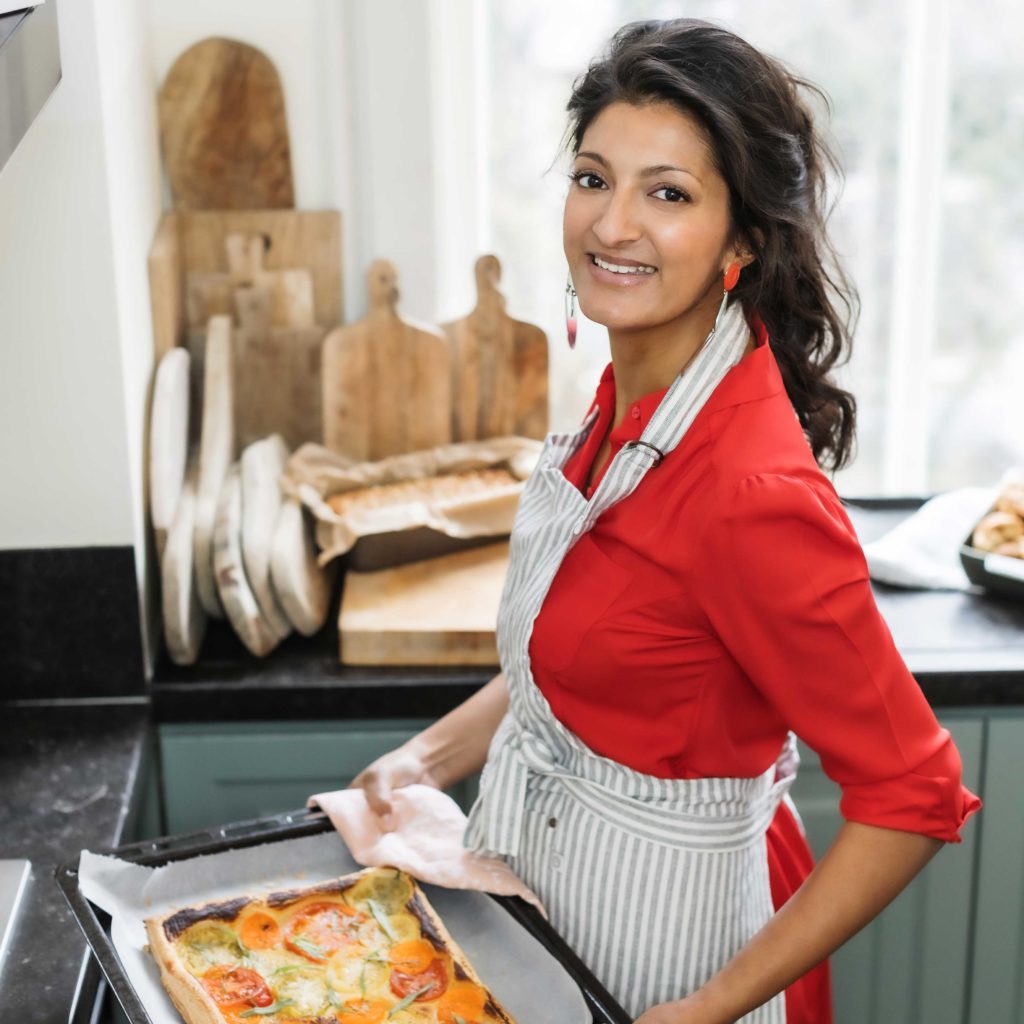 Dinner with Rukmini
Browse all of the recipes in Rukmini Iyer's cookbooks by ingredient.
Zoe's Granny's Fruit Cake
For a classic fruitcake, try this recipe from Rukmini Iyer's The Sweet Roasting tin, passed on from the grandmother of a university friend.
Introduction
The recipe for this fruit cake was given to me by my university friend Zoe, who served it at a Christmas party at her flat in Edinburgh. Made by her mother, it was hands down the nicest fruit cake I've ever tried, and I've been making it for the last fifteen years on request for friends' weddings, as Christmas gifts and for birthdays, with the recipe itself passed on almost as many times. I can claim no credit: Zoe's granny was on to a winner with this wartime recipe. It's wonderfully forgiving, and I include her original notes and suggestions for substitutions below.
Ingredients
| | |
| --- | --- |
| 350g | softened unsalted butter |
| 350g | soft dark brown sugar |
| 1 tsp | vanilla extract |
| 1 tsp | almond extract |
| 1 | lemon, zest and juice |
| 1 tbsp | black treacle (optional) |
| 1 tbsp | marmalade (optional) |
| 350g | plain flour |
| 55g | ground almonds |
| 1 small tsp | salt |
| 1 tsp | mixed spice |
| 1 tsp | ground cinnamon |
| ½ tsp | ground nutmeg |
| 7 | medium free-range eggs |
| 450g | sultanas |
| 450g | currants |
| 225g | raisins |
| 225g | glacé cherries |
| 115g | chopped almonds |
Method
Preheat the oven to 115°C fan/135°C/gas 1. Cream the butter, sugar, extracts and the lemon zest and juice, along with the treacle and marmalade, if using.
In a separate bowl,mix the flour and ground almonds with the salt and spices.
Add the eggs to the creamed mixture – one at a time with tablespoons of the
flour mix to prevent it from curdling. Beat well.
Fold in the rest of the flour mix and the fruit and nuts, then transfer to a lined cake tin (see notes below) and bake in the oven for 2½– 3 hours, covering with tinfoil if it starts getting too dark on top.
Zoe's Granny's Notes: We made cakes after the war with all sorts of proportions. I usually put in a tablespoon of coffee with a spot of milk. The recipe makes my big 10-inch (25cm) cake tin, or one 8-inch (20cm) and one 7 inch (18cm). I butter the tin and flour it, and put a layer of foil outside, standing higher than the tin. I don't worry too much about the actual proportions of fruit, just make sure they are the correct total – I've included dried apricots, dates, prunes, etc. I often use walnuts instead because they're cheaper. Good luck!
Mini's notes:  Very little can go wrong with this cake, and I always feed it with brandy for a good month or two before it's to be eaten, whether for Christmas, Easter or a friend's wedding. To do this, let the cake cool down completely, then use a skewer to make 8–10 small holes in the top. Spoon over a few tablespoons of brandy/amaretto, then wrap in baking parchment and tin foil, and keep in an airtight container. Continue to feed once a week, turning the cake over each time. You can marzipan and ice the cake a few days before you need it, or decorate it with candied fruit and whole blanched almonds or mixed nuts, with apricot jam (melted and sieved) brushed over to glaze.