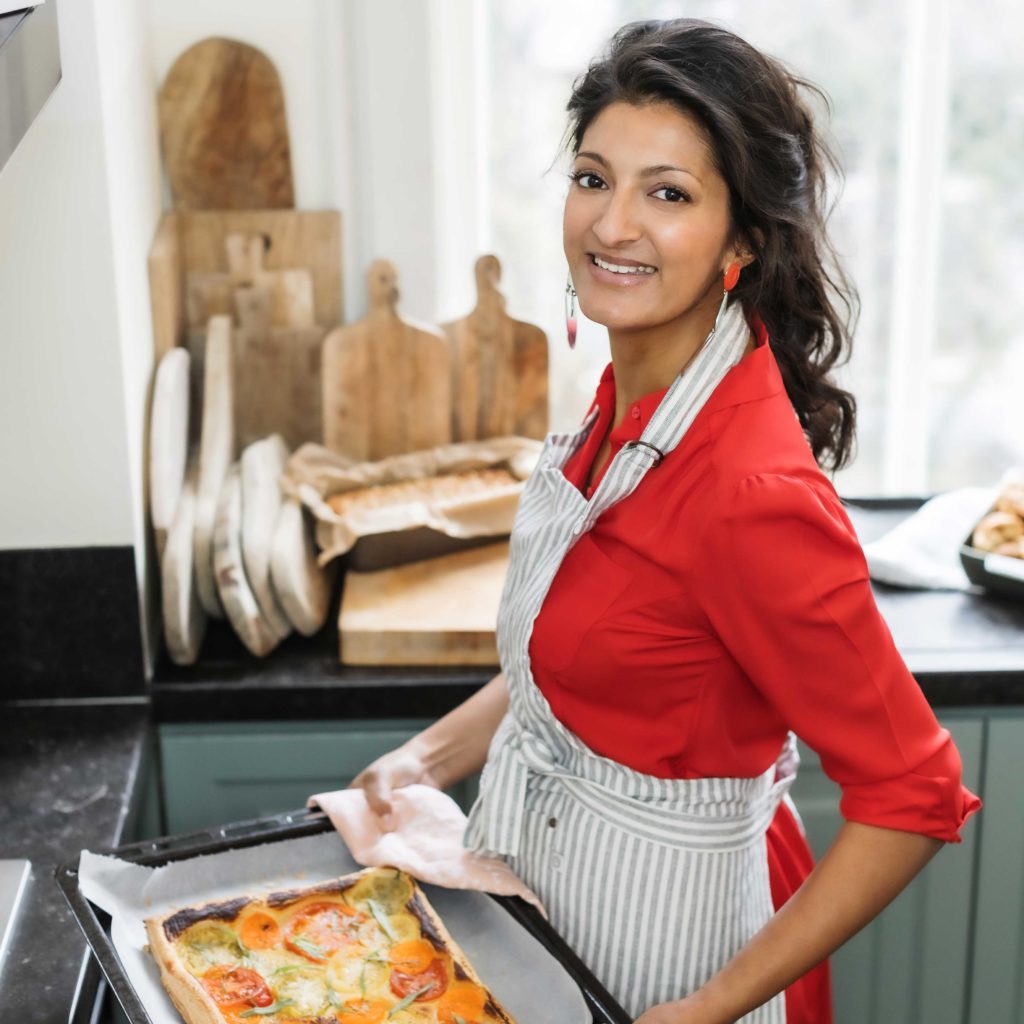 Dinner with Rukmini
Browse all of the recipes in Rukmini Iyer's cookbooks by ingredient.
Sesame and Ginger Meatballs with Pak Choi, Chilli and Red Rice
Packed with sesame, chilli and ginger, these flavoursome beef meatballs are roasted in the oven to deliver the perfect tender texture.
Introduction
Sesame and ginger were made to go with meatballs. These beauties are pepped up with a subtle chilli kick, and you will find that oven roasting gives them a lovely texture. Use all beef mince, a mixture of beef and pork, or lamb if you prefer. These are best eaten straight from the oven.
Ingredients
200g
red rice, rinsed
500g
good-quality beef mince
3
spring onions, very finely sliced
½
red chilli, deseeded and finely chopped
5cm
ginger, grated
1 clove of
garlic, grated
2 tbsp
sesame oil
1 tbsp
sesame seeds
1 tsp
sea salt
4
pak choi, cut into eighths
For the dressing:
2½cm
ginger, grated
1 clove of
garlic, grated
2 tbsp
sesame oil
1
lime, zest and juice
2
spring onions, sliced
½
red chilli, deseeded and sliced
1 tsp
sea salt
Method
Preheat the oven to 180° C fan/200° C/gas 6. Tip the rice into a pan with plenty of boiling salted water and simmer for 35- 40 minutes, until cooked through.
Meanwhile, in a large bowl, work together the mince, spring onions, chilli, ginger, grated garlic, sesame oil, sesame seeds and salt until completely amalgamated, then form into small walnut-sized balls – it should make 24. Pop them into a roasting tin and roast in the oven for 25 minutes, until cooked through and golden brown.
Meanwhile, mix together all the dressing ingredients and set aside.
Once the meatballs have had 25 minutes, tuck the pak choi into the roasting tin, and return to the oven for a further 5-6 minutes to wilt.
Drain the rice well and tip into the tin with the meatballs and pak choi. Pour over the dressing and mix well before serving.