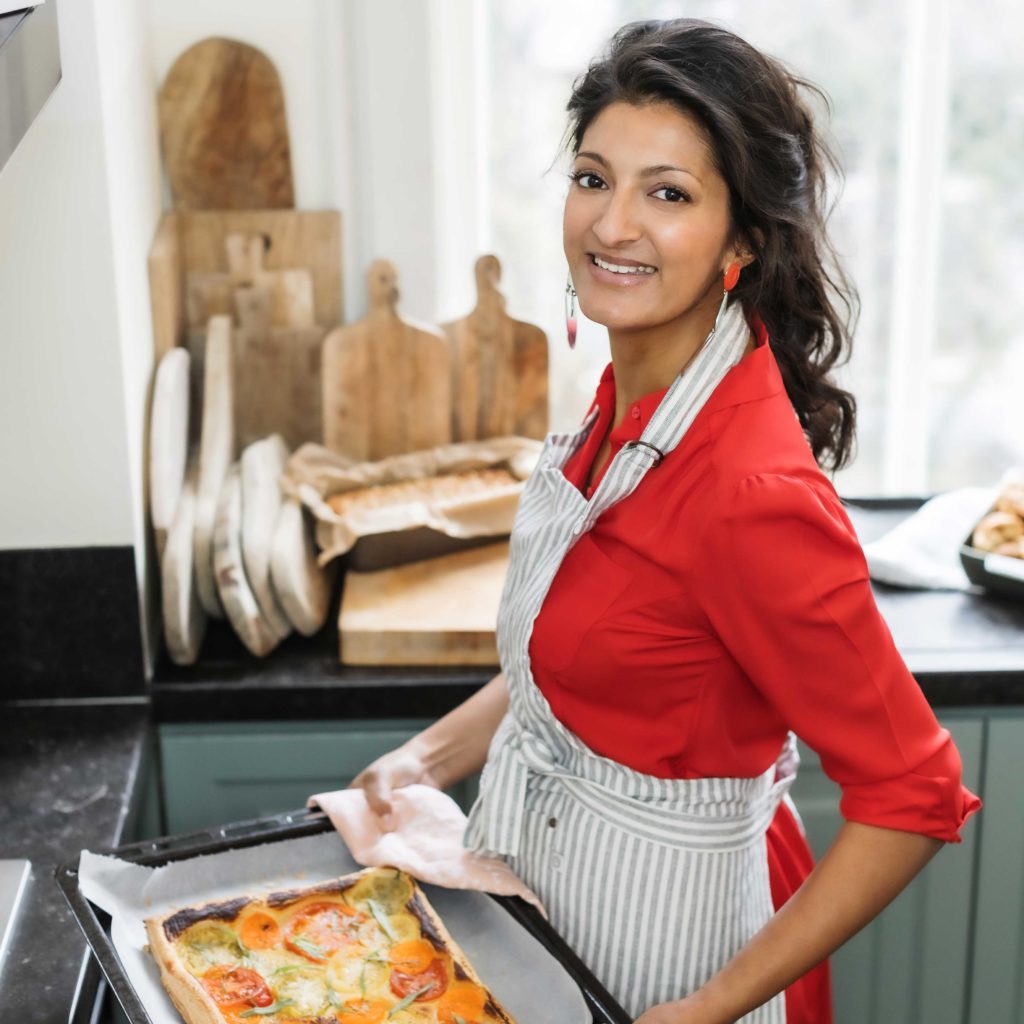 Dinner with Rukmini
Browse all of the recipes in Rukmini Iyer's cookbooks by ingredient.
Baby aubergines are quickly fried with nigella seeds and topped with a creamy turmeric sauce in this super easy and flavourful dish.
Introduction
I love this recipe for a number of reasons: firstly, it's delicious and really easy to make – the aubergines sit in a beautiful combination of spices in a yogurt sauce which comes together in just 20 minutes, most of that hands-off time. Secondly, the recipe comes from my great grandmother, Didima; my grandmother transcribed and sent it on wafer-thin blue airmail paper to my mum in the UK, who translated the recipe for me as we cooked it together. It's traditionally served on special occasions and best eaten immediately.
Ingredients
6
long, thin baby aubergines
125g
Greek yogurt, at room temperature
Storecupboard:
1 tsp
ground turmeric
1½ tsp
ground coriander seeds
½ tsp
mild chilli powder
1 tsp
sea salt flakes
2 tbsp
neutral or olive oil
1 tsp
nigella seeds
Method
Cut the baby aubergines in half lengthways to about 2.5cm below the stem, so they're still attached at the top.
Mix 1 heaped teaspoon of Greek yogurt with the turmeric, ground coriander seeds, chilli powder and a pinch of salt. Use the teaspoon to rub a little of this thick spice paste inside each of the split aubergines.
Mix the remaining spice paste with the rest of the Greek yogurt and salt and set aside.
Heat the oil in a large frying pan; when hot, add the nigella seeds. Stir-fry for 30 seconds until aromatic, then add the aubergines. Give them a quick turn in the hot oil, then turn the heat right down, cover and cook for 7 minutes. Turn the aubergines over, then cover and cook for a further 7 minutes until they're cooked through (if you prod them with a fork, they should be soft through).
Turn off the heat and spoon the yogurt sauce all over the aubergines. Return the pan to the heat and reheat over a very low heat for 3–4 minutes just to cook through the spices – you want it on the very lowest heat possible so the yogurt doesn't split.
Taste the sauce to check for salt, adding a tiny pinch if needed, and serve hot.