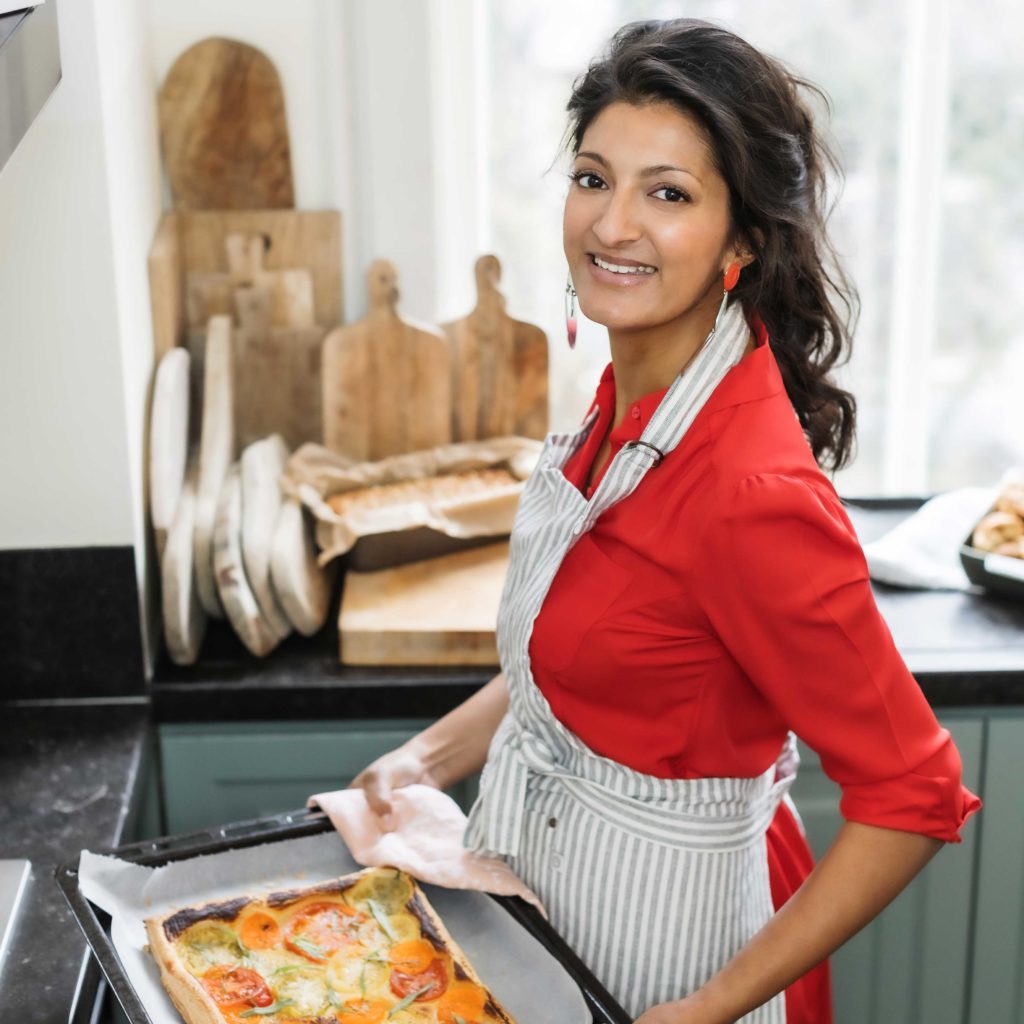 Dinner with Rukmini
Browse all of the recipes in Rukmini Iyer's cookbooks by ingredient.
Boozy Panettone Bread and Butter Pudding
For a quick and easy Christmas dessert with plenty of festive magic, look no further than this boozy, star-studded panettone bread and butter pudding traybake.
Introduction
There always seems to be a panettone knocking about under the Christmas tree, and my favourite thing to do is make it into a rich, indulgent bread and butter pudding – perfect for a cold night and to use up Christmassy bits and pieces. I love the flexibility of this recipe – serve with brandy butter if you have it about, or use Baileys or your favourite Christmas drink to replace the amaretto.
Ingredients
| | |
| --- | --- |
| 100ml | amaretto |
| 100g | raisins |
| 3 | egg yolks |
| 50g | caster sugar |
| 300ml | single cream |
| 1 x 750g | panettone |
| | icing sugar and edible stars, to decorate |
Essential kit
You will need: a medium sized buttered roasting tin.
Method
1. Preheat the oven to 150C fan/170C. Heat the amaretto in a small saucepan until just under boiling, then turn off the heat, and add in the raisins, stir, then leave them to marinate.
2. Whisk the egg yolks with the caster sugar, then slowly whisk in the single cream. Set aside.
3. Cut the pannetone into quarters, and cut each quarter into 1 ½ cm slices. Reserve five slices in ascending order of size to form your Christmas tree at the end, and arrange the rest in the roasting tin (I find this easiest to do by arranging them 'standing up' on the widest base of each triangle.)
4. Pour 2/3 of the custard mixture over the pannetone, squashing it down well, then scatter over the raisins and warm amaretto. Arrange the five reserved slices in a Christmas tree shape as pictured, then pour over the remaining custard, squashing the pannetone down gently. Transfer to the oven to bake for 25 minutes, until golden brown on top, but still soft within.
5. Dust with icing sugar and edible stars before serving hot. If you have leftovers, this reheats very well in the microwave for a slightly boozy breakfast the next day.
Rukmini's latest cookbook, The Roasting Tin Around the World, is out now and available here.