Throughout the Coronavirus pandemic we have turned to cooking to get us through its many phases. From the frantic early days of scarce ingredients, to the seemingly endless weeks with nothing but a new-found obsession with perfecting banana bread to pass the time, cooking has become a port in this particularly turbulent storm. 
The lockdown may now be easing, releasing us back out into a significantly altered world, but summer 2020 remains set to be the furthest from our expectations in living memory. For many, the loss of the sun-soaked getaways, beach breaks and city trips that punctuated summer as we remember it will be a particular adjustment. But if recipes and cookbooks helped us turn the scant contents of our store cupboard into a family dinner, taught us how to bake without flour, eggs and yeast, and offered us comfort and distraction when we were confined to our homes, we are convinced they can also go some way to helping us recreate the joy of a holiday at home this summer.
With this in mind we bring you Weekend In, a weekly instalment of recipes from a different short haul destination to help you recreate the flavours of your favourite getaways at home. Each week we will transport you to a new location by sharing a menu selected from a cookbook promising authentic recipes from this particular region. Get lost in the joy of following a new set of recipes, fill the table with a feast, and make it a weekend in to remember.
For the first in the series, we're heading to Cyprus by way of Georgie Hayden's sublime celebration of Cypriot cooking, Taverna. Though your plans to visit this beautiful Mediterranean island may have been cancelled, flicking through the pages of Taverna will take you to its citrus groves basking in the midday heat, markets brimming with seasonal produce and sun-dappled tables laden with meze. Spend an afternoon cooking from it and you will fill your own table with a true flavour of Cyprus. Here are four sunny recipes selected from Taverna for your Weekend In.
Starter: Tzatziki aka Tallatouri
As you would expect from a cookbook dedicated to Cypriot recipes, Taverna boasts a whole chapter dedicated to meze, which opens with the perfect summertime dip, tzatziki, or tallatouri as it is known in Cypriot Greek. If you're used to picking up this cooling yoghurt, cucumber and mint-based dip from your supermarket, Georgie's recipe, handed down from her mum, will be a serious level up in terms of freshness, flavour and texture. Open your feast with this alongside other favourites from the meze chapter and hunks of warm pita.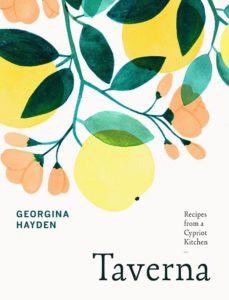 Taverna: Recipes From a Cypriot Kitchen
Feast your way through these authentic Cypriot recipes
Family favourite dishes for weekend feasts
Fresh and inspiring ideas for weeknight cooking
Main: Chicken, Cinnamon and Sweet Tomato Orzo: Kotopoulo Kritharaki
Orzo is a mainstay in Greek Cypriot cookery and in this easy one-tin recipe, Georgie packs it with flavours of sweet tomato, cinnamon and allspice, adds succulent chicken thighs and roasts it all in the oven for an easy pasta bake, Greek Cypriot-style. Finish with a grating of halloumi, anari or salted ricotta.
Get your copy of Taverna here.
Side: Tomato, Rusk, and Olive Salad: Dakos Salata
Every pasta bake needs a salad to go with it and this fresh, vibrant recipe is all about making the most of seasonal tomatoes while they are at their best. Substantial enough to be a meal on its own if you end up skipping the orzo, it features crispbread, feta, olives and plenty of herbs alongside those all-important ripe tomatoes.
Get your copy of Taverna here.
Dessert: Ricotta, Honey and Thyme Ice Cream
Plenty a balmy summer holiday evening is rounded off by a trip to the local ice cream parlour, and in this easy no-churn recipe, you can recreate this refreshing ritual at home. Bringing together quintessential Greek Cypriot flavours of ricotta, honey and thyme, it is delicately flavoured, light and the perfect way to cool down.
Get your copy of Taverna here.