While rice is a staple in many of our kitchens, how to cook it properly is a question that often confounds us. Boil it too long and you can end up with a sloppy wet mixture that resembles porridge more than it does light, fluffy grains. Try to steam it, and it gets stuck to the pan. Meera Sodha, author of best-selling cookbooks Made in India, Fresh India and EAST shares her insider tips to failproof rice everytime. 
Meera Sodha's top tips for perfect rice, from Fresh India:
1. Measure by the mug. Measuring your rice in a mug will help you to judge how much water to cook it in. "I was taught that a mugful (an average coffee mug) will feed four people as an accompaniment. But because, like all Indians, I love to over-feed people, I usually cook a mug and a half."
2. Always wash and soak. "Rice is very starchy, and it's this that makes it gloopy. Washing and soaking helps to remove the starch – it's the first thing I do before I start cooking", says Meera. To wash the rice, place it in a bowl and pour cold water over the top. Shake your hand in the bowl, watch the water cloud up, drain, and repeat until the water is clear. Then leave to soak for 20 minutes in cold water, or 10 minutes in warm water if you can't wait that long.
3. Steam or boil. Both methods work well, says Meera; "if you're steaming it, use one and a half times the volume of water to rice, so one and a half mugs of water to every mug of rice. Put the rice and water into a pan, bring to the boil, cook for 2 minutes, then cover with a tight-fitting lid, reduce the heat and simmer for 10 minutes. If you're boiling it, cover with plently of cold water, bring to the boil, lower the heat to a fast simmer and cook for 10 minutes. It's done when it's tender and there's no longer a chalky core".
4. Let it rest. For nice and fluffy results, don't skip this step. "No matter how you cook it, rice loves to rest after all that cooking. It gives it a chance to recover and for the grains to separate".
Now put your new rice-perfecting skills to the test with one of Meera's rice recipes: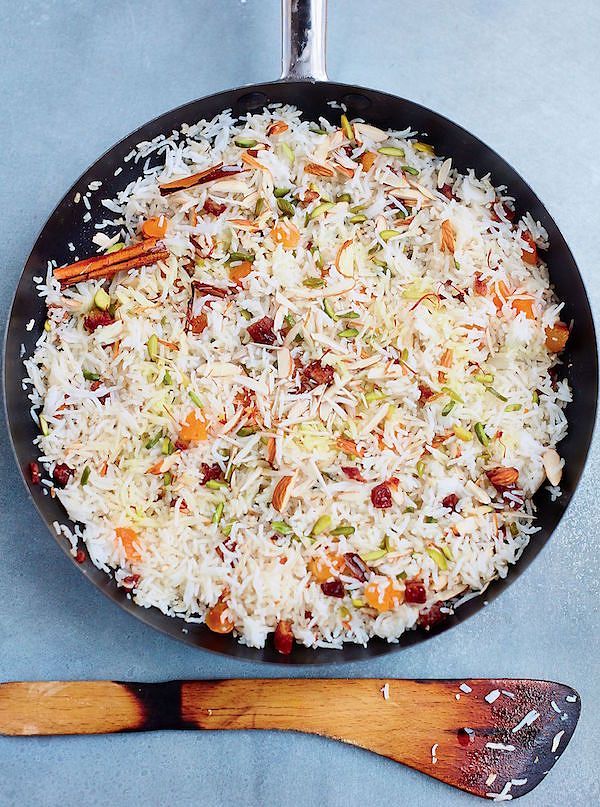 Maharajah's Rice from Fresh India by Meera Sodha
This buttery, steamed saffron rice is studded with fruit and nuts for a luxurious side to an Indian feast.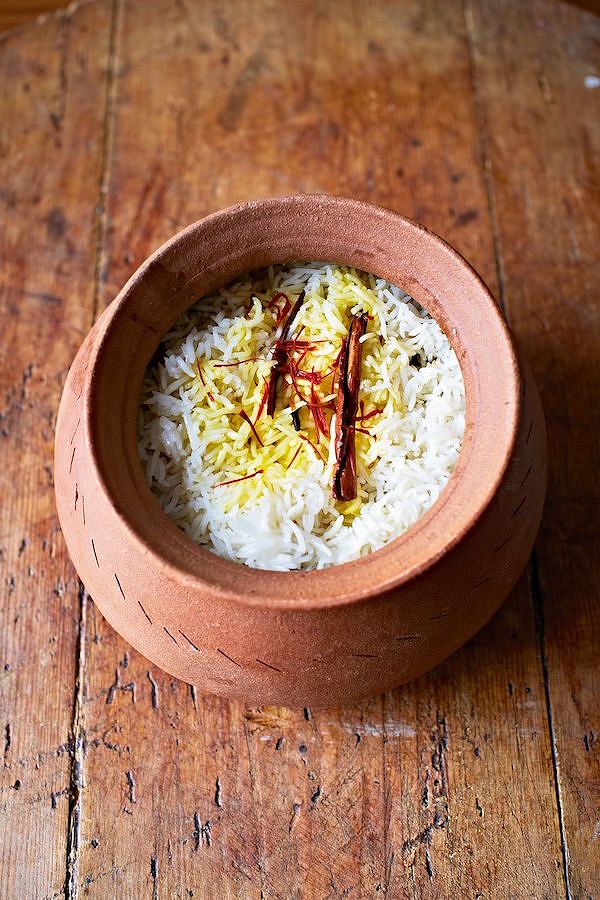 The Perfect Lamb Biryani  from Made in India by Meera Sodha
Biryani is a beautifully layered dish of rich clove and cinnamon lamb curry, sweet caramelized onions and saffron-scented rice. Here, Meera boils the rice before layering it up in an ovenproof pot with the curry and onions, snd sprinkling the top with rose water and saffron. 
Order a copy of Made In India here.
Sri Lankan Beetroot Curry with Green Bean Mallum from EAST by Meera Sodha
"The greatest souvenir you can take home from Sri Lanka is a love for 'rice and curry'", says Meera. Cook perfectly fluffy rice, then serve it with this vegan beetroot curry, inspired by the flavours of Sri Lanka, and served with a green bean mallum.