For any cookery enthusiast, a Bank Holiday means the luxury of some laid-back time in the kitchen to cook a recipe you've had marked for some time, free of the contraints of midweek cooking. Here we've rounded up some of our favourite projects for a weekend of joyous cooking, with plenty of ideas that are perfect for feeding a crowd in case you also happen to be entertaining too. 
Chicken Musakhan from Falastin: A Cookbook by Sami Tamimi & Tara Wigley
This traditional Palestinian dish is perfect for a shared feast: spiced, juicy, and incredibly flavoursome chicken that can be eaten with nothing more than your hands and some warm flatbreads to soak up the juices. 
Falastin: A Cookbook
A love letter to Palestinian food and culture from the Ottolenghi co-authors..
With a mix of traditional and modern recipes for everything from one-pots to perfumed sweet treats.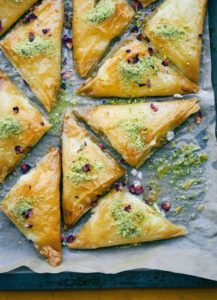 With beautiful photography and stories from unheard Palestinian voices.
Abobo Brisket with Pineapple Salsa from Stirring Slowly
With flavours inspired by Mexican street food, this slow-cooked brisket is ready to melt after four hours of gentle roasting. Pile into tacos and top with a vibrant pineapple salsa and you've got yourself a fiesta on a plate.
Monkfish, Mussel and Prawn Stew with Char-grilled Sourdough from The Road to Mexico
The summery vibes of a Bank Holiday weekend are perfect for a little seafood, and who better to trust for a taste of the sea than Rick Stein? This spiced tomato-based stew is brimming with shellfish and tender monkfish and served atop a garlic-rubbed slice of chargrilled sourdough.
Aubergine Dal with Crispy Cauliflower, Green Chutney, Dosa and a Crunchy Salad from A Love of Eating
There's much to love about this vegetarian feast of dreams, from the creamy dal to the whole roasted cauliflower. Take the time to make each of the elements in this recipe and it'll be quite the spread.
Classic Moussaka from Taverna
If a crowd pleaser is what you're after, you can't go wrong with Georgie Hayden's moussaka, a recipe handed down through the generations of her Cypriot family. Rich, creamy and substantial, it'll feed even the hungriest of tables.
Grand Vegetable Biryani from Fresh India: 130 Quick, Easy and Delicious Recipes for Every Day by Meera Sodha
If it's a meat-free feast that you're after, this show-stopping vegetable biryani is the centrepiece you've been searching for. It's full of colour and flavour, and packed with everything from spiced paneer, chickpeas and tomatoes to roasted beetroots, sweet potatoes and a citrusy coconut and coriander sauce.
Gnudi Three Ways from Ducksoup Cookbook: The Wisdom of Simple Cooking
Serve these delicious ricotta dumplings with wild rabbit ragu, prosciutto and parmesan, or watercress & goats' curd, or go all out and try all three. 
Crispy Jerk Barbecue Tacos from Rachel Ama's Vegan Eats: Tasty plant-based recipes for every day by Rachel Ama
A mouthwatering Caribbean twist on a Mexican classic, these vegan tacos pack a seriously flavourful punch, with tasty toppings including jerk BBQ mushrooms, fried plantain, sliced mango, avocado, and chilli.
Paella Valenciana from Rick Stein's Spain
What could be a better way to make the most of some extra cooking time than mastering an authentic Valencian paella? In this traditional recipe, Rick shows you how. 
Blackberry Pavlova from The Book of St John: Still a Kind of British Cooking by Fergus Henderson & Trevor Gulliver
To really celebrate seasonal fruit, this enormous pavlova from The Book of St John is the way to go. With layers of light, chewy meringue, fluffy cream and heaps of delicious fruit, it's a truly impressive dessert to feed a crowd.
Rhubarb and Custard Millefeuilles from Rachel Khoo's Kitchen Notebook
And now for dessert. Impress your friends and family with a French-inspired dessert that's as pretty as a picture and makes the most of seasonal rhubarb.
Doughnuts and Hot Chocolate Sauce from Sabor: Flavours from a Spanish Kitchen
Always wanted to learn to make doughnuts? Now's the time, and with this Spanish-inspired recipe, you'll also make a rich chocolate dipping sauce to go with them.
Lychee and Raspberry Tart from The Great British Bake Off: How to Turn Everyday Bakes into Showstoppers
Want to use this weekend to brush up your technical baking skills? We've got just the showstopper for you. From the pastry case filled with creme patissière to the macaron topping, this is a dessert to wow. 
'Triple Threat' Chocolate Brownies from Table Manners: The Cookbook by Jessie Ware & Lennie Ware
For some all-out Bank Holiday indulgence you really can't go wrong with these 'triple threat' chocolate brownies from Jessie and Lennie Ware, made with dark chocolate, cocoa powder, and your choice of chocolate drops, biscuits, or chopped up chocolate bars.