Thai Beef and Mango Salad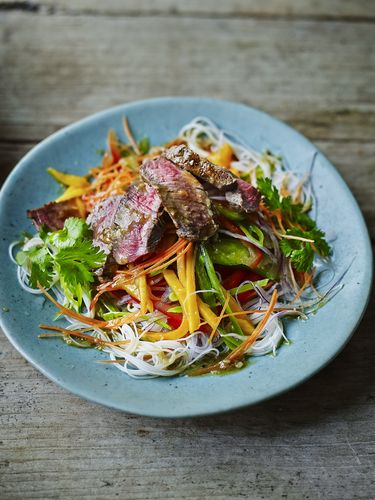 When I was testing the recipes for my book this one really hit the spot with my family. I guarantee that if you try it once it will become a regular in your house too. It's one of my favourite things to eat - crunchy, colourful and a beautiful balance of hot, sweet, salty and sour flavours. Best of all, it's super-healthy, as by keeping most of the ingredients raw you are maximizing the nutritional value. I know it looks like a lot of ingredients but there's nothing difficult and there's very little cooking to do. I use a julienne peeler to prepare the carrot and mango.
Ingredients
1

garlic clove, crushed

2 tbsp

soy sauce

juice of 1/2 lime

200g

sirloin steak, trimmed of fat

1 tsp

coconut oil

100g

vermicelli rice noodles

1

red pepper, deseeded and sliced into strips

1

green pepper, deseeded and sliced into strips

1

red onion, thinly sliced

1

large carrot, cut into thin strips (julienned)

100g

beansprouts

100g

sugarsnap peas, sliced lengthways

1

mango, peeled and cut into thin strips (julienned)

1

red chilli, deseeded and sliced (optional)

fresh coriander, to serve

Dressing:

1 tbsp

mango chutney

1 tbsp

soy sauce

2 tbsp

olive oil

1

garlic clove, crushed

juice of 1 lime
Instructions
Mix the garlic, soy sauce and lime juice in a bowl and add the steak. Leave the steak to marinate for an hour if possible, but 20 minutes while you prepare the vegetables will do.
Heat a frying pan, add the coconut oil and cook the steak for 2–3 minutes on each side for medium – or a minute or so more or less for well-done or rare steak. Remove the steak from the pan and set it aside to rest for 5 minutes, then slice thinly.
Cook the noodles according to the packet instructions, then drain and leave to cool.
Whisk together the ingredients for the dressing. Pile the peppers, onion, carrot, beansprouts, sugarsnaps, mango and chilli, if using, in a bowl and toss with the dressing. Serve the salad with strips of beef and garnish with the coriander.