Pork Meatball Thai Curry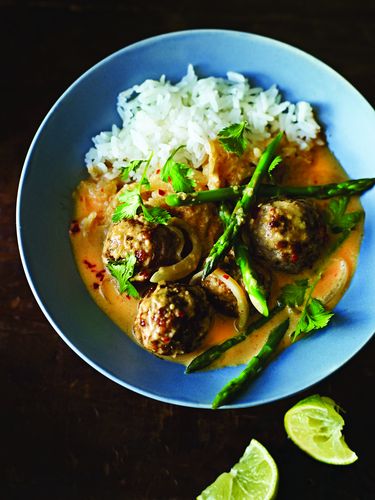 A good Thai curry balances four flavours – hot, sweet, salty and sour – for a perfect combination by anyone's standards. If you want a slightly quicker version of this recipe, you can get very good Thai curry pastes in supermarkets and Asian food stores. Serve with a portion of fragrant jasmine rice.
Ingredients
500g

pork mince

1 tsp

ground coriander

olive oil

1

onion, sliced

1

stick of lemon grass

1 x 400g

can of coconut milk

150ml

chicken stock

1 tbsp

nam pla (fish sauce)

150g

baby asparagus

1

lime

1 tbsp

sugar

3 tbsp

chopped fresh coriander, for serving

sea salt

black pepper

For the Thai paste:

1

onion, peeled and roughly chopped

4

garlic cloves, peeled

1

thumb-sized piece of fresh root ginger, peeled

1

red chilli, deseeded and chopped

1 tbsp

oil
Instructions
1 In a mini blender, blitz the ingredients for the Thai paste until smooth and set aside.
2 In a bowl, mix the mince and ground coriander with some seasoning. Shape the mixture into golf ball-sized meatballs, then cover with cling film and leave them to chill in the fridge for 30 minutes. Heat a little oil in a non-stick pan and fry the meatballs until golden, then set them aside.
3 Fry the sliced onion for 5 minutes until softened, then add your Thai paste and lemon grass – bruise the lemon grass first by bashing it with a rolling pin. Continue to cook for a couple of minutes, then pour in the coconut milk, stock and fish sauce and bring to a gentle simmer.
4 Add the meatballs to the pan and cook for 10 minutes, then add the asparagus and cook for another 5 minutes. Add a good squeeze of lime juice and the sugar to balance the flavours in the dish, then taste and add more lime or sugar if you like. Stir in the fresh coriander before serving.